Manage
Learn to apply best practices and optimize your operations.
Manufacturing plant information management
Learn how manufacturing plant information management can help manage supply chain data between manufacturing sales, strategy, planning, operations and distribution.
Looking for something else?
In Pursuit of the Perfect Plant: A Business and Technical Guide
Chapter 6, Strategy, Coordination, and Planning

Successful plant information management connects data from all level of the supply chain, including sales, strategy, planning, operations, and distribution. In this excerpt, learn how the closed loop model can be used to share information in real time through the supply chain and speed up the production process.

In Pursuit of the Perfect Plant: A Business and Technical Guide, Ch. 6
Table of contents:


An intro to strategy, coordination and planning


Sales and operations planning for manufacturing


Manufacturing plant information management


Information integration in manufacturing: Process control and planning software


Manufacturing supply chain strategy: KPI and execution in process industries


Manufacturing operations management and planning based on strategic models


The Closed Loop
"The closed loop," Moulton said, "is about connecting the dots—and in this case, connecting them frequently. In its simplest form, the loop describes the relationship between supply and demand. You only need to add a few points to it—sales, strategy, planning, operations, and distribution—to see the interdependence of these elements."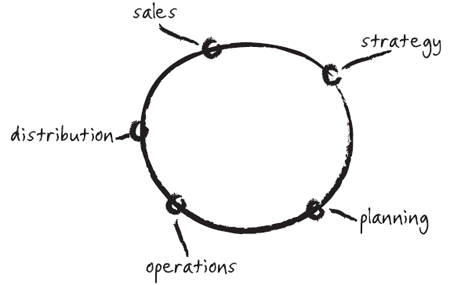 "When the loop is tracked weekly," Bonhoffer said, "people don't have to wait for financials at month's end to see whether their department or business unit is on track."
This excerpt from In Pursuit of the Perfect Plant: A Business and Technical Guide by Pat Kennedy, Vivek Bapat, Paul Kurchina is reprinted here with permission from Evolved Technologist Press, Copyright 2008.
"And if they're not getting the information in real time," Moulton said, "they're getting a close approximation. This is important for several reasons. Speed and agility builds accountability. No one has an excuse for failing to stay on task. At the very least, they know they're missing goals. Plus, because the closed-loop assesses capacity at every level—upgrades, outages, and availability of raw materials—it also shortens the timeframe in which any shortfalls may be detected and rectified. The supply-demand loop is expected to be closed immediately. That way, no one can wait until the end of the quarter to say, 'I didn't realize we were missing the mark. I didn't have the data until last week.'"
"Based on some of the plants I've run," Mulcahy said, "that sounds borderline revolutionary."
"The closed loop model," Moulton said, "is a real culture-changer. It starts at the level of the CEO, who can see evidence that there is movement underway to meet expectations—whether that is efficiency, throughput, meeting demand, or utilizing supply. Moreover, managers across the enterprise can see how close they are to meeting goals.
"The closed loop seals previous holes in the planning, strategy, and execution processes, even as it takes care of those between the corporate, supply chain, and operations relationships. It's a very important and powerful step toward smoothly integrating disjointed departments and functions. For example, if production skews low, then sales will get on the phone and communicate with customers. Likewise, if production is skewing high, sales can adjust their efforts and promotions."
"Sounds ideal," Bonhoffer said. "Happens all the time, right?"
"Not really," Moulton said. "The S&OP concept has been around for more than 20 years. The statistics I've come across, however, say that despite this, only 65% of companies actually have a working S&OP process. Among those that do, virtually all of them have been doing it for less than five years."
The Fast Loop and the Slow Loop
"In addition to the closed loop," Moulton said, "there is a slow loop and a fast loop. The slow loop, which is separate and seemingly disconnected from the fast loop, entails corporate's long-term planning vision for revenue or cost projections. This loop typically forecasts events 6, 12, or 18 months out. The fast loop involves the day-to-day execution of those plans—the functions of operations, maintenance, supply sources, and labor issues, plus external factors like supply of raw materials and interference by government or community agencies. The big players here are the operations and maintenance managers."
"The slow loop," Bonhoffer said, "sounds like a vision of perfection, while the fast loop gives us a daily dose of reality—where you deal with the issues and problems that can develop as a result of your processes."
"Yes, and as you can imagine," Moulton said, "tension arises where they overlap. Plant operations are in a constant struggle to assess and meet the needs of the targets handed down from corporate. The struggle itself is a function of matters that affect capacity and output, such as maintenance issues, raw material supply changes, and unexpected emergencies."
"This presents a difficult situation," Mulcahy said. "The two loops are separate but not disconnected, as it seems at first. The space between them is at times quite blurry, more of a continuum of planning and execution."
"Is there a way, then," Bala asked, "to clear the air between these loops, between planning and execution?"
"Tools, such as software programs like those we discussed, do help both loops resolve their difficulties," Moulton said. "What they require in order to operate at peak performance, however, is a single, standardized platform. Each loop needs to see what the other is doing. Each needs to know what pressures and issues the other is responding to. And both need to know which goals are being met and why. Fast loop and slow loop, operations and corporate, as John just said, are not really discrete functions. In fact, a well-oiled plant, if you will, has the infrastructure to ensure that doesn't happen.
"For example, in a perfect plant, all operations in the fast loop will be recorded in a log that is sent to the slow loop for examination every three or six months. This accomplishes two purposes. The first concerns the annual planning process—information from the operational log is used by corporate to create forthcoming quarterly or annual schedules and goals. Secondly, data from the log also enables corporate to adjust the planning parameters—production rates or yields as capital projects, for example, can be activated. The same goes for production and maintenance scheduling. I would also point out that in this instance, operations— the fast loop—drives corporate—the slow loop.
"That must generate further tension in the fast loop," Bonhoffer said. "How is it negotiated?"
"Production is highly dependent on maintenance," Moulton said. "When production goals come down from corporate, operations must determine what capacity rate is needed to meet those goals. This involves collaborating with maintenance to guarantee the equipment is fit. To do this, planners and managers generate Microsoft Excel or Project spreadsheets to create the schedule of updates, repairs, and maintenance that is needed for production to meet its goals."
"Of course these are all merely preventative measures," Bonhoffer said. "An infinite number of maintenance issues are sure to arise."
"How is it possible to plan for unexpected breakdowns," Bala asked, "or, God forbid, a power outage?"
"Unfortunately," Moulton said, "there isn't a great answer. Ordinarily, there's a balance between the level of risk at which you operate and the average yearly production. Production doesn't want to turn their equipment over to maintenance because they've got targets to meet. And maintenance complains that they can't get access to perform the work to keep everything in order. Both sides have a somewhat myopic view of these concerns. Maintenance bases its decisions and schedules primarily on reliability levels. Production focuses strictly on output. Optimal solutions typically factor in both drivers simultaneously. The chief obstacle to success resides in the inability of each side to access the other's performance index on demand."
The Broken Loop
"Now I'd like to talk about a problem," Moulton said, "that is both the most common and the most unfortunate—the broken loop. In many companies, planners are off in a corner doing what they do best, planning. In some cases, they are so isolated that they don't even show the plan to the people running the plants."
"What?" said Bala.
"They're afraid it won't be accepted," Moulton said. "In this worst-case scenario, there isn't any real feedback from the plant itself to help the planners do a better job. In other cases, it's a little better—a third-party group analyzes the plant's performance and then reports to the planners. The problem here is that they do so a month later, when it's frequently too late to do anything with their data."
"That's absurd," Bonhoffer said. "How could anyone on the floor possibly understand what they're supposed to do?"
"Although operations is given specifications," Moulton said, "it's usually in a highly condensed form, a mere synopsis of the big-picture goals."
"In other words," Bala said, "operations doesn't understand because the information they're given is both incomplete and inaccurate."
"Yes," Moulton said, "and the people on the floor know it. Sometimes the plan's modeling is so bad that operations simply refuses to follow it."
"That's what happens," Mulcahy said, "when you're handed an order that says, 'We need a million widgets by Wednesday,' but have no idea why, or what is needed to make it happen."
"This is the broken loop," Moulton said. "Someone from strategy academically calculates how much raw material is needed to manufacture a given quantity of product. They send it to operations, expecting them to find a way to make it happen."
"At that point, operations is shooting in the dark, using tribal knowledge," Bonhoffer said.
"This is terrible," Bala said. "Tell me there is a software solution buried in there somewhere!"
Interested in plant management strategies? Buy this book or download a pdf of this chapter.
Read other excerpts and download more sample chapters from our manufacturing ERP bookshelf
Dig Deeper on Manufacturing management
PRO+
Content
Find more PRO+ content and other member only offers, here.