Evaluate
Weigh the pros and cons of technologies, products and projects you are considering.
Using MES software to improve supply management planning and optimization
MES software can be a valuable tool for improving supply management, especially when paired with an ERP system. It can improve demand planning, track materials and incoming goods and process warehousing costs.
Looking for something else?
INDUSTRIES
Manufacturing execution systems (MES) software can be a valuable tool for improving supply management, especially when paired with an ERP system. In this excerpt from Chapter 5 of the book Manufacturing Execution Systems (MES): Optimal Design, Planning, and Deployment, track materials and incoming goods and process warehousing costs.
5.3 Supply Management within the MES
5.3.1 Demand Planning
The central task of material requirements planning is to ensure material availability through supply management. This means procuring the necessary required quantities within the company and for sales at the proper time.
This also includes monitoring stocks and in particular creating procurement proposals for purchases. Here, demand planning strives to find the optimal path between
Best possible supply readiness and
Minimization of costs and capital lockup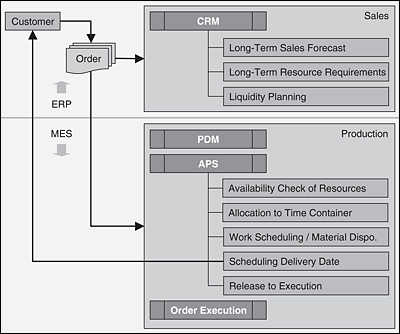 5.3.2 Material Requirement Calculation
As a first step, the planned resource requirements are calculated with the aid of an operative planning forecast and coordinated with the stock and availability situation. On this basis, decisions are made for a reservation, for ordering, etc.
If data distribution is conducted in accordance with ISA guidelines (see Sec. 3.2.1), work plans and therefore part lists are contained in the MES. In order to be able to access the stock of all stock types directly from supply management, stocks must be listed in the MES.
5.3.3 Material Disposition in the MES or ERP System
In today's systems, material disposition generally takes place at level 4. In future production management systems, production will plan in the short-term on the basis of a real situation. New-order situations can be calculated very quickly using the operative planning tools.
If orders must be made at short notice, the call-off order ideally is sent to the supplier by an e-mail or is made directly available to the supplier via a business-to-business (B2B) platform on the Internet. The supplier transmits order confirmations and delivery dates in the same manner. Since the product data system will be managed at level 3 in future systems, the latest data for work plans, together with their parts lists, are always available to the planning department.
For calculating material requirements, required preliminary products (articles) from in-house production also must be calculated and their production planned. Based on the actual production order, "subcontracts" can be generated automatically by the MES for production of the preliminary products and assimilated into the sequence planning.
5.3.4 Incoming Goods
In the incoming goods function, an incoming goods number is provided automatically with reference to an open order. Then the individual order positions are checked. Since deviations may arise during quantitative checking of the delivery positions, the actual incoming quantities, which are compared with the order quantity, should be calculated. If an order has been made based on packing units, every delivery unit should be recorded and managed according to stocks.
There may be some possible overlapping in quality management in incoming goods inspections. In this case, a material booking should be carried out via the MES. For every recorded delivery unit that is brought into a warehouse, accompanying documents should be created to facilitate identification of the goods.
If an incoming goods inspection in the sense of quality control is needed for the material, this must be visualized through the MES. Either a direct, on-the-spot inspection can be carried out or a laboratory order can be generated automatically for the material. The material is released for production only after positive inspection. For the testing process, we refer to the inspection procedure used in production, which generally agrees with the process in the incoming goods section.
After the quantitative inspection and quality tests, material booking must be transferred to accounting. Under certain circumstances, specification of a cost center and a cost unit may be necessary.
5.3.5 Interaction between the ERP System and the MES
As we have shown, there is some overlapping of tasks between the ERP system and the MES in terms of material management. In this regard, there are various approaches for allocating these tasks:
The best option is a service-oriented architecture (SOA). Here, one tool, for example, the MES, uses the material booking of another tool, in this case the ERP system, as a service. This approach has defined interfaces and exchange formats. The service is started through the handover of an ID with a corresponding return value.
Another suitable solution is saving the data using a data warehouse. This allows for a global view of heterogeneous and distributed data in which the data relevant for the global view from the data sources are merged into a common, consistent data set. Thus the content of a data warehouse arises by copying and formatting data from different sources, in this case an ERP system and an MES.
The last option involves managing the tasks in two separate tools. The result is that the data sometimes are saved in duplicate, and therefore, more maintenance is required. Errors in data management cannot be avoided.
5.3.6 Material Warehousing Costs
The quantity on stock (inventory) is to be assessed regarding accumulated storage time using the warehousing cost rate. The resulting warehousing costs are to be displayed. They must be available to the MES for detailed planning and optimization. Inventory includes stocks (raw material), stocks (semifinished goods), and stocks at production, also known as work in process (WIP).
Next section: Tips for manufacturing production planning and scheduling with MES
Dig Deeper on MES software
PRO+
Content
Find more PRO+ content and other member only offers, here.