News
Stay informed about the latest enterprise technology news and product updates.
The buzz: 3-D printing a new side to manufacturing
Between firearms, shoes, bikinis and even pizzas, there's a whole lot of buzz surrounding 3-D printing. Is it worth the hype?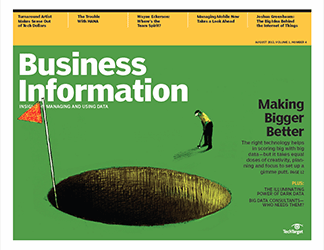 Download
Three-dimensional printing, or additive manufacturing, is an emerging technology for turning computer-aided design...
Continue Reading This Article
Enjoy this article as well as all of our content, including E-Guides, news, tips and more.
By submitting your personal information, you agree that TechTarget and its partners may contact you regarding relevant content, products and special offers.
You also agree that your personal information may be transferred and processed in the United States, and that you have read and agree to the Terms of Use and the Privacy Policy.
models into 3-D objects. The printer stacks thin layers of material according to dimensions dictated by the model. Materials include paper, plastic and metal. It can take hours or days to finish an object.
The buzz: New uses seem to be popping up daily. At the Inside 3D Printing Conference and Expo in New York in April, a whole range of companies shared how the technology is changing their business. Fashion designers showed off 3-D-printed shoes and jewelry -- even bikinis. Defense manufacturers displayed airplane parts alongside firearms. In health care, additive manufacturing is building prosthetics. NASA is even funding a project to concoct a printed pizza.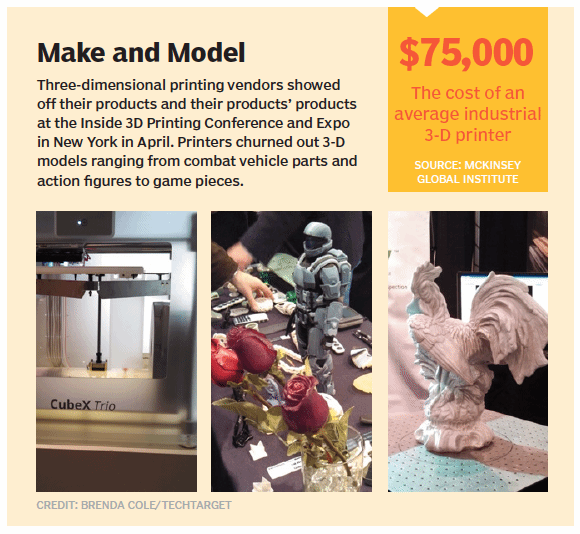 The reality: It's pie-in-the-sky for most companies. Three-dimensional printers start at well over $10,000 for a home model and reach into the hundreds of thousands for industrial models. It could be years before prices are low enough for small businesses or consumers. For manufacturers, 3-D printing technology could prove a blessing or a curse. It could reshape production, outsourcing it to customers. Whether this will kill or create jobs remains to be seen, but one thing is certain -- 3-D printing has opened up a whole new dimension.
Dig Deeper on 3D printing and software
PRO+
Content
Find more PRO+ content and other member only offers, here.