News
Stay informed about the latest enterprise technology news and product updates.
Cloud ERP provider FinancialForce integrates Salesforce's AI
FinancialForce has made two major changes to its platform: It has turned to ADP for core HR services, and has integrated Salesforce's AI capability called Einstein.
FinancialForce, a cloud ERP provider on the Salesforce platform, has made a significant change and addition to...
Continue Reading This Article
Enjoy this article as well as all of our content, including E-Guides, news, tips and more.
By submitting your personal information, you agree that TechTarget and its partners may contact you regarding relevant content, products and special offers.
You also agree that your personal information may be transferred and processed in the United States, and that you have read and agree to the Terms of Use and the Privacy Policy.
its services, integrating Salesforce's new AI technology capability, dubbed Einstein, into its software products and shifting core HR services to ADP.
The firm believes having ADP provide those services is a better course than developing them internally. It provides users with a migration path to 2022, although the firm recently said that many customers have already made this transition. The ADP partnership was announced in June.
FinancialForce's recently announced plan to use Salesforce's AI technology is not unexpected. FinancialForce is built on Salesforce's cloud platform, Force.com, introduced in 2007. Most of its customers are also Salesforce users.
The use of ADP came after an assessment about "where our true differentiation was," said Fred Studer, CMO of FinancialForce, and that wasn't in providing core HR services.
ADP used for core HR services
FinancialForce continues to provide HCM capabilities, such as talent management and optimization to its professional services automation (PSA) customers, but it will rely on ADP for core HR services and payroll.
Seth Lippincott, senior analyst at Nucleus Research, sees merit in FinancialForce's ADP partnership. "It didn't seem to make a whole lot of sense to try to be everything to everyone, from an HCM perspective, when there's better options to partner with a vendor that already has those capabilities," he said.
FinancialForce continues to provide HCM capabilities, such as talent management and optimization to its professional services automation (PSA) customers, but it will rely on ADP for core HR services and payroll.
Salesforce announced its AI capability last year and made it available on its platform, enabling customers and partners to take advantage of it. FinancialForce applied this AI analytic capability on its own systems, looking at metrics such as churn rate, support calls, late payments, and even external sources such as financial filings to assess who was most likely to renew or least likely, Studer said.
They were able "to use that predictive insight to go in and address certain customer issues that in many cases involved things that were easily rectifiable," Studer said.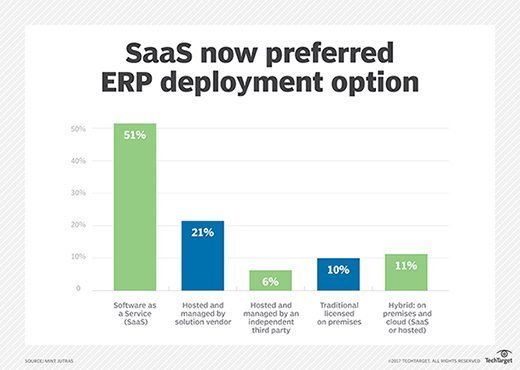 Using Einstein capabilities
A FinancialForce user is EASi, a global engineering services firm. It uses Salesforce for CRM, PeopleSoft for ERP and FinancialForce for PSA, which helps employees estimate their contract opportunities, schedule out tasks, understand progress and performance, as well as meet talent needs, said Scott Miller, operations manager at EASi.
EASi plans to begin using the Einstein capability next year and Miller sees a lot of practical application. He hopes it will deliver "a lot better visibility," as well as predictive analytics.
"I think forecasting really is the biggest piece that we are going to be looking to use from an Einstein standpoint," Miller said.
Another function might be finding talent. If an engineering firm needs a very specific embedded engineering designer, then it may be able to use Einstein to automate the candidate search and scour sources such as LinkedIn and Monster for possible candidates, he said.
Nucleus' Lippincott said Einstein may help organizations gain insight into how they are using their resources and develop better prices on their contracts. They can use the analytics to determine whether there's a risk that a project is slipping behind schedule or over budget.
But Lippincott said it "remains to be seen how well you can train the AI to answer those sorts of questions. You need to still ask the AI the right questions, otherwise you're not going to get any value from the answers. It's going to take some time to hone those capabilities."
Dig Deeper on Financial analytics and reporting
PRO+
Content
Find more PRO+ content and other member only offers, here.