carloscastilla - Fotolia
Three top logistics trends companies should be researching for 2018
E-commerce is having a powerful effect on logistics and the supply chain. Here are three trends that are happening today that are likely to affect your company.
The world of logistics is no stranger to change as technology, regulation and business conditions continue to keep things interesting and challenging in the supply chain.
Perhaps the most dynamic logistics trends that should be on your radar include the rapid rise of e-commerce and its dramatic effect on brick-and-mortar retailing; the growing importance of emerging technologies, such as the industrial internet of things; the ability to more closely monitor and manage goods and vehicles in transit; and, a bit further down the road, a reliance on autonomous vehicles, including self-driving trucks and drones. Here's more on each of these logistics trends and how they are likely to progress in the near future.
The Amazon effect
The growth of direct-to-consumer e-commerce and the impending contraction of brick-and-mortar retail is well under way and accelerating. Warehouses and shipping facilities will see increased demand for small packages and fast delivery with new technologies being brought in to enable efficient order handling and delivery. While the practical use of drones for package delivery is still a ways off, warehouse automation and robotics -- already in use to a limited degree -- will be the focus of the search for speed and efficiency in order handling and shipping.
More warehouses, fewer stores, retail innovation
Suffice it to say that the supply chain five years from now will be quite different from what it is today.
A secondary effect of the move toward e-commerce and the rapid decline of malls and retail stores will be a growth of warehouses to further enable quick delivery of those online purchases. Some goods do not lend themselves to the direct-to-consumer model, however, so e-commerce companies and surviving retailers will innovate in the brick-and-mortar space to add speed and convenience for customers.
One likely trend is for stores to have very few employees to serve customers in traditional ways. Instead, such stores will be electronically enabled to recognize merchandise being taken from the shelf or placed in the shopping cart, and that can automatically charge the buyer -- no checkout required. Stocking and replenishment will likely have to change to accommodate different merchandising strategies and sales volumes in these automated stores, with an accompanying change in reorder sizes and timing that will affect logistics.
Autonomous vehicles
Self-driving cars may still be five to 10 years in the future, but the use of semi-autonomous trucks on the highway is already being tested. Safety and efficiency are driving this to the front of the line -- self-driving trucks can operate around the clock, can optimize fuel usage and hold the promise of safer driving compared with people. Autonomous vehicles will open up new opportunities for faster, more reliable deliveries and more flexibility. Smaller vehicles can be operated at lower cost to make those quicker last-mile deliveries.
Airborne drones and autonomous wheeled "carts" for small deliveries are unlikely to have much of an impact in the near term and will only gain traction in certain places where population density and difficult traffic conditions make these alternatives practical.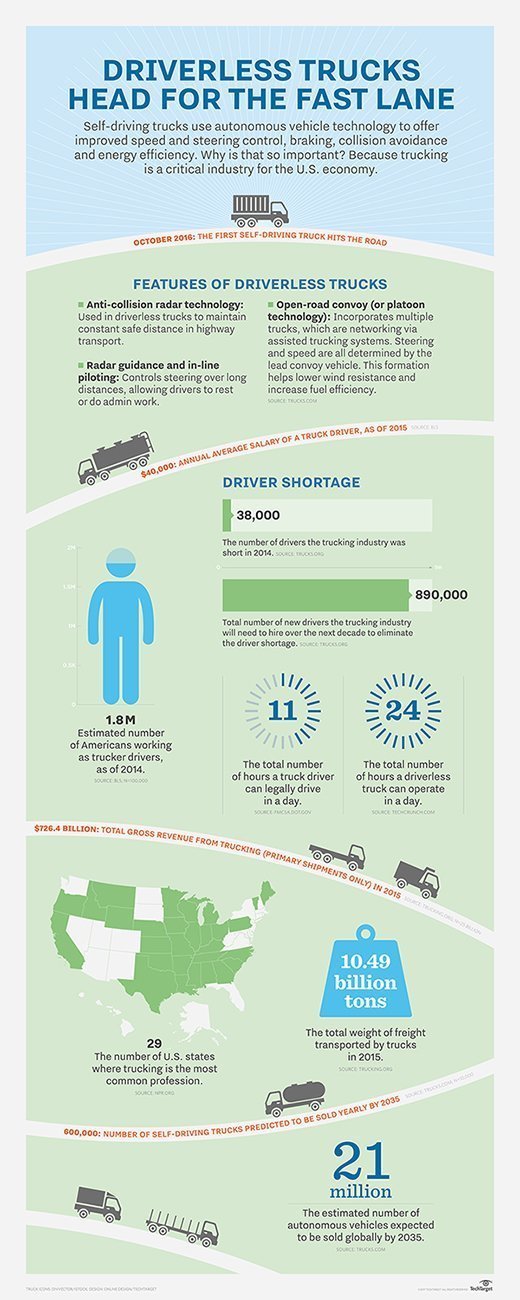 The above logistics trends are not the only changes in store, of course. Suffice it to say that the supply chain five years from now will be quite different from what it is today. The world will be shipping more individual items and small packages both longer and shorter distances, and the demand for fast delivery will influence the evolution of technology, the transportation industry and supply chain management.
Dig Deeper on ERP and supply chain management
Fourth-party logistics build on the benefits third-party logistics offers. Learn more about how this services model can help create more efficient ... Continue Reading
Today's warehouses have different issues than the warehouses of yesteryear, so it's critical to understand the role technology serves. Here's a look. Continue Reading
Predicting demand has never been easy, but in the age of e-commerce and omnichannel, that difficulty has multiplied. Here is some helpful guidance ... Continue Reading