 BACKGROUND IMAGE: iSTOCK/GETTY IMAGES
A buyer's guide to the top ERP systems
Editor's note
ERP allows companies to connect business activities across departments, ensuring that all employees are working with the same data and within the same processes. As idyllic as that sounds, the reality is that implementation of ERP software is a daunting task and often goes awry. ERP systems are complex and often comprised of the following components: finance, human capital management (HCM), purchasing/procurement, business intelligence and customer relationship management (CRM) modules.
This guide is designed to make the process of ERP software selection less daunting. And if you can select the right system and vendor, implementation is more likely to go smoothly. It helps you determine your enterprise's need and core objectives, discusses the key features to look at when selecting an ERP software suite and analyzes the top ERP systems to best match up your needs to the software's functions.
On top of their core modules, ERP software suites can also be used to manage the supply chain, warehouse and inventory, as well as one-off projects and professional services. ERP is a multifaceted topic, and even the top ERP systems are often difficult to parse out and categorize. This buyer's guide has simplified all of that.
The complexity of an ERP software suite, meanwhile, goes beyond what it's comprised of. IT departments also have to consider how the software is deployed. Cloud-based ERP is a viable option for some enterprises, on-premises or a combination thereof for others. The size of your company is also a big consideration for IT departments when looking to procure an ERP system, as some are scalable and some are built for enterprises of certain sizes.
Ultimately, figuring out how your company works is the first step in determining which ERP system is right for your organization. The same can be said for the vendor and how it will work with you, too. On top of tech support, the vendor's product roadmap, how the vendor shares that plan with clients and the projected success are things that should align with your company. This guide shows you what information to look for and how to collate it all to make the right buying decision for your organization.
1

Figure out if ERP is the right system for your enterprise

ERP software suites can alleviate many issues that organizations face on a constant basis. In this section, we present several use cases to help you decide if ERP is the answer to your problems.
2

Key features and functions to look for in an ERP system

There are key features to look for in every ERP system, and key traits to pay attention to in your organization. Knowing what to look for in a vendor and your own enterprise can help you determine which software is right for you.

Download this free guide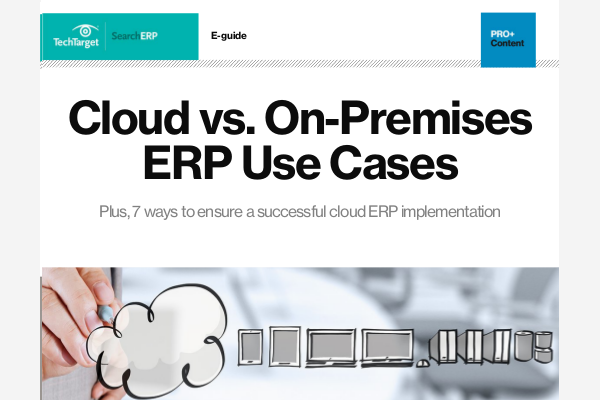 Cloud vs. On-Premises ERP Use Cases
We created this expert guide showcasing a variety of cloud and on-premise use cases to help you make the best choice based on your business' unique needs. An ERP implementation isn't a "one size fits all" approach, that's why we're here to help.
3

Which ERP software is right for you?

Combining the common ERP use cases along with the main features that you should look at with each ERP vendor and system, this section analyzes the top ERP products to guide you to make the best buying decision for your enterprise.
4

The top ERP systems

Careers are made and broken on implementing ERP systems. By looking at your organization and knowing its needs and comparing those to different ERP vendors and their main features, functions and "sweet spots," you can strengthen your career and help elevate your company to new efficiencies. This section presents overviews of the top ERP products on the market today, detailing what each does and how they're implemented and identifying those sweet spots.