 BACKGROUND IMAGE: iSTOCK/GETTY IMAGES
A complete guide to buying enterprise accounting software
Editor's note
It's hard to overstate the importance of selecting the right enterprise accounting software. Counting the beans correctly is essential for companies of all sizes, with financial complexities affecting even the smallest SMBs thanks to international sales and remote staff.
Somewhere between SMB accounting software and full-fledged ERP systems sits enterprise accounting software, also known as small and midsize enterprise accounting software or financial management suites. These systems perform the accounting basics, including accounts receivable (AR), accounts payable (AP), general ledger (GL) and payroll, as well as enable financial analysis and generate reports for internal and external audits. In addition, enterprise accounting software aids in meeting legal, regulatory and internal requirements.
Where enterprise accounting software really sets itself apart from its off-the-shelf alternatives is in its sophistication. Companies with a growing global customer base, distributed inventories and multiple locations require software that can navigate the ever-changing array of legal, tax and compliance issues. These often growing companies also see real business value in the automation and efficiencies enterprise accounting software provides.
Of course, aligning with the right accounting software vendors and products is vital to experiencing these benefits, which is not easy given the market's size and maturity. Complicating this are the products on the other ends of the spectrum: SMB accounting software, like Intuit QuickBooks and Sage 50cloud Premium Accounting (both Intuit and Sage offer more sophisticated alternatives), and the more complex ERP offerings. With so many options, it's easy to lose sight of the true business needs. As with any business buying decision, the first step in the process is realistically evaluating those current business needs. The next step – and, arguably, more important -- is to determine future needs.
In this guide, we break down enterprise accounting software by specifically defining the category, explaining the accounting software features, outlining the general use cases and revealing the benefits. We also highlight the major players and products in an effort to find the best enterprise accounting software.
1

Enterprise accounting software features and benefits

Growing companies experience many benefits of accounting software beyond balanced books. Sophisticated products offer insights into complex company financials, aid automation and increase employee morale.
2

What's the best accounting software for your company?

Finding the best enterprise accounting software for your needs hinges on first identifying your specific company needs and then comparing them against the enterprise accounting software products and features.

Download this free guide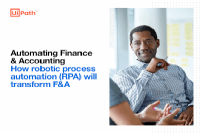 Transforming Your Finance Department with RPA
Now is the chance to begin transforming your company's finance department by implementing robotic process automation (RPA), which can automate the tedious, manual tasks that are keeping it from evolving. In this white paper, you'll get a list of the processes in finance and accounting that are highly suited to RPA, considerations for automation, and more.
3

Roundup of leading enterprise accounting software vendors and products

The enterprise accounting software market is robust and mature, with features that extend beyond general accounting functionality into analytics and even ERP expansion. Functional accounting software is a must-have for any growing organization. Learn more about the vendors and products.