Evaluate
Weigh the pros and cons of technologies, products and projects you are considering.
The best WMS software is software that meets your needs
Businesses that are looking to upgrade or replace their warehouse management systems need ones that fit their industry and infrastructure. Select the best WMS software that fits those needs.
Introduction
From a customer's standpoint, receiving a next-day order seems so simple. They place the order and there it is on their front doorstep or loading dock the next morning. But as many companies and warehouse managers can attest, making order fulfillment look easy is not so simple. Managing a warehouse is as complex an endeavor as any supply chain process these days, no matter if it's one warehouse or a system of them all over the world.
To succeed at running warehouses, businesses must acquire the best warehouse management system (WMS) software that fits their companies. To do that, they must see what today's WMS software does, how to best integrate it with a company or with the latest technology, and what sort of vendors and different options there are in the market.
The need for WMS software presents itself when companies are expanding operations. Such a business needs new WMS software that can better handle the complexity that comes with multiple warehouse locations. Another case for WMS software is one in which companies are beginning to veer into omnichannel experiences. In a case like this, the best WMS software is one that will help the company ensure solid customer experiences in the e-commerce shop or in the brick-and-mortar store.
Modern WMS software optimizes warehouse processes and provides valuable insights to companies that rely on analytics to keep operations running smoothly -- a plus in this increasingly connected world in which data is invaluable. WMS software manages the ins and outs of the warehouse, tracking items as they enter and leave, keeping track of equipment and monitoring workers and their hours. To meet the demands of customers all over the globe, it's vital for WMS software to be able to interface with mobile technology and integrate with other supply chain management (SCM) software and machine-to-machine technology. Such connections allow companies to input data more quickly, create reports in real time and inform others in the supply chain to help foster better decision-making.
Finding the best WMS software means knowing how the software matches up with a company's IT infrastructure. For some companies, this means using on-premises software and running the system themselves. But other businesses may desire more flexibility or may not have the IT personnel to deal with running an on-premises system. Cloud-based WMS software allows such companies to scale up and out in many ways. Companies can build from one single warehouse to many globally distributed warehouses with certain cloud WMS vendors. Inside the warehouse, cloud-based WMS software can allow businesses to expand or contract depending on sales demand, thus giving them the ability to use only the WMS functions they need when needed which, in turn, may provide greater financial flexibility.
Finding the best WMS software for a company's particular business situation is a surefire way to ensure its successful growth and expansion and foray into the omnichannel or e-commerce world.
1

What is?

-
WMS software manage both simple and complex warehouse needs
The best WMS software will fit a company's IT infrastructure and its distribution strategy, but every WMS should have core functions and abilities like stock monitoring, picking and packing, putaway, and cartonization. Modern WMS software should also be able to integrate with mobile technologies or other supply chain management applications, regardless of whether it's a stand-alone system or part of an ERP suite.
Feature
As customers' demands and expectations for quicker delivery times grow, see why WMS software has become an important technology to help organizations become more efficient. Continue Reading
2

Do I need?

-
When and why businesses need WMS software
It seems so easy. A business has a warehouse and the warehouse needs to be managed. However, cases arise where a management system is out of date and needs to be replaced by one that can help a company execute an omnichannel strategy. Or there isn't a system (or a good one) in place and a business wants to expand into a situation with multiple warehouse locations. Identifying the current and future needs of a business can reveal that there's a need for WMS software.
Feature
From distribution center and warehouses globalizing, to omnichannel strategies and manufacturing software integration, WMS technology solves many needs in the warehouse. Continue Reading

Download this free guide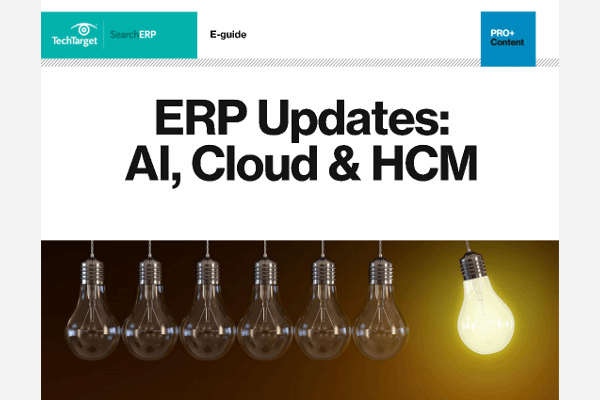 Download: ERP Updates: AI, Cloud & HCM
Find out how you can use ERP reporting to maximize valuable data. Also see how an ERP cloud provider is turning to ADP for core HR services and is integrating Salesforces' AI Einstein.
3

How to buy

-
The main criteria when purchasing WMS software? Flexibility, scalability and capability
When evaluating WMS software, businesses need to consider how it scales and allows them to scale. WMS software needs to be able to integrate with their systems, warehouse control devices and other SCM applications. While most WMSes carry the same core functionalities, some WMS software cater to specific industries or infrastructures that may or may not make them good fits for a business looking to optimize its warehouse operations.
Feature
Number of sales channels, deployment, integration and agility are just some of the important variables to consider when evaluating WMS software for your business. Continue Reading
4

Which should I buy?

-
The best WMS software is different for every company
Different warehouse operations and business scenarios dictate which WMS software is the best fit for a company. Some vendors work best for businesses with complex warehouse setups. Some work better for single warehouse operations. Some work better with a company that has a particular ERP system in place and others' WMS software are ERP-agnostic. The best WMS software is not a question of who does what better, but rather, who fits best.
Feature
Selecting the best WMS software for the right warehouse scenario is a matter of knowing what WMS vendors offer in terms of scalability, deployment and integration. Continue Reading
5

Top product overviews

-
Taking stock of the top WMS software products
Get to know more about the WMS software that TechTarget has identified as some of the important players in the market today. From cloud WMS software to the warehouse management modules within an ERP or SCM suite, each vendor offers its own brand of WMS that may directly match up with a business's needs.