Definition
Demand Planning
Demand planning is the process of forecasting the demand for a product or service so it can be produced and delivered more efficiently and to the satisfaction of customers. Demand planning is considered an essential step in supply chain planning.

Download this free guide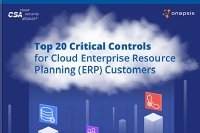 48-Page Download: Top 20 Critical Controls for Cloud ERP
Considering a cloud ERP migration or already have workloads in the cloud? This meaty guide can help you. Review 20 most important controls to consider when transitioning to cloud ERP. Use these guidelines to help strengthen or build a solid ERP backbone.
Supply chain planning and supply chain execution are both sub-functions of the planning side of supply chain management. Sales managers, marketers and manufacturing managers are typically involved in demand planning. Some companies have dedicated staff with titles like demand planner and demand planning analyst.
Key steps in demand planning
The purpose of demand planning is to prepare a statistical forecast. A planning team is usually assembled from the sales, operational and technical departments.
The team starts by reviewing the available information, such as historical data on sales, market research and surveys, and then agrees on a forecasting model it believes will be most effective at predicting demand. The team can then add new data as it comes in, such as actual sales of a product or competing products, and revise the model and resulting forecasts if necessary.
Methods of demand planning
Much of the demand planning process consists of gathering and analyzing data that can be used to predict demand. Often, this involves collecting point-of-sale (POS) terminal data and analyzing it with the analytics tools in demand planning software. Some companies store POS data along with other demand signals, such as retail and wholesale inventory levels and data from loyalty programs, in a type of data warehouse called a demand signal repository.
Demand planning is often conducted in the early stages of sales and operations planning (S&OP), a process for aligning supply with demand by coordinating sales planning and forecasting with production planning in a unified approach.
Demand planning vs. demand forecasting
Demand planning has much in common with demand forecasting, though many experts consider demand planning to go beyond its statistical forecasting component.
Demand planning is a bit of a misnomer, as much of the actual planning process occurs during other processes, such as S&OP and material requirements planning (MRP), which is used to calculate the materials needed to make a product. Demand planning is very much about figuring out what the actual demand is now and what it is likely to be in the future.
Both terms are sometimes used as synonyms for demand management, but they are usually regarded as components of it. Demand management also includes demand shaping, the process of trying to affect demand through price changes, product substitution, promotions and other methods.
This was last updated in
November 2018
Continue Reading About Demand Planning
Dig Deeper on Demand management