Definition
transportation management system (TMS)
A transportation management system (TMS) is a subset of supply chain management (SCM) that deals with the planning, execution and optimization of the physical movements of goods. In simpler terms, it's a logistics platform that enables users to manage and optimize the daily operations of their transportation fleets.

Download this free guide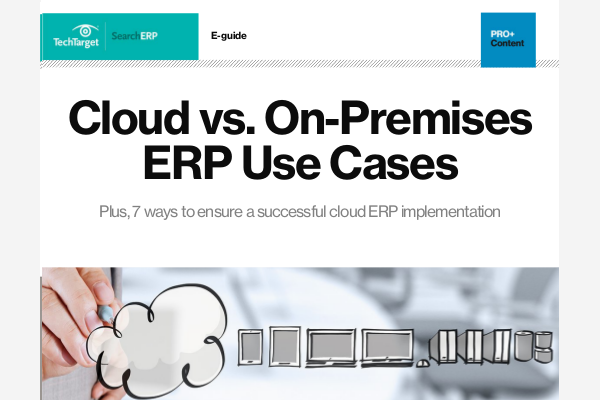 Popular Download to Keep Handy: Cloud vs. On-Premises ERP Use Cases
We created this expert guide showcasing a variety of cloud and on-premise use cases to help you make the best choice based on your business' unique needs. An ERP implementation isn't a "one size fits all" approach, that's why we're here to help. As a bonus, explore 7 ways to ensure a successful cloud ERP implementation.
TMS is offered as a module within enterprise resource planning (ERP) and SCM suites and helps organizations move inbound -- procurement -- and outbound -- shipment -- freight using tools such as route planning and optimization, load building, operations execution, freight audit and payment, yard management, order visibility, and carrier management. The ultimate goals of using a TMS are to improve shipment efficiency, reduce costs, gain real-time supply chain visibility and enhance customer service.
Typically, TMS serves both shippers and logistics service providers. Manufacturers, distributors, e-commerce organizations, wholesalers, retailers and third-party logistics (3PL) companies are some of the major users of TMS software.
TMS has gained traction over the past decade, as it has emerged as an enabler of seamless global trade and logistics management. By enabling information exchange across functional silos; amid geographically disparate operations; and in various languages, currencies, and business units, it has developed into an enterprise software that is finding growing appeal. Furthermore, its functionalities make it suitable for organizations that not only have complex logistics operations, but also those that may have basic transportation needs.
Given the factors above, a 2016 Gartner report predicted that the global TMS market will grow at a compound rate of 6.95% and reach $1.72 billion by 2019, up from $1.23 billion in 2014.
Benefits of TMS
A fully deployed transportation management system can benefit organizations in the following ways:
Transportation order planning and execution. TMS integrates well with enterprise order management, warehouse management and purchasing systems, customer relationship management (CRM), supplier relationship management (SRM), and other systems for managing transport demand. It enables users to plan and manage both international and domestic shipments and determines the cheapest and most efficient carrier and mode using better route planning, load optimization, carrier mix and mode selection.
Supply chain visibility and better control of inventory management. TMS enables users to track and monitor the lifecycle of orders and shipments in real time and get status updates on each. This offers users an accurate forecast for the inventory and improves the visibility and accountability of the supply chain network.
Reduce invoice errors. By automating the freight payment and audit processes, users can reduce errors that may arise from manual procedures.
Transport intelligence. Most TMS software offers users extensive insights and reporting capabilities that provide them with detailed visibility into freight data and metrics to help pinpoint any discrepancies. With this data, users can make the necessary changes to improve service delivery and reduce cost, and they can also create reports.
Transportation management systems can exist either on premises or in the cloud, often as SaaS.
Though organizations generally prefer TMS in the cloud due to the increasing use of connected devices, a traditional on-premises deployment is sometimes still preferred by large manufacturing and distribution firms that may have higher security requirements and want day-to-day control of TMS servers.
TMS software providers
Although TMS is commonly offered as a part of ERP or SCM platforms from large vendors, there are also sellers that exclusively provide specialized, stand-alone TMS products
Additionally, there are TMS service vendors that provide not just the technology, but also services to the shippers to run their daily transportation operations. In this arrangement, however, shippers retain control over the key relationships between carriers and customers.
Oracle, SAP and Infor/GT Nexus are leading vendors that offer TMS software, among a broad range of other enterprise applications. Other notable vendors include TMC, JDA Software, Manhattan Associates, Inet, BluJay Solutions -- resulting from Kewill's acquisition of LeanLogistics in 2016 -- MercuryGate and Transplace.
Continue Reading About transportation management system (TMS)
Dig Deeper on Transportation management software