Definition
warehouse management system (WMS)
A warehouse management system (WMS) is software and processes that allow organizations to control and administer warehouse operations from the time goods or materials enter a warehouse until they move out. Operations in a warehouse include inventory management, picking processes and auditing.
For example, a WMS can provide visibility into an organization's inventory at any time and location, whether in a facility or in transit. It can also manage supply chain operations from the manufacturer or wholesaler to the warehouse, then to a retailer or distribution center. A WMS is often used alongside or integrated with a transportation management system (TMS) or an inventory management system.
Types of warehouse management systems
Warehouse management systems come in a variety of types and implementation methods, and the type typically depends on the size and nature of the organization. They can be stand-alone systems or modules in a larger enterprise resource planning (ERP) system or supply chain execution suite.
They can also vary widely in complexity. Some small organizations may use a simple series of hard copy documents or spreadsheet files, but most larger organizations -- from small to medium-sized businesses (SMBs) to enterprise companies -- use complex WMS software. Some WMS setups are designed specifically for the size of the organization, and many vendors have versions of WMS products that can scale to different organizational sizes. Some organizations build their own WMS from scratch, but it's more common to implement a WMS from an established vendor.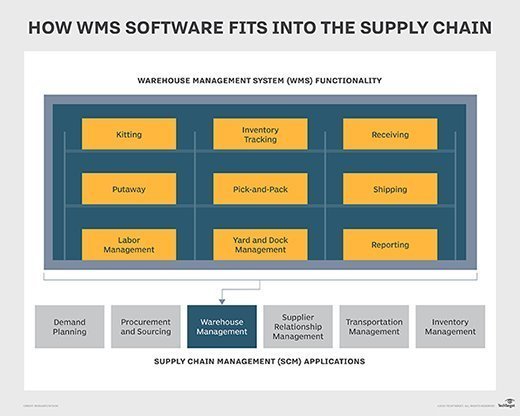 A WMS can also be designed or configured for the organization's specific requirements; for example, an e-commerce vendor might use a WMS that has different functions than a brick-and-mortar retailer. Additionally, a WMS may also be designed or configured specifically for the types of goods the organization sells; for example, a sporting goods retailer would have different requirements than a grocery chain.
Warehouse management system benefits
Although a WMS is complex and expensive to implement and run, organizations gain benefits that can justify the complexity and costs.
Implementing a WMS can help an organization reduce labor costs, improve inventory accuracy, improve flexibility and responsiveness, decrease errors in picking and shipping goods, and improve customer service. Modern warehouse management systems operate with real-time data, allowing the organization to manage the most current information on activities like orders, shipments, receipts and any movement of goods.
Features of warehouse management systems
Many features are common to WMS products, including the following:
Warehouse design, which enables organizations to customize workflow and picking logic to make sure that the warehouse is designed for optimized inventory allocation. The WMS establishes bin slotting that maximizes storage space and accounts for variances in seasonal inventory.
Inventory tracking, which enables the use of advanced tracking systems, including radio-frequency identification (RFID), automatic identification and data capture (AIDC) and barcode scanners to make sure that goods can be found easily when they need to move.
Receiving and putaway, which allows inventory putaway and retrieval, often with pick-to-light or pick-to-voice technology to help warehouse workers locate goods.
Picking and packing goods, including zone picking, wave picking and batch picking. Warehouse workers can also use lot zoning and task interleaving functions to guide the pick-and-pack tasks in the most efficient way.
Shipping, which enables the WMS to send bills-of-lading (B/L) ahead of the shipment, generate packing lists and invoices for the shipment and send advance shipment notifications to recipients.
Labor management, which helps warehouse managers monitor workers' performance by using key performance indicators (KPIs) that indicate workers who perform above or below standards.
Yard and dock management, which assists truck drivers coming into a warehouse to find the right loading docks. A more complex use of yard and dock management enables cross-docking.
Reporting, which helps managers analyze the performance of warehouse operations and find areas to improve.
WMS and IoT
Connected devices and sensors in products and materials help organizations to ensure they can produce and ship the right quantity of goods at the right price to the right place at the right time. All of these features fall under the internet of things (IoT).
Such IoT data can integrate into a WMS to help manage routing of the products from the pick-up point to the end point. This integration enables organizations to develop pull-based supply chains, rather than push-based supply chains. Pull-based supply chains are driven by customer demand, which allows the organization more flexibility and responsiveness, while a push-based supply chain is driven by long-term projections of customer demand.
Top WMS vendors
A variety of software vendors sell warehouse management systems. IBM, Microsoft, Oracle and SAP have WMS products or modules in comprehensive ERP suites.
Other prominent WMS software vendors include Aptean, Basware, Epicor, HighJump, Infor, JDA Software, Manhattan Associates, Rootstock Software (which acquired Kenandy in January 2018) and Sage.
This was last updated in
January 2018
Continue Reading About warehouse management system (WMS)
Dig Deeper on WMS and ERP systems