Get started
Bring yourself up to speed with our introductory content.
An essential guide to M2M technology for manufacturers
An essential guide to choosing and adopting M2M technology for manufacturers.
Introduction
If the warehouse is the heart of manufacturing operations, M2M technology has become the heart of the warehouse. Machine-to-machine technology is in high demand by manufacturers because of its real-time communication abilities and the way it allows them to remotely track their supply chains and monitor warehouse operations from any location. Increasingly global supply chains have made these features invaluable to manufacturers.
The growing popularity of M2M has kept vendors on their toes, and they are meeting the challenge by offering a wide range of M2M functions. Worried about cost? No problem. The return on investment (ROI) makes M2M adoption well worth the effort, but technological advances such as the cloud have also made it simpler -- and cheaper -- to implement M2M technology.
This guide will walk you through the introduction and growth of M2M technology in the warehouse, as well as offer up advice and best practices on M2M adoption and implementation.
1

M2M, mobility and real time

-
Mobility and M2M
Wireless communication is the norm nowadays, and it's been a boon for manufacturers with increasingly global supply chains. Real-time communication has narrowed the gaps in information, and manufacturers can now track and monitor their supply chains remotely. Consumers are also in on M2M: Some automotive companies are reporting an increased demand for wireless technology that will alert emergency services in case of an accident. Find out how mobile technology has made M2M a superstar.
2

M2M trends and innovations

-
Trends and Innovations
The popularity of M2M technology has gained momentum, and vendors are keeping pace with a widening variety of features in their M2M offerings. And many of these products won't cost an arm and a leg -- the cloud, for instance, helps make acquiring and implementing M2M easier and cheaper. The Internet of Things -- connecting all devices over the Internet -- will help manufacturers maintain and organize big data. Find out more about M2M trends and innovations.

Download this free guide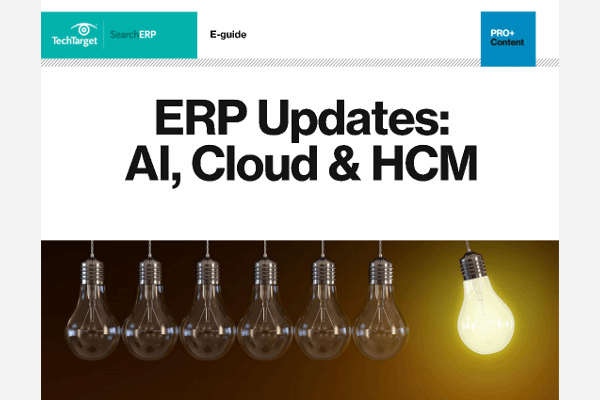 Download: ERP Updates: AI, Cloud & HCM
Find out how you can use ERP reporting to maximize valuable data. Also see how an ERP cloud provider is turning to ADP for core HR services and is integrating Salesforces' AI Einstein.
By submitting your personal information, you agree that TechTarget and its partners may contact you regarding relevant content, products and special offers.
You also agree that your personal information may be transferred and processed in the United States, and that you have read and agree to the Terms of Use and the Privacy Policy.
3

M2M best practices

-
Best practices
For successful M2M adoption, a strong business case is the best bet, but there are other factors to consider before presenting the case to decision makers. One consideration is security: How strong are the risks and what can be done to prevent them? Another is training: Manufacturers must have a clear understanding of how M2M fits into the business for it to be completely effective. Read more for advice and best practices to ensure success in M2M endeavors.
Feature
M2M opens the doors wide to efficient communication, but organizations often need to close those doors on security risks. Read these tips to find out how to keep security issues at a minimum. Continue Reading
Feature
A clear business case and strong ROI are at the core of successful M2M adoption, but are not the only things to consider. Here are some best practices for M2M adoption. Continue Reading
Feature
Manufacturers must understand where M2M fits into the business to take full advantage of M2M's reach and capabilities. Continue Reading