Get started
Bring yourself up to speed with our introductory content.
What's the state of the art in ERP trends?
Users shared their pain points, and a team of editors went looking for answers to create this essential guide to ERP trends and technologies.
Introduction
ERP has come a long way from its origins a half-century ago as a production planning tool for manufacturers.
Today, ERP applications run nearly every part of all kinds of businesses large and small, from social media startups to banks and construction companies. They have jumped platforms along with other kinds of inherently multiuser, networked software, first from mainframes to minicomputers, then from client/server architectures to today's more distributed, Internet-based scheme with smartphones and tablets at its farthest edges.
But it's also fair to say ERP has probably made as many enemies as friends with its maddening inflexibility, often stodgy user interfaces and extortionary license fees. Still, few companies of any size -- or at least with dreams of becoming players -- would dare to run their business without an ERP system -- or something very much like one.
The friendlier feel and broader, more up-to-date functions of the current crop of ERP applications exist alongside longstanding questions about what a monolithic system can really be expected to do. Customization is often still a necessity, and integration is a usually tedious and expensive proposition that, ironically, becomes unavoidable when a supposedly do-it-all system can no longer do the most basic things without outside help.
A team of TechTarget editors asked ERP users about their experiences with this complex software to find out what the recurring problems are, how they might be solved, and where ERP has had the most positive impacts. Consultants, analysts and vendors joined them and the editors in assessing ERP trends for this special report.
1

ERP overview

-
Where ERP stands today: A summary of ERP trends
ERP in some form will probably never go away, but it's clear that massive changes are afoot. Here's what you need to know to stay upright in the shifting sands of ERP trends.
Feature
If you're relatively new to ERP and need to know the basics, or an old hand who could use a reminder of how far you've come, these frequently asked questions (FAQs) provide a handy summary of ERP fundamentals. Continue Reading
Feature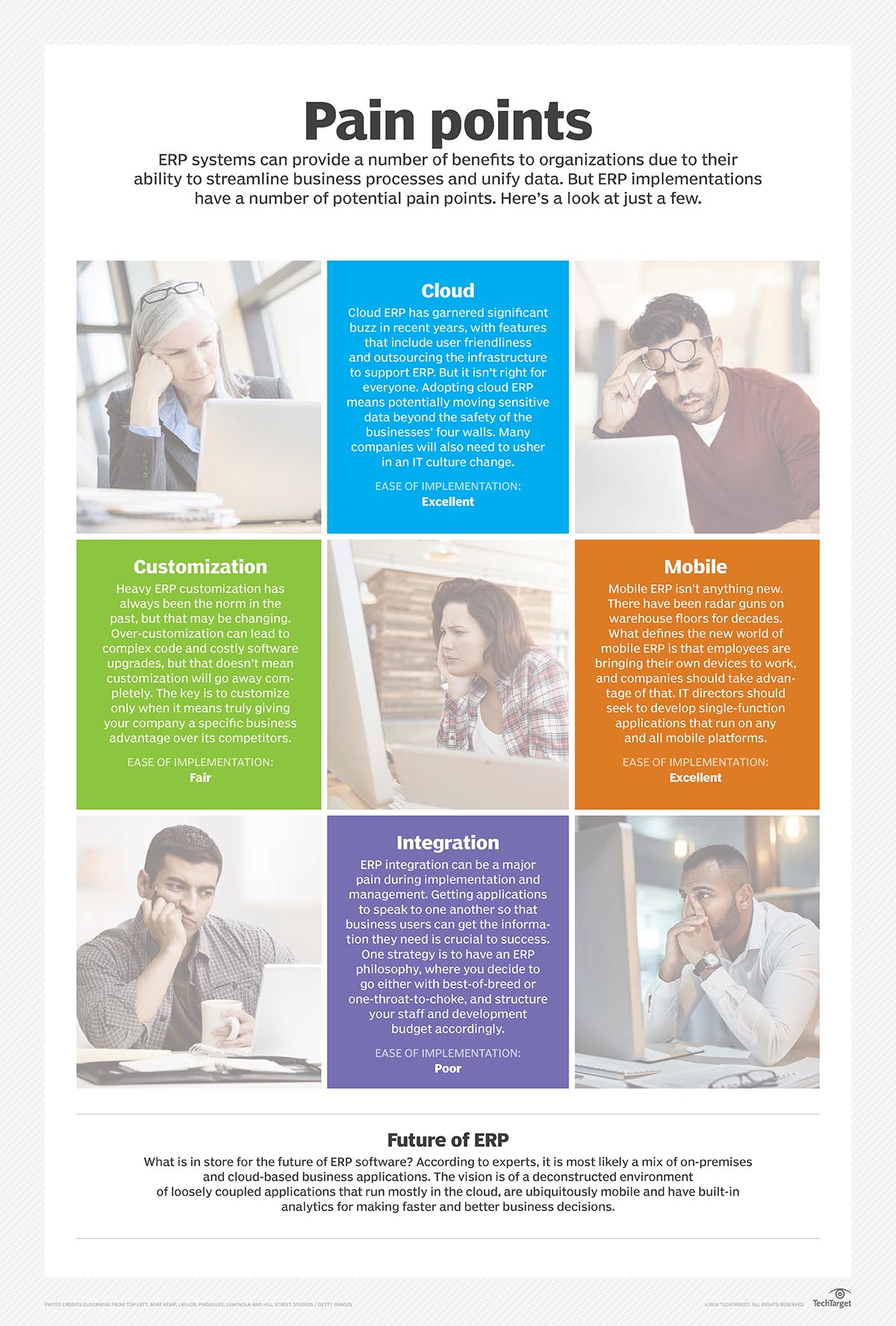 Integration and customization have always been tricky issues for owners of ERP systems. More recently, advances in cloud and mobile technology have forced them to rethink their entire deployment strategy. Click on the infographic for summaries and continue reading below for deep dives into these top-of-mind issues in ERP. Continue Reading
2

ERP customization

-
Customization
One size rarely fits all, especially those large companies with complex business requirements. So, to get the most out of their huge investments in ERP, most companies have had to resort to some degree of customization. It comes with many drawbacks, and experts are full of ideas on how to avoid it, as outlined here.
Feature
Until recently, customization was an unavoidable, pricey necessity as most companies could not get their ERP systems to fit their business processes. Today, configuration is the watchword coming from vendors, and many consultants advise changing business processes to take advantage of the best practices embodied in ERP. Continue Reading

Download this free guide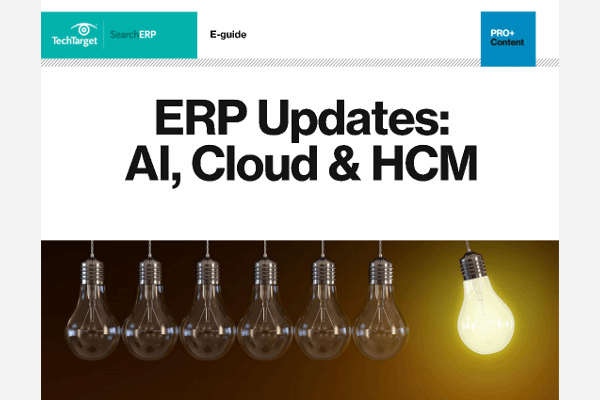 Download: ERP Updates: AI, Cloud & HCM
Find out how you can use ERP reporting to maximize valuable data. Also see how an ERP cloud provider is turning to ADP for core HR services and is integrating Salesforces' AI Einstein.
By submitting your personal information, you agree that TechTarget and its partners may contact you regarding relevant content, products and special offers.
You also agree that your personal information may be transferred and processed in the United States, and that you have read and agree to the Terms of Use and the Privacy Policy.
3

ERP integration

-
Integration
Having a complete, integrated suite of applications to run the business with was the original promise of ERP. But users have often found it not to be the case, especially when they have tried to add functions. Integrating the pieces is an age-old challenge that never goes away, but this section offers some best practices for addressing it.
Feature
Companies often change or upgrade ERP systems in search of better integration with critical third-party technology. But experts say it can all come to naught without a clear philosophy on ERP architectures and integration options. Continue Reading
4

ERP trends in technology

-
Technology
ERP is being knocked around by the same cloud, social, mobile and big-data trade winds that are sweeping through the rest of the IT world. In this section, read how companies are already taking advantage of cloud deployment and mobility, and where the four technology underpinnings of the emerging IT platform might take ERP in the next decade.
Feature
Several companies that have moved from in-house to cloud ERP software describe what it's like, warts and all. Plus: sage advice from users on which functions should go into the cloud and which ones are best kept on-premises. Continue Reading
Feature
The monolithic ERP system is breaking into pieces, often from multiple vendors and, increasingly, delivered from the cloud. That's mostly a good thing because it makes social collaboration and user-friendly mobile access possible and affordable. The downside: integration hassles -- already a major pain with most of today's ERP systems -- are only going to get worse. Several longtime observers of ERP technology give their predictions on where it may all be headed. Continue Reading