buchachon - Fotolia
3D printing company Carbon selects Oracle Cloud ERP
Carbon, a young company with an innovative new 3D printing technology, says using Oracle Cloud ERP for its business applications will help to ensure long-term platform stability.
For a young company with an ambitious growth plan, selecting an ERP system is not necessarily a question of present requirements, but of what may be needed in the future.
This was the case for Carbon, a four-year-old firm that's small now, but believes that its innovative technology is poised to make 3D printed parts a mainstay in manufacturing. In its early growth stages, Carbon was satisfied with an array of disparate applications to run its business, but knew this was not a good strategy for long-term growth. To meet its future needs, Carbon selected Oracle Cloud ERP, according to Chris Hutton, Carbon's director of business operations.
Carbon's CLIP makes the unmakeable a reality
Carbon's 3D printing technology is the key to the company's growth. Developed by Carbon founder Joseph Desimone, the Continuous Liquid Interface Production (CLIP) technology is a photochemical process that uses light and oxygen to produce objects from pools of liquid polymer. This process, Hutton said, results in parts that are virtually limitless in design, can be printed faster and have greater structural integrity and consistency than conventional 3D printed parts.
"This allows you to make parts that would be impossible in traditional manufacturing methods, and essentially gives you total freedom of design to make what was previously considered unmakeable," Hutton explained. "We've got polymers that can be printed that are on par with industrially verified materials that are used day in, day out with injection molding."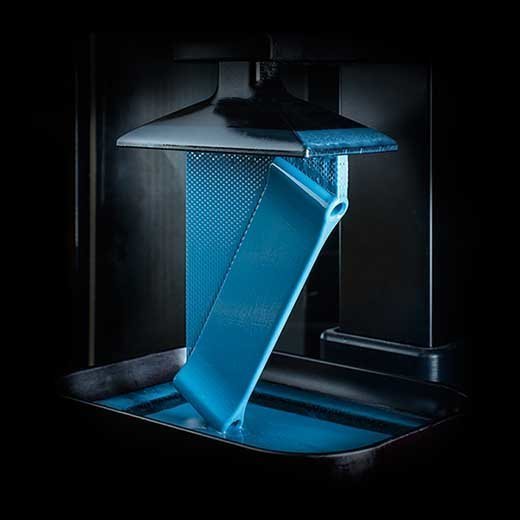 The market potential for Carbon's cost-effective 3D printed parts is huge, with existing customers in automotive, aerospace, healthcare and consumer industries.
"We can be anywhere that you see a plastic part. So, really, this technology can be vertical-agnostic, and there's huge potential," Hutton said. "You can go as far as your mind can take you; anything plastic is up for redesign and being manufactured by this technology."
However, to make this potential growth a reality, Carbon has to run its business efficiently. At the time Hutton joined the company in 2015, Carbon was running multiple independent systems, including NetSuite for financials, Zenefits for HR and pc/MRP for manufacturing and warehouse operations. These are ideal systems for a startup, Hutton said, but would soon become inadequate as Carbon grew.
The need to future-proof the system
"As we looked at it with these disconnected systems, the choice was, do you invest in integrating those … but then it's likely you're going to have to replace [them] anyway in two or three years as the business grows?" Hutton asked. "Having large aspirations helps drive that planning process to where I wanted to establish an enterprise application suite that was future-proof."
One of the main characteristics of future-proofing, Hutton explained, is the ability to easily stand up the system in different countries as the company expands its customer base. To meet these criteria, Carbon needed an ERP vendor with global reach and global understanding.
The other main future-proof criterion was to have a system that could be upgraded easily and cost effectively as the company grew and requirements changed, or when the system introduced new features. On this count, a cloud ERP system had a clear advantage, and Carbon was fortunate that it had not been locked into an on-premises system.
"You can end up with a system that's so hard to upgrade that you won't upgrade it," Hutton said. "Then, in five years' time, you realize that it's obsolete and doesn't do what you need it to do, and you've got to go through a whole reimplementation."
Cloud is the only option
Hutton said that Carbon does a huge amount of cloud computing because its 3D printers are internet-connected. Because of this, the company fully understood the cloud value proposition, and that a cloud ERP system was Carbon's only option. The advantage to having all the business applications on one common cloud platform meant that upgrades would be easier and less costly because the applications were preconnected. There's no need to test every integration during the upgrade.
"You're basically outsourcing your integration testing back to your provider, which is huge because they have a vested interest in making sure that their own systems can talk to each other," Hutton said.
Once Carbon decided it wanted an integrated cloud system from one provider, the company had to determine which system checked all its boxes for applications and requirements. These included applications for HR, financials, supply chain for manufacturing and a service application for Carbon's installed customer base for its networked printers. This breadth of applications narrowed the field down to only two options: Oracle and SAP.
Carbon decided on Oracle Cloud ERP because of the application suite's strength and its out-of-the-box functionality. Extensive customization of a system is a hindrance to future-proofing because it makes upgrades more complicated, Hutton said. The mistake many companies make, he said, is in trying to fit the system to the business processes, rather than adapting business processes to the system.
The most important factor in ensuring a smooth implementation was defining all these processes and fitting them into the Oracle Cloud ERP applications, Hutton said.
"We stepped back and spent six months in planning before we started the implementation," he said. "And [we] mapped out all 300 or so processes across the whole business and classified them in three buckets -- signature, core or infrastructure."
Thinking out-of-the-box functionality
Signature processes define Carbon as a company and are fundamental tenets of its value proposition; core processes are ones that must work in a way that suits the business, and infrastructure processes are essential ones that must work in order for the business to operate. Hutton explained that signature processes could possibly be customized, core processes could be customized if necessary and infrastructure processes could never be customized.
"As we mapped those out, we essentially ended up with a couple out of the 300 [processes] being signature, where we would consider a customization if the system [didn't] do it," Hutton said. "Everything else, we said, there is no reason why we shouldn't be able to take the process that Oracle's recommending from their vanilla system. So going through that exercise beforehand and getting the whole organization aligned with the implementation philosophy made this extremely smooth because the whole company knew that every process might change as a result of this, but [that it was] the right thing to do."
Fortunately, Hutton said that only about 20% of the processes needed to be changed, and most of those were not critical. So, with the vast majority of the processes coming straight out of the Oracle box, the system became efficient and upgrade future-proof.
The implementation itself was completed in just over three months, with Carbon working with two Oracle implementation partners, DAZ Systems and AmberLeaf. The implementation schedule was aggressive because Carbon implemented the financials, purchasing and HR applications simultaneously, which had to be completed before the end of the fiscal year. This was important because Carbon needed to roll off the subscriptions they were already carrying -- primarily Zenefits and NetSuite -- or sign up for another annual subscription.
No legacy, no problem
Carbon was able to roll up the implementation so quickly because of the company's small size and lack of legacy infrastructure.
"We hustled, and the volume of data that we had to go through was not huge," Hutton said. "When you're looking at HR data to transition and integrate, you can do that work manually when you've only got 200 staff members ever, in the whole history of the company. It's not like we've got tens of thousands of records to go through. And it's the same with the financial history, where we said, we only need to pull across a year of history at this stage."
The bottom line for a successful cloud ERP implementation? It's pretty simple, according to Hutton.
"Preparation is the key to success, so the longer you can spend planning this and preparing it, the better," he said. "The big thing which everybody falls on is trying to customize their system and trying to have the system fit them; but manage it from top-down, get the executive support and you should certainly be successful."