A PLM systems comparison of the industry's top tools
Knowing the constraints of an industry and if your company plans to implement a cloud strategy are just some factors to consider when performing a PLM systems comparison.
Finding the right vendors to include in your product lifecycle management selection is an important step in your...
Continue Reading This Article
Enjoy this article as well as all of our content, including E-Guides, news, tips and more.
PLM journey. Using Tech-Clarity's PLM evaluation framework gives you a foundation to set the right criteria when reviewing potential vendors. Deciding which partners to consider is critical and getting it right can save a lot of time and heartache. The vendors discussed in this article all have strong PLM systems in their own ways. But the strongest offering isn't necessarily the right one for your business. The following strategies are designed to help you refine your PLM systems comparison and can help you make the right choice.
Learn from the Experts
Before jumping into PLM vendor suggestions, here is one important piece of advice: learn from the experts. Speak with analysts and systems integrators who specialize in product lifecycle management. They know about the vendors' products and have practical experience implementing and supporting a variety of software.
Ideally you'll partner with a firm with the management consulting skills to help with your strategy in addition to understanding PLM systems. You will want to make sure that the consultants you engage work with multiple systems. While a company with deep expertise in a single vendor might be a valuable asset later in implementation, you need someone with a breadth of software experience to help define your early list. Consider working with companies with business and technical skills like Accenture, Deloitte or Kalypso or industry market specialists like BeyondPLM, CIMdata or Tech-Clarity. Larger analyst firms like Gartner or IDC can also be helpful at this stage.
Be Open and Learn
Make sure to include a variety of PLM system providers when you start developing your list. Many times I hear companies say they're choosing between Dassault Systemes, PTC and Siemens PLM. Arguably, these "big three" are the largest, most established PLM vendors. But other types of solutions are worth exploring. If nothing else, you'll learn more about PLM software.
In the end, the short list for a large, multinational manufacturing company may only include the "big three." But it may not if companies are open to exploring other viable alternatives.
A PLM systems comparison starts with your company's constraints
Despite my advice to be open to a lot of alternatives, I'm going to suggest that you work from constraints. Save yourself, your team, and your company time, money, and heartache by knowing whether there are "hard stops" that you might run into. There is nothing worse than getting a team excited about a solution only to find out that you can't work with the vendor.
Hard stops to look for can be technical, political or corporate policy. Some companies have developed all-cloud strategies that require a vendor without a cloud strategy to be disqualified. The list will vary depending on your definition of a cloud solution, which is more than we have time to cover here, but it would certainly include cloud-only vendors like Autodesk and Arena Solutions. Other companies may have the opposite strategy and disallow cloud systems. Some businesses may have regulatory requirements like export regulations that some vendors don't address, or policies that limit the country of origin of their software solutions. Ask your business sponsor and IT team if there are any landmines you should avoid.
Your industry determines your PLM systems comparison
To start your list, look for the combination of your industry and PLM. You'll quickly find that if you are an automotive, industrial equipment or other discrete manufacturer you'll see lots of case studies from companies like yours from vendors such as Aras, Autodesk, Dassault Systemes, PTC, Synergis Software and Siemens PLM. There are unique niches even within these industries. For example, PTC has a lot of customers in the aerospace and automotive transmissions industries. For aerospace, you'll see a strong presence by Dassault Systemes. And Autodesk has a strong presence in building products because of its strength in the architectural, engineering and construction market.
In other industries you might see a higher concentration of case studies for a different collection of vendors. For example, Oracle's Agile business and Arena Solutions are both commonplace in the electronics industry and for medical devices. For consumer packaged goods companies that develop products based on formulas, offerings like Optiva from Infor are prevalent. The larger vendors like Dassault Systemes and Siemens PLM are making progress in those areas as well, including Dassault Systemes' large Accelrys acquisition that enables scientific innovation and lab operations. For apparel and footwear, there are a host of smaller offerings including Gerber, Lawson Software and Lectra. PTC's product has strong fashion-oriented capabilities -- through the acquisition of Aptavis. Dassault Systemes and Siemens PLM have invested in these industries as well.
Know your scope -- today and tomorrow
Product functionality is also a large factor to consider. It's important to understand what you're looking for in your PLM system in the near term and in the future when you are reviewing vendors. If you only care about managing product data, the field is wider. But PLM covers a lot more. The illustration below is Tech-Clarity's breakdown of what functions PLM systems can cover. For example, if you have special needs like design for sustainability, PTC and Siemens PLM have products in those areas.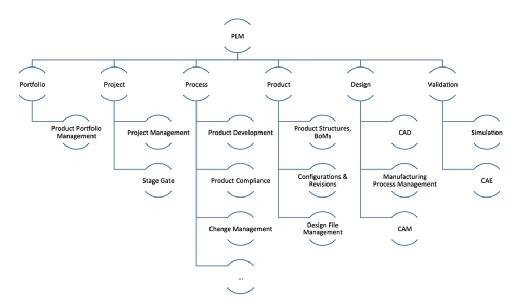 If you are a defense contractor, you might need an earned value management (EVM) system. Dassault Systemes has built this into its ENOVIA platform program management capabilities. For companies that want to integrate service with engineering, PTC has a strong investment in service operations, particularly field service. Aras, an open source PLM vendor, includes capabilities for quality management and CAPA (corrective action and preventive action) processes. It's important to look for these kinds of capabilities in addition to core data and process management when you review scope.
Develop goals for integrated development
Another key area to analyze is how tightly linked you would like your design tools to be with each other and with the PLM system. For example, would your company value an integrated product innovation platform that connects data from requirements through conceptual design all the way through engineering to verification and validation -- and beyond? The easy answer is "who wouldn't?" But to make a good decision you have to evaluate how much that's worth and where it falls in your company's priorities. In some instances, companies will expand the scope of their PLM evaluation to consider adopting a full suite from a single vendor. Most won't change everything at once, however.
If your company places a high value on an integrated environment, you should make sure to review the vendors that provide your design tools. The largest computer-aided design (CAD) vendors offer their own PLM systems. While all PLM companies work hard to manage their competitors' CAD (and multi-CAD) designs, the environment created between a vendor's PLM system and its own CAD tools is bound to be better. So if NX is your leading CAD, Siemens PLM's Teamcenter is a natural for your list; in the same way that CATIA would suggest Dassault Systemes' Enovia; and Creo would suggest PTC's Windchill.
A PLM systems comparison should include the incumbent vendors too
Another group of companies to review is the collection of incumbent vendors beyond your design tool vendors. Many companies run SAP, Oracle or another ERP system, and many of these vendors have developed PLM capabilities. It's important to understand what they offer, because inevitably somebody will ask if there are economies of scale available, and you should do your due diligence to see if they meet your needs. But don't just look here, as ERP vendors' scope may be significantly different from what you would see from a PLM specialist.
What's your PLM vision?
Beyond what's available today, you should think strategically through what PLM and your overall product innovation platform should provide in the future. PLM vendors are actively defining a new future for themselves and their customers. You should make sure that future fits with your needs and vision.
For example, if your company feels that the Internet of things (IoT) is an important PLM-related capability, you should spend some time learning what PTC is doing with ThingWorx. PTC strongly believes that IoT capabilities are essential to helping companies design, produce and maintain smart, connected products. Autodesk has made investments in IoT as well, although not quite as significantly. Others have big data analytics capabilities that can prove very useful for IoT, including Dassault Systemes' Exalead and Siemens PLM's Omneo.
If your vision includes tighter integration with manufacturing, an obvious candidate would be Siemens PLM. The Siemens strategy includes integration in more places and for more functions with both manufacturing planning and manufacturing execution. The Siemens' software portfolio includes MES and its broader offerings include industrial equipment and controls. Siemens is investing heavily in helping customers achieve advanced manufacturing strategies like Industry 4.0 and views trends like IoT through the industrial Internet lens. Dassault Systemes has focused on this area as well with their acquisition of Apriso, a strong manufacturing planning suite. Autodesk has an interesting focus on the "future of making things" that goes beyond traditional manufacturing to include new design and production methodologies like generative design and additive manufacturing, which might appeal to those with a strong manufacturing integration vision as well.
If your PLM strategy contains a strong commercial aspect in addition to engineering and R&D, you will probably want to include Dassault Systemes in your selection. Its "3DExperience" vision includes a broad view that goes beyond the core of what most people would call PLM.
Vendor relationship plays big role in PLM systems comparison
Sometimes the best feature a PLM vendor can offer is freedom to innovate. If you want to have a lot of input and flexibility in the functionality of the system, you can offer input to any of the major vendors. With Aras, however, an open-source business model allows you the ability to contribute directly. Customers can develop new capabilities on the Aras Innovator platform that can be shared with others. This model results in the opportunity for your company to access capabilities built by other customers as well.
If flexibility in a PLM system is your goal, another option is Autodesk PLM360. While Autodesk is newer to the market, and its solution isn't quite as deep as others, it has built a very flexible platform that you can extend and enhance. Many customers report configuring entire new modules to handle unique scenarios that aren't covered in the system. Autodesk is actively investing in building out the product and looking to be entry number four in the current "big three."
Final Thoughts
There is no single, right choice for any company. Every PLM system has its plusses and minuses. In the end, what you do with it and how you implement it will probably have more to do with your success than the tool you choose. But finding the right vendor relationship can impact adoption and service aspects as well. Ultimately, it's up to you: The success of your PLM implementation only goes as far as the research you put into your PLM systems comparison.
Next Steps
What's the best way to implement PLM software?
See what PLM vendors do to get a seat at the enterprise table.
Integrating MES with PLM can lead to a positive ROI.