Before implementing ERP systems, identify their many components
In-depth research is needed to understand the numerous ERP components, functions and deployment options. Here are the ins and outs of implementing ERP systems.
An enterprise resource planning system is a suite of integrated applications that a company uses to connect its...
Continue Reading This Article
Enjoy this article as well as all of our content, including E-Guides, news, tips and more.
business activities across departments so that everyone is working with the same data and processes.
Companies can use enterprise resource planning (ERP) systems to streamline and improve the efficiency of their operations, which saves time and money. In the course of implementing ERP, companies can also standardize and automate many business processes to eliminate manual effort and save time.
Before a company starts implementing ERP systems, there are various ERP components that a company must select, often depending upon the specific business processes it wants to improve and whether it is selling products or services. Businesses that sell products often have manufacturing, supply chain, inventory management and distribution functions that the ERP system must address. For organizations that sell services, ERP capabilities such as project management for service engagements and support for field services and sales operations are very important.
Five common ERP components
Despite the wide variability of company needs for ERP, there is a core set of ERP components that most companies want and should consider before implementing ERP systems.
Finance
Companies want to record, track and consolidate all of their sales and operational information in a central accounting system. ERP financial software delivers this capability with a centralized general ledger, accounts receivable, accounts payable and payroll systems.
Companies also want the ability to perform analytics reporting and what-if scenario modeling on their financials, which many ERP systems provide.
HR
ERP offers a centralized HR system that enables organizations to track personnel hours and employee performance evaluations across the organization, as well as to administer benefits and manage talent and staff development.
Increasingly, companies want the ability to use their HR systems in a more holistic manner. ERP vendors are offering just that, with the ability to recruit and engage with new talent in the marketplace, to map out succession planning and to manage corporate compliance issues concerning employees.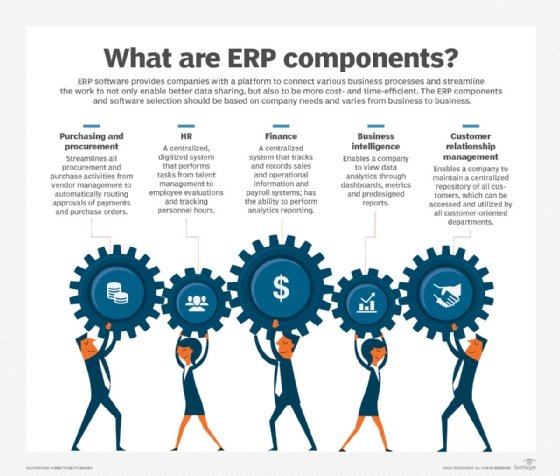 Purchasing/procurement
ERP purchasing software streamlines the procurement process, from purchase order issuance and vendor management to payments and reporting.
ERP purchasing software also has the ability to automatically route approvals of purchase orders and payments to the appropriate corporate decision-makers.
Business intelligence
Organizations want more data analytics that enable them to assess and act on information about the business. To facilitate this, ERP vendors provide dashboards, predesigned reports, and even best-in-class metrics and guidelines that companies can use to assess business sales and operations.
Companies also have the flexibility to perform data mining on their ERP information and to develop their own custom reporting.
Customer relationship management
The ERP CRM application is a centralized repository of customer information that customer-facing departments across the company can use and access. It includes information about company interactions with prospects, customers, clients and partners, and can track all of these interactions across marketing, sales, service and any other customer-facing departments so that everyone is using the same information. ERP CRM includes sales force reporting, tracking and automation, marketing, service, and support.
ERP software for product-oriented companies
While the components mentioned below are still core to ERP, they cater more to product-oriented companies, and they should also be considered before implementing ERP systems.
Supply chain
Some ERP systems encompass not only the company's internal operations, but also the operations of supply chain business partners and suppliers in the production of goods from raw materials, inventory and supplies. This gives companies the much-needed visibility into both their internal and external engineering and manufacturing processes.
Certain ERP components come in handy for companies that are constantly revising their product configurations and designs. Enterprises can track and manage different versions of their products that are still in use with the help of ERP product lifecycle management modules that store product information at every stage of product revision.
Distribution/warehousing
ERP distribution and warehousing systems employ automation that enables the company's customer-facing sales force to link customer quotes and orders directly into back-office inventory management, fulfillment and accounting systems. This ensures that orders are filled in a timely manner.
Key features of some ERP systems for distribution also include comprehensive warehouse management functions that ensure that inventory in warehouses is optimized to meet the company's supply chain requirements. For companies managing multiple warehouse locations, these distribution and warehouse systems provide the ability to see their entire inventory and stock movements across all locations, improving inventory management by enabling companies to reassign inventory between locations as needed.
Inventory
An inventory management system optimizes inventory stocking and consumption and provides for both manual and automatic inventory forecasting. Companies can set order policies for individual parts and assemblies. The software also issues reports on inventory exception and potential oversupply conditions, and it can track inventory across multiple locations.
These inventory management systems can operate in a stand-alone fashion -- or they can be linked into logistics, shipping and billing systems. Many inventory management systems also come with support for bar coding, SKU management and integration with other types of warehouse technology, such as sensors and hand-held mobile devices.
Implementing ERP components for service management and one-off projects
Other types of companies that need ERP are service management companies and one-off project companies. Below are some of the core components of these specialized ERP systems.
One-off project management
Comprehensive project management that includes multilevel work breakdown structures for projects, project resource scheduling, and bid and contract management are available in ERP project management software.
This software also provides visibility into all resources being consumed in the project -- e.g., assets, inventory, materials and labor -- and it enables accurate and timely billing of project costs throughout the project's lifecycle. Companies can track project profitability and control margins simultaneously as a project is being performed. This enables managers to fine-tune project performance and ensures that key performance indicators are met.
Service management
Service management ERP offers optimization, tracking and management of professional services, and it is often used by professional service organizations and companies with billable field service functions. This software can also evaluate customer satisfaction levels and service-level agreement, warranty and contract performance.
Service-oriented ERP can additionally auto-track customer contacts through all the stages of a customer relationship -- from prospecting to closing, upselling and providing support. This gives everyone on the service team uniform and complete visibility into the customer relationship and into the company's history with the customer. This facilitates productive collaboration across the end-to-end services.
What companies want from ERP systems today
Because the ERP system offers a single repository for company-wide data that is accessible to everyone, the risks associated with working with disparate systems and data -- like the potential for error or duplicating business functions in different departments -- can be reduced.
Large enterprises in particular have many different systems that have been independently installed by departments -- and they want to implement a single ERP system that takes the place of these earlier systems, and that can also get rid of the operational inefficiencies and time delays that have developed through the years.
Midsize companies want these advantages, too; but they also want a way to level the playing field with their larger enterprise competitors. These companies may want to select an ERP system that can be scaled out to cover more organization business processes as they grow.
With cloud-based ERP offerings, even small companies can afford to start implementing ERP systems that instantly bring more efficient business processes into their organizations, which often lack the internal resources or expertise to institute the software.
Finally, many large, medium and small companies look for ERP that is specialized to the needs and requirements of their particular industries. There are several ERP vendors that provide this industry vertical specialization.
Different ways of implementing ERP systems
Companies can purchase ERP software either as a comprehensive suite or as a smaller suite encompassing only financial systems, financial and manufacturing systems, or only service systems. Companies can also purchase a total ERP system that is specifically designed to meet the needs of a particular industry vertical, like construction or the food and beverage industry.
ERP is also offered in different implementation styles. A company can buy ERP software that corporate IT runs on premises in the company data center. Alternatively, a company can subscribe to ERP where the system is run as a service in the vendor's cloud, or it can opt to have an ERP system that the vendor or a partner hosts at the vendor's site, but that corporate IT runs and maintains.
A company can also have the vendor both run the system and provide business ERP consulting on the business side to the company; these vendors are known as software as a service, or SaaS vendors. In other cases, companies may adopt a hybrid approach to ERP, electing to have some systems run in house and others run in the cloud.
The challenges of implementing ERP
The challenge for companies implementing ERP systems is to choose a system from among the wide variety of options in the marketplace that best matches their business needs and user expectations.
An ERP system must fit well with the company's existing operations and systems -- and it must also be able to deliver on key performance and profitability goals that the company's existing systems can't deliver.
An ERP system must fit well with the company's existing operations and systems -- and it must also be able to deliver on key performance and profitability goals that the company's existing systems can't deliver.
This is a tall order -- and it is also the reason why ERP has a higher failure rate than any other software. It can be a career-ending project for many managers if an ERP installation doesn't go well.
For an ERP decision-maker, whether it is an internal ERP user, a CFO, a COO, a VP of manufacturing or someone else, this means that it is as important to find an ERP partner that is as capable of working with you on system installation, integration, consultation, training and support as it is to deliver a new ERP system.
It is equally important to choose an implementation of ERP that works best for your company -- whether this is a hybrid combination of on premises and cloud-based ERP, or a cloud-based ERP that can range from the vendor simply hosting your ERP system at its site while you run it to outsourcing the entire ERP system and its support to the vendor.