Manage
Learn to apply best practices and optimize your operations.
Best practices for successful demand-driven manufacturing
Before embarking on a journey to demand-driven manufacturing, model the inventory environment and then focus on planning and execution.
Traditional planning practices, embodied in classic forecast-based demand generation, are not well matched to the volatility of customer demand today. Most manufacturers still plan and execute production based on a forecast that is simply a best guess as to how much of an item they will need to fulfill customer orders. Unfortunately, this does not result in a true demand-driven manufacturing model.
Actual demand is increasingly out of whack with manufacturers' forecasts. This imbalance can lead to the "bullwhip effect," in which there are larger and larger swings in inventory in response to changes in demand. The result can be disastrous, as manufacturers end up holding too much of the wrong thing and running short on what customers really need -- or missing it altogether.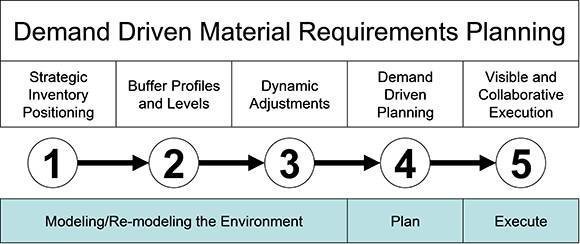 The phases of a demand-driven journey. According to Carol Ptak, partner at Demand Driven Institute, the transition to a demand-driven model has three distinct phases. Source: Demand Driven Institute
Making the move to a demand-driven manufacturing model requires a fundamental shift in how companies manage their supply chains, according to Carol Ptak, partner at the Demand Driven Institute, a Rochester, Wash., think tank and consulting firm that advises companies on how to do demand-driven materials resource planning (MRP). Having that mind-shift in place is an essential best practice when transitioning to a demand-driven model, said Ptak.
When Ptak and her Institute partner Chad Smith advise companies on how best to adopt demand-driven manufacturing, they recommend a five-step process (see graphic). "The first three steps model and remodel the company's strategic path for inventory. The last two involve planning and execution," said Ptak.
Beginning the demand-driven journey
No company can become demand-driven without greater data access and transparency. According to Ben Pivar of Capgemini, manufacturers should aim their efforts in these areas first:
Retailers should improve their ability to capture, analyze and incorporate point-of-sale (POS) data into supply chain decision-making processes
Manufacturers of all types should aim to significantly improve integration between traditionally siloed functions such as marketing, sales, finance, product development and supply chain.
Manufacturers should boost their ability to read and react to changes occurring in the marketplace and in the relationship between trading partners -- for example, by investing in intraday planning, dynamic demand sensing capabilities and demand-signal repositories.
The first step involves asking where inventory is located before the correct answer to the questions of how much inventory there is and when to stock the inventory can be answered. At the second step, determine how much inventory to put at that position. Step 3 involves dynamically adjusting these strategic inventory buffers according to the market. Step 4 is adjusting plans and planning processes to incorporate the changes. And finally, step 5 is executing the new planning and production processes.
This five-step process might seem a lengthy exercise, but becoming a demand-driven manufacturing network is a major shift for a manufacturer and therefore worth it, said Ptak. "The result is a highly responsive and adaptive supply chain that dramatically improves due date performance and return on capital employed, without compromise," she added.
Get everyone on board with demand-driven manufacturing
Meanwhile, since being demand-driven is predicated on a high degree of visibility into data from supply chain partners and other third parties, it would be a mistake not to involve partners outside the four walls of the enterprise.
According to Ben Pivar, vice president of supply chain technologies practice at management consultancy Capgemini North America Applications Services, "Manufacturing companies need to work on developing and explaining the value proposition for a demand-driven model to customers and suppliers. You need a willingness to collaborate and share data on all sides," said Pivar.
Meanwhile, as with any large undertaking, it pays to proceed slowly and methodically rather than frantically trying to rack up early wins. "Manufacturers often try to take on too much at once. We are a big proponent of a 'crawl, walk, run' approach that allows companies to focus on tackling discrete areas but also [maintain] a vision toward a common goal," said Pivar. Becoming demand-driven requires a continuous improvement mentality and approach rather than the achievement of a disconnected goal.
Dig Deeper on Demand management