Fotolia
Business budgeting software boosts productivity for real estate broker
By subscribing to cloud-based Vena, Berkshire Hathaway HomeServices retains the familiarity of spreadsheets and gains major advantages in speed, accuracy and productivity.
With cloud-based business budgeting software from Vena Solutions, Berkshire Hathaway HomeServices is about 10 times more productive during the annual budgeting process than it was with Microsoft Excel, and the budget is much more detailed, according to the top accountant for the real estate brokerage.
Jessica Karsies, accounting department manager for Berkshire Hathaway HomeServices Michigan Real Estate, which is based in Rockford, Mich., said the company went live in August 2015 with Vena, the name for the corporate performance management (CPM) product.
Instead of replacing Excel, Vena leverages and enhances Excel in a cloud-based application, meaning accountants and other users have the familiarity of spreadsheets but with the advantages of the cloud, such as numbers that are up to date, more granular and easier to manipulate and share, she said.
"When working in Vena, it is pretty much like working in Excel," Karsies said. "You are looking at an Excel spreadsheet with a couple of more add-ins."
Excel served over the internet
Vena serves up native Microsoft Excel over the web, unlike some other CPM software that makes a company rebuild existing spreadsheets, assumptions, drivers and models in an "Excel-like" proprietary interface, according to the Vena Solutions website.
The business budgeting software provided immediate value, Karsies said.
Prior to Vena, Berkshire Hathaway HomeServices used Excel to complete seven to eight annual budgets for various regions in about two months, she said.
With Vena, the real estate company can complete about 80 annual budgets for offices and departments in the same amount of time, she said. The budgets used to be completed only at a basic level, but now the spending plans are much more detailed -- right down to each general ledger account, she said.
Integration with on-premises ERP
The company previously generated only one line item for advertising expenses, for example, but since Vena is more flexible and provides greater access to data, the tool can break the advertising line item and other items into various, detailed expenses, Karsies said.
In November, the company produces an annual budget for the coming year and then a quarterly reforecast, she said.
Vena integrates with Berkshire Hathaway HomeService's on-premises ERP from DPN, which is a division of Lone Wolf Real Estate Technologies Inc., and it also replaced the financial analyst module on the ERP. The business budgeting software pulls general ledger information including accounts for assets, liabilities, revenues and expenses, and the numbers are updated at the end of each day, she said.
"We had our reservations that Vena would be compatible with the software we use, but it is and it works beautifully," she said.
Financial reporting with Vena
The company purchased Vena mainly to improve its budgeting process, but the business budgeting software also provides financial reporting, Karsies said.
After some training from Vena Solutions, she said she has created about 50 to 60 different types of reports including income statements that show profits and losses by month for each division or department.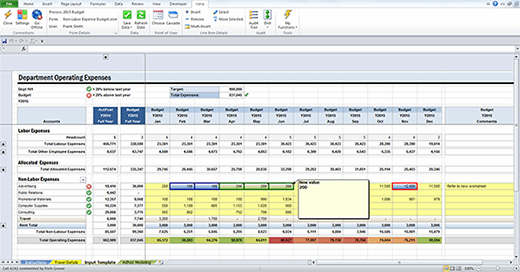 Other reports provide details for about 55 different real estate offices. One report, for example, shows an average sales price for homes for the month for an office depending on how many units were sold and another ranks offices in terms of profits and revenues.
The company, which has about 250 employees and an additional 1,000 real estate agents and brokers who are contractors, is complex with about 25 entities, she said.
While real estate is the biggest operation, other lines include home and title insurance, property management and home warranty.
'Huge' time savings
From the start, the business budgeting software was a "huge time saver" for the controller at her company, she said.
Prior to Vena, reports from the ERP would come out in CSV file format and they could not easily be manipulated, Karsies said. Because of that, there was a lot of copying, pasting and manual reformatting of budget numbers from month to month, and sometimes numbers were deleted or pasted in the wrong column when actuals were being compared to historical numbers.
After the reports were mapped in Vena, the manual process was eliminated and the budget numbers flow automatically with accurate past and current numbers for the month, she said.
The cloud also meant an end to emailing of reports, she added.
"Because our owner and … the accounting department [have] access to Vena, all the reports are there on the cloud," she said.
Key reason for choosing Vena
Karsies said her company's experience with Excel was a big reason it chose Vena, and then the vendor over delivered on its sales pitch and surprised people with the smooth integration with the old ERP.
"We have the ability to customize reports and manipulate data in ways we never had before," she said.
It is all about making solutions that work the way you think, that are easy to adopt and that have quick time to value.

Don MalCEO, Vena Solutions
About 10 to 15 people at her company, including the CEO, the CFO, the controller and accountants, use Vena regularly and then another 35 to 40 managers of sales offices in Michigan and northern Indiana log in about twice a year to help with the budgeting process, she said.
Implementation of Vena took about five to six weeks in total, she said. An implementation specialist from Vena Solutions spent an initial three days on site, including a day to understand the company's complex hierarchy, and then training and discussion of the format of initial templates.
Within two weeks after the initial visit, Vena had completed templates and fully integrated DPN with Vena. An additional two to three weeks were spent testing and checking to make sure numbers and other information were pulled correctly from the ERP, she said.
In the wake of implementation, the vendor's service is fantastic, Karsies said.
Vena has 400 customers
Don Mal, CEO of Vena Solutions, which is based in Toronto, said the vendor has about 400 customers, mostly in the U.S., and 70% of the vendor's business is for budgeting, planning, forecasting and reporting.
Excel on a desktop or in Microsoft Office 365 can access and communicate with Vena over the internet, according to Mal.
To communicate with Excel, Vena, which is offered as an annual multi-tenant subscription, uses an open API that Microsoft makes available to independent software vendors, he said.
Vena solves problems around spreadsheets, or what is known as "Excel hell," by reducing risks caused by errors in the numbers and improving efficiency, he said. When closing a budget, for example, Vena can reduce the time it would otherwise take with Excel by 50% to 70%, he said.
"It is all about making solutions that work the way you think, that are easy to adopt and that have quick time to value," Mal said.