vali_111 - Fotolia
CFOs are finally getting onboard with cloud-based ERP systems
No longer waylaid by security and compliance concerns, more CFOs are reportedly moving forward with cloud-based ERP as a cornerstone for digital transformation.
CFOs, one of the more prominent groups to resist the cloud, have finally turned the corner on migrating core ERP functionality to a modern-day platform. More of them are adopting cloud-based ERP systems as a way to gain efficiencies, reduce costs and achieve the flexibility required for digital transformation.
According to a 2014 Gartner survey, 47% of responding organizations plan to move core ERP systems to the cloud within the next five years. They seem ready to do so after testing the waters with software as a service (SaaS) applications in areas such as expense management and human resources. These applications have raised their confidence in the cloud and addressed lingering concerns related to compliance and security, noted Lisa Pope, senior vice president of cloud sales and strategy at Infor, a vendor of cloud-based ERP systems and other enterprise applications.
"Over the last 18 months, we've seen a huge shift as CFOs start to see the benefits of putting point solutions in the cloud," Pope said. "Now that they've started to get comfortable and are seeing better service levels and reduced costs, CFOs are saying, why not do the same for core ERP and take it to the next level?"
Beyond having an increased comfort level with the cloud, CFOs are being drawn in by the new capabilities of cloud-based ERP platforms, particularly in areas like analytics, performance dashboards, more sophisticated planning and modeling capabilities and support for mobility. As CFOs expand their roles beyond cost containment to growth and business transformation, they are increasingly confronted with the limitations of on-premises ERP (see figure), and they view new cloud-based platforms as the drivers for reinventing core business processes, said Steve Cox, vice president of ERP/EPM cloud go to market at software vendor Oracle.
"What we are seeing is greater and greater interest because of the challenges that exist with current systems, specifically as it relates to the innovation cycle," Cox explained. "Their customers' expectations have changed beyond all measure, so the business has to change, yet their IT systems are not keeping pace. The cloud provides the business with an innovation platform that can be updated every six months or faster."
Best-in-class security a plus for cloud-based ERP systems
Security and compliance, long time barriers to cloud adoption, are now two of the principal drivers encouraging CFOs to embrace cloud-based ERP. With complex security threats multiplying at precipitous rates, CFOs and their C-suite counterparts are recognizing that they simply don't have the skilled manpower and budget, let alone the internal resources to properly safeguard enterprise IT assets, to stay abreast of a constantly shifting landscape, Infor's Pope said.
"There were early concerns about security, and because of compliance, many CFOs thought they had to keep things in house," she said, explaining that today, many in the C-suite equate cloud platforms with best-in-class security, which is a plus. "Now, with security and compliance becoming increasingly complex by the week, it's gotten to the point where they can't keep pace with the speed at which things are happening."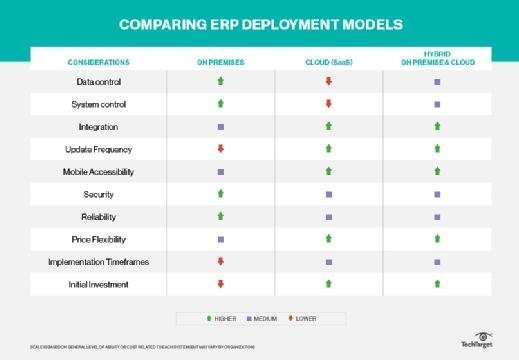 Part of the CFO's role in driving growth involves mergers and acquisitions strategies, and that's another area where cloud-based ERP systems are an advantage, Pope said. Instead of flying business and IT teams across the globe to orchestrate months-long costly deployments, cloud-based ERP presents an opportunity to normalize core business applications across far-flung offices and divisions quickly and far more efficiently.
"You can get an acquisition up and running in the cloud anywhere in the world in a six-week period and have faster financial consolidation back to corporate," Pope said.
While cloud-based ERP opens the door to more sophisticated functionality and will drive new business processes, it isn't necessarily a slam dunk to make the transition, experts say. Specifically, migrating legacy data to the new platform can be a challenge given that cloud platforms are typically built around different data models.
"Rolling data up and migrating to the cloud turns out to be more complicated than it looks on paper," said Josh Greenbaum, principal at Enterprise Applications Consulting. "Most cloud ERP systems have significantly different models than the on-premises systems they are replacing, even if they are from the same vendor. Making sure historical data is migrated in the right format and that legal entities are kept intact turns out to be a tricky piece of business."
Nevertheless, Greenbaum contends the time may be right for cloud-based ERP for many firms, especially those in the process of reinventing for digital transformation.
"[If] you want to be a more customer-centric company and start compiling data on your demand curve or multichannel sales and marketing environment, you can't do that the old way," Greenbaum said. "Everything needs to be upgraded, and one of those core elements will be financials."
Next Steps
Read a cloud ERP case study
Decide if you're ready for SaaS ERP
Understand cloud financials