 BACKGROUND IMAGE: iSTOCK/GETTY IMAGES
Evaluate
Weigh the pros and cons of technologies, products and projects you are considering.
Enterprises need to self-evaluate before choosing cloud ERP software
Evaluate your business and cloud ERP vendors to make sure you're getting the right cloud ERP software for your business.
It is a challenge for organizations to decide on the ERP system that will best meet their needs. There are a myriad of ERP choices; all with similar fundamental goals, but each with its own functional nuances. Couple this with the growing popularity of cloud computing and it's no wonder why many companies struggle to pick ERP software, much less cloud ERP software.
In order to select the right cloud ERP system, it's beneficial to have a systematic, logical methodology to evaluate software. You can use this evaluation as well as several other techniques below as a guide to determine the optimal cloud ERP system.
What's your IT strategy?
A key notion to keep in mind prior to the process of selecting a new ERP system is to understand the enterprise's direction. Start the evaluation by identifying the organization's needs and functional requirements. By outlining and defining these, you will begin to understand the expected business outcome from new cloud ERP software. Is the company in high growth mode, is customer focus the driving force or are excessive costs overwhelmingly taking over? Use organizational goals to help shape what the current and future capabilities of a new system should be. Then compare this with your current IT landscape to identify gaps; rationalize or replace current applications; and to justify ERP budgets, schedules and priorities.
One effective self-evaluation method is to gather and elicit business requirements that are often derived from processes, regulations and internal business rules. Functional requirements are typically composed of processes with inputs and outputs. For example, a purchase order process may require the ability to receive and approve POs remotely on a mobile smart device that has access to the cloud ERP. Regulatory requirements may consist of sufficient compliance needs such as PCI or HIPAA that protect sensitive data stored on the cloud. Internal business rules are often predicated on policies that the company maintains such as software pricing, hardware compatibility and other key decisions.
It's also important to document and validate any unique processes that may be competitive advantages in the event any type of customization needs to be developed. For example, if your team maintains a unique discount or commission process that allows for improved customer or employee retention, these areas may need to be mapped more thoroughly to determine the appropriate future state solution with cloud ERP software. As previously discussed, cloud ERP, specifically software as a service (SaaS), tends to have more limited tolerance for customization, so organizations should also remain open to adopting the software's best practices out of the box. Without proper balance between functionality and adoption, implementation timeframes and costs could suffer.
Do your homework
It's often overlooked that organizations aren't just buying the software, but rather, they're also buying the vendor and its services. Aside from purchasing the software directly from the software provider, there's sometimes the option of bringing in value-added resellers. VARs are groups that may add functionality or services to the software and sell the entire package as a comprehensive project or more fine-tuned product. Software vendors and VARs have specific application knowledge and can help identify solutions within the ERP system through use of their professional services. Along with implementation, VARs may assist with integration, customization and training. Many partner with software providers and have varying degrees of certification levels (i.e., gold, platinum and more). Most companies looking at ERP systems generally ask if vendors have similar clients and industries, but vendor evaluation should go beyond the basics.
It's key to perform due diligence to determine if the vendor has longer term viability. Basically, will the vendor be a strong business partner that will be around, or are they based out of garage looking to be bought out? Don't make the mistake of missing out of ERP industry analysis. Be aware of the vendor ins and outs, including how much they invest in R&D for their products and services.
Always clarify what the vendor is actually offering. If it's an on-premises ERP with cloud options, is it really cloud ERP software or is it just a traditional ERP system with remote access? You'll want to ask what modules or applications will be needed and available? Determine levels of functionality and not only compare against other cloud systems, but also determine alignment with your business requirements.
Service level agreements can vary
There's more to a service level agreement (SLA) than simply understanding what you're getting for your money. Support offered by vendor SLAs may have different levels that come with different terms, conditions and flexibility. A clearly defined SLA can also offer protection between your organization and the cloud ERP vendor should a dispute arise.
Selecting cloud ERP software can be daunting process.
It's important to have discussions on what each vendor offers in terms availability and uptime to set a standard expected level of performance with clear metrics for accountability. It's also key to understand any compliance needs and what security parameters can be offered. Negotiate the necessary protection levels and understand responsibilities in terms of data ownership, management and recovery.
Don't make the mistake of forgetting to review scalable pricing. Terms should dictate the prices for adding or removing users as well as any potential fees associated with either scenario. Also be wary of any initial discounts that give a trade-off to steeply increasing rates. Avoid getting into a situation where your only options are pay increasing rates or move to another ERP again.
Like any other system, it's critical to know the total cost of ownership and not just the subscription rates. Crunch the numbers on other add-on fees such as integration, data and professional services, including implementation and ongoing customer support when you have issues. Many of these costs are negotiable so don't feel that the initial pricing is the only option.
Implementation planning and training
Relationships with cloud ERP vendors are generally long-term ones, so it's always wise to get an idea of how the vendor implements its software and services. There are several areas that may need to be explored, including if there should be a "big bang" approach -- where all areas are implemented -- or a phased roll out. This may hinge on the size of your organization, the ERP modules selected and the priorities that align with the enterprise strategy.
Integration can be a major area to tackle, depending on which systems will be retained or purchased in conjunction with the cloud ERP system. For areas that aren't being integrated, there should be a plan on migrating data to the new system. The cloud ERP vendor should be able to discuss integration protocols and data migration tools that are available. Ask vendors to see examples of similar integrations or migrations prior to deciding on the software. The table below compares the relative level of ability per consideration. For example, there is a higher degree (green arrow) of data control with on-premises ERP software, whereas SaaS ERP generally doesn't have much data control (red arrow). For implementation timeframes, on-premises generally take longer (red arrow) than cloud or hybrid (blue square). No one type of hosting is better than the other for ERP software. What works for one company may be unnecessary or detrimental for another.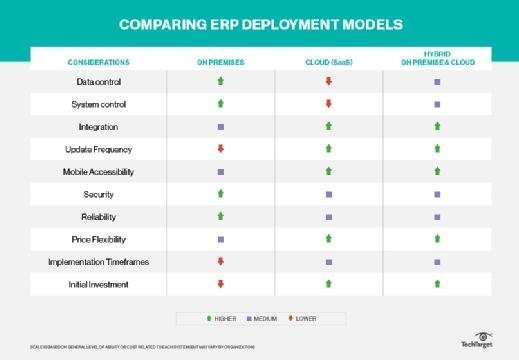 Training and support tends to be a leading area of interest, especially for the end users. Organizations should understand what resources are available for users to hone their skills. Many providers offer FAQs, manuals, remote and on-site training programs. Several also offer extended customer support, although, be conscious of additional costs.
Cloud ERP selection doesn't have to be hard
Selecting cloud ERP software can be daunting process. With such a large investment at stake, it's crucial that organizations perform a comprehensive selection process. Most common pitfalls can be avoided with a solid selection methodology coupled with the right experience and expertise. This will help increase the chances for choosing the right software and ultimately having a successful cloud ERP implementation.