Fotolia
Financial management tool scores performance at burger restaurants
Red Robin Gourmet Burgers and Brews uses cloud-based Anaplan for calculating scorecards on business metrics at restaurants and for giving operators access to budgets and forecasts.
With Anaplan budgeting and planning, general managers at Red Robin Gourmet Burgers and Brews are getting up-to-date scorecards on how their restaurant is performing on sales, customer satisfaction and other business metrics.
Computer algorithms in the cloud-based Anaplan financial management tool calculate custom color-coded scorecards weekly on key performance indicators for each restaurant. The algorithms determine the scores from raw data fed into Anaplan from integrated systems for sales, supply chain and time and attendance.
Before Anaplan, the scorecards were produced manually once every 28 days with the help of Microsoft Excel, but the scorecards arrived almost too late for general managers to react, said Markus Lonnquist, business relationship director for finance and real estate at Red Robin, which has more than 500 restaurants in the U.S. and Canada.
"We are now able to give the operators a weekly insight directly in Anaplan on how they are doing," Lonnquist said. "We can see how is the region doing, how is division doing, how are individual restaurants doing."
About 600 to 700 managers, executives and other staff use Anaplan, including regional operating directors and regional vice presidents.
Budgeting and planning key use
As another replacement for Excel, Red Robin Gourmet Burgers and Brews also uses the Anaplan financial management tool for budgeting and planning.
Anaplan allows general managers around the country to compare their actual spending each week against budgets produced at headquarters. Every quarter, Red Robin looks at the market to see if it needs to make budget adjustments, Lonnquist said.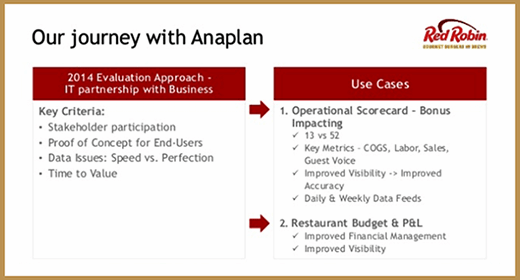 Most of the weekly or monthly calculations inside Anaplan are for percentages of ideal business numbers for each restaurant including percent of beverage sales, cost of certain goods and labor such as kitchen staff, cooks and servers. Guest satisfaction scores come from surveys and other data sources.
Each metric is coded with red, yellow or green to flag performance for operators. "If you are green you are managing your restaurant optimally for that metrics or scorecard overall," said Lonnquist, who is in the IT department. "You are meeting or exceeding the organization's expectations. If you are yellow, you are in the buffer zone. You are getting close to not meeting acceptable standards. Red is when the GM has fallen below set standards for optimal restaurant operation."
Data feed for scorecards
The data for the scorecards is pushed into Anaplan models from integrated systems, such as Kronos Time and Attendance and NCR Aloha point-of-sale system.
Red Robin uses flat files to extract the data from the point-of-sale and other systems and then Apache Camel to migrate the files to the Anaplan integration tool, he said.
Prior to Anaplan, general managers would sometimes calculate their own scorecards because the numbers were only pushed out 13 times a year from headquarters, he said.
"We have definitely reduced the time they spend managing and calculating scores on the side," Lonnquist said. "Now they can look at them on a weekly basis. They can spend time on more value-added activities, such as talking with guests and making sure the service we provide is up to par." The ability to calculate the scorecards is what sold the casual dining operator on Anaplan, he said.
Red Robin's budgeting and forecasting for restaurants is completed annually and forecasts are adjusted quarterly within the Anaplan financial management tool. The budget is pushed out to general managers, who can adjust the spending plans and make recommendations for their restaurants.
Anaplan offers ease of use
Anaplan is also a tool that managers can use from their laptops at home, not just in the back office as they did before.
"Our budgeting process was very cumbersome in the past. It was very manual, email-driven and there were a lot of spreadsheets flying back and forth as well, because it was hard for the operators to access the central budgeting platform," Lonnquist said.
Red Robin uses Excel to upload the budget from Anaplan into its Oracle Fusion ERP Cloud.
Before Anaplan, Red Robin found that its old IBM Cognos planning tool, along with spreadsheets, wasn't able to handle the volumes of data across the massive organization, or provide the real-time modeling and collaboration that was needed.
"We just had too much data," he said. "As we added more restaurants, we were not able to keep as much historical data as we wanted."
Anaplan evaluation process
The Red Robin implementation of Anaplan began in August of 2014 and was completed by November of that year. The system was tested to obtain feedback from operators in certain market areas and then went live in June of 2015, he said.
Red Robin selected Anaplan over another finalist, Tidemark, following extension demonstrations of the feasibility of each vendor's software at the restaurant company's headquarters in Greenwood Village, Colo.
"The decision for Anaplan was completely unanimous across the board from operators, FP&A to the CFO," Lonnquist said.
As an IT veteran, Lonnquist said he is very experienced at buying software, both cloud-based and on premises. He said Red Robin established trust and a good working relationship with Anaplan and he never felt like he was being over sold by the vendor.
"It has been fun and exciting to see some of the changes and some of the additions that have happened in the past two years and to be able to be part of that," Lonnquist said. "It has been really great."