Kesu - Fotolia
How manufacturing companies can join the digital revolution
Even innovative business leaders may be overwhelmed by how to begin developing a digital manufacturing strategy. Here's some advice on where to start.
The concepts of digital manufacturing, digital thread and digital supply chain can seem far more straightforward and easy to understand when discussed in general terms. But, in practical terms, when fully realized, these concepts are huge and complex, and it's understandable that they can seem overwhelming to business leaders who want to bring their manufacturing processes into the "digital revolution."
Indeed, entire organizations across the globe are devoting themselves to addressing the complexity of digital manufacturing and helping business leaders create roadmaps for the digital manufacturing future. In the United States, the Digital Manufacturing and Design Innovation Institute was created for just this reason. DMDII, a public-private partnership, focuses on helping businesses develop the technologies and processes to solve their most pressing manufacturing challenges.
In part two of our interview with Brench Boden, CTO of DMDII, Boden shares advice on how business leaders can simplify a complex issue and take steps toward joining the digital revolution. And be sure to check out part one, where Boden discussed digital manufacturing benefits.
What first steps to becoming digitally enabled do you recommend that companies take, perhaps beginning with the supply chain?
Brench Boden: The challenge of the digital supply chain is the maturity of each individual supplier -- their capability for operating in a digital environment. There are some medium-sized suppliers that are incredibly sophisticated. They have a couple of engineers. They have access to design tools. They have computer-numerical controlled equipment on the floor. They may have 3D printing capabilities. So, there are those suppliers -- they're ready for a digital age; they have the skill set to do it -- but at the other end of the spectrum are the so-called mom-and-pop shops, which may have no equipment that actually can be interfaced to a computer. So, the answer to the question is it depends.
If you're at that low end and you have no digital equipment, there are a lot of different ways to go about [creating some digital manufacturing capabilities]. You can engage state or local support organizations -- every state and municipality has those. You can engage the Department of Commerce Manufacturing Extension Partnership for help in working on some of those issues. DMDII actually has a project that will be starting soon where we are trying to develop a very low-cost -- like $500 to $1,000 -- kit that can be used on a very old piece of equipment to make it internet accessible and for us to be able to draw data off of that. Now, that doesn't necessarily make it a fully digital … but it's a start in that direction.
Don't go out and buy a bunch of monolithic software. First, look at what are your most costly issues or what your greatest opportunities are.

Brench BodenCTO, DMDII
If you're an OEM, one of the things you have to wrestle with is: I want to [fully join the digital revolution], but there are just some companies in my supply chain that I'm going to have to hold their hand. I'm going to have to give them access to my tools just to help them do business better. An objective for DMDII is to look at: How do we transform build to print, which is the shorthand way of talking about suppliers who just take the design and they get the contract award and then they go off and figure out, 'How I am going to build this?' And they build and test and send it in. So, how do they look at this process and really transform that using digital manufacturing capabilities?
Let's expand this discussion to the more overarching issue of enabling digital manufacturing. What first steps or areas should companies concentrate on to gain some of the benefits of digital manufacturing?
Boden: My recommendation, if I was sitting across from a manufacturing company, would be to say: Pick a couple of your most costly issues or your most difficult problems [to start with]. Maybe you have a quality problem because you're not tracking the variability of your production processes, maybe your design function takes too long, maybe you are losing market share because you don't know what your customers' usages is. But it has to be business-objective driven.
Don't go out and buy a bunch of monolithic software. First, look at what are your most costly issues or what your greatest opportunities are. Start from there and build outward.
So, that's sort of a strategic look at how to do digital manufacturing. No business has ever been successful transforming something like this overnight. The implementations of big, huge software programs end up costing a lot more than anybody ever thought.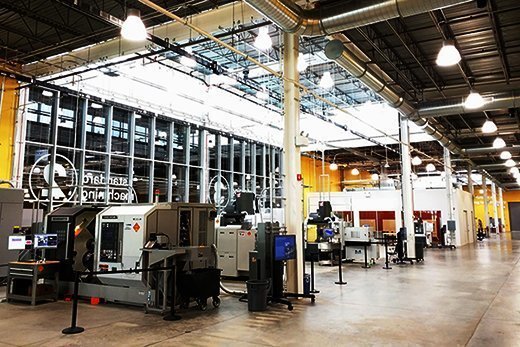 How does a digital thread factor into your advice?
Boden: My advice would be to pick a key problem and think digital thread in how you solve that problem. What data would make this decision more effective? What insights do you wish you could get that you don't have now when you're making this decision? If you've made this decision, is tracking the result of that decision and rationale important for something later in the process?
My other piece of advice would be -- and this is based on a lot of dialogue in the Institute and this is, frankly, the purpose for it -- you should know that you're not alone. Everybody's got similar problems. What DMDII provides is an opportunity to collaborate with others who have similar issues. They may be large companies, they may be small, they may be universities who have particular research interests, but the value is that we can create these small, temporary ecosystems to work on digital manufacturing challenges like, 'How do I create a digital thread for reliability studies?' or, 'How do I get better visibility in my supply chain?' or, 'How do I do digital work instructions and present them through some augmented reality?' Or the members define the problems and then they join together in odd teaming arrangements -- companies you would never expect to work together -- because they have a common interest in whatever that particular [problem] is.
Dig Deeper on Manufacturing production planning