alphaspirit - Fotolia
How to take charge of solving your manufacturing skills gap
Some experts predict that 2 million manufacturing jobs will go unfilled over the next decade, but not all leaders are resigned to that bleak statistic. Here's what they're doing.
Like most manufacturers, Max Daetwyler Corp. requires highly skilled employees to produce and service its products. But unlike most other manufacturers that struggle to find good workers, the Huntsville, N.C., maker of printing press machinery has a private pipeline of qualified recruits to keep its production running smoothly.
Daetwyler is one of six North Carolina manufacturers combatting the manufacturing skills gap by participating in Apprenticeship 2000, a four-year program of community college classes in mechatronics and advanced manufacturing coupled with paid worksite apprenticeships. Each year, up to a dozen new high school graduates are selected to enter the program.
While the cost of participation isn't cheap -- companies pay an estimated $160,000 per student over four years -- the payback is well worth it: A supply of enthusiastic young workers educated in the latest manufacturing technologies and best practices and trained in the specific skills needed by each manufacturer. In Daetwyler's case, that is electronics, engineering and mechatronic field service.
"Companies ask me how we can afford this, but how can we afford not to?" said Bob Romanelli, apprenticeship coordinator at Daetwyler, adding that while not every graduate joins the company, many do. "Wouldn't you rather have someone you trained yourself than hope to find some stranger who can do it?"
The manufacturing skills gap to grow
Apprenticeship 2000 is a program that other companies should consider. Over the next decade, nearly 3.5 million manufacturing jobs will likely be added, with 2 million of them expected to go unfilled, according to a joint report by The Manufacturing Institute and Deloitte Consulting, "The Skills Gap in U.S. Manufacturing: 2015 and Beyond." This problem isn't a new one -- manufacturers have complained of worker shortages for the past decade. But as manufacturing processes and machinery become increasingly digital, the level of know-how necessary to keep a factory running smoothly is rising as well. At the same time, interest in manufacturing careers among high school students is on the decline.
Manufacturing executives surveyed for the study said that skills in the shortest supply are computers and technology, followed by problem solving skills and math skills. It takes a manufacturer 70 days to recruit a skilled production worker and 94 days to fill a professional job requiring a degreed engineer. Perhaps worse, 70% of executives report a shortage of adequate technology and computer skills.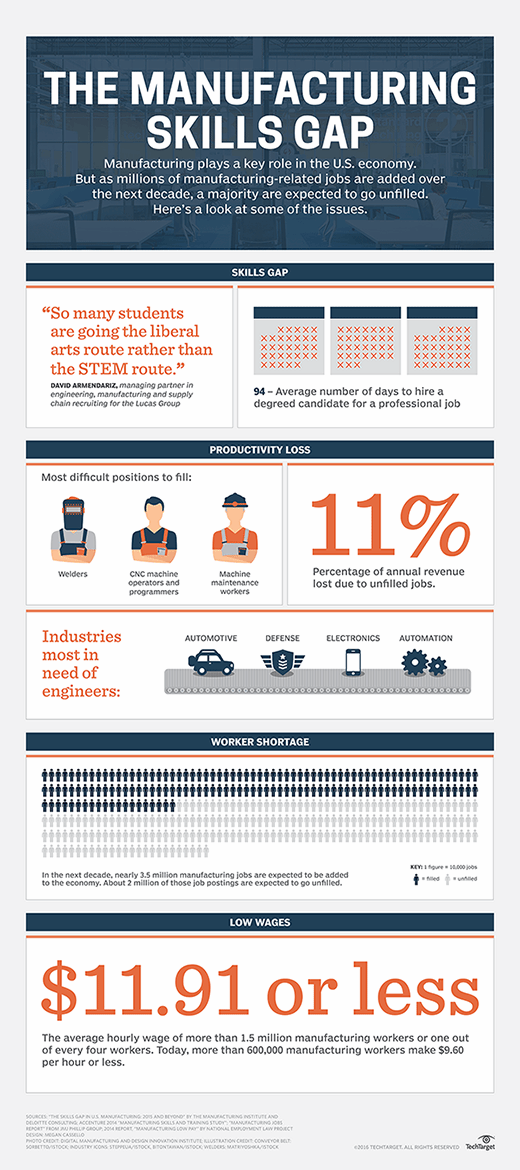 "So many students are going the liberal arts route, rather than STEM [science, technology, engineering and math] route," said David Armendariz, managing partner in engineering, manufacturing and supply chain recruiting for the Lucas Group, a Houston, Texas-based executive search firm. "I always stress to our clients the importance of talking to students while they're still in school and not waiting until after graduation to start recruiting."
In the "Manufacturing Jobs Report" from JMJ Phillip Group, a Hills, Mich.-based recruiting firm for the manufacturing industry, the hardest positions to fill are those for computer numerical control (CNC) machine operators and programmers, machine maintenance workers, and welders. Also in demand are people with engineering degrees. Engineers are needed by most manufacturing sectors, but especially in the automotive, defense, electronics and automation industries.
Starting hard conversations
There are many causes for this worker shortage, but two complex factors that may not be getting enough attention are the relatively low wages earned by many manufacturing workers and job security. Overall wages for manufacturing jobs haven't risen in response to the shortage -- in fact, they've been on the decline since 2007, according to the National Employment Law Project's (NELP) 2014 report "Manufacturing Low Pay: Declining Wages in the Jobs That Built America's Middle Class." More than 600,000 manufacturing workers make just $9.60 per hour or less, according to the NELP survey, and more than 1.5 million manufacturing workers -- one out of every four -- make $11.91 or less. Workers for staffing agencies, which many companies have turned to in order to fill vacancies, average less than the amount made by direct-hire workers. Moreover, manufacturing jobs are volatile, with plants closing in one state and reopening in another, or in Mexico, and workers having to be mobile to stay employed.
The high-skill jobs, however, do pay more, and those are often the ones that are especially difficult for factories to fill. For instance, the U.S. Bureau of Labor Statistics reports that metal model and pattern makers average $21 an hour, and can increase that with overtime pay. CNC operators make $17.80 per hour, while CNC programmers earn $23.55.
This effort has to start in high school, manufacturers said, where many teens and their parents have a negative view of manufacturing jobs as unskilled labor, and of a four-year college degree as the ticket to a good future.
Eighty percent of executives surveyed in the Deloitte report said they'd be willing to pay more than the market rate in order to fill a position. That's especially true for the hardest to fill positions.
"If I have a client looking for a Swiss machine operator, the hourly wage goes out the window. They have to have this person and it's extremely competitive." said Stacy Murray, president of manufacturing and engineering industry recruiter Murray & Associates LLC in Anaconda, Mont.
The skills gap takes a huge toll on productivity. Indeed, the Accenture "2014 Manufacturing Skills and Training Study" found that manufacturers lose as much as 11% of their annual revenue due to unfilled jobs, with most of the expenses coming from downtime, increased cycle time and overtime pay to existing workers.
"For the many small and medium manufacturers, 11% in lost earnings is a substantial hit," commented Jennifer McNelly, executive director of The Manufacturing Institute, a Washington, D.C.- based organization focused on research and programs to grow the industry.
Developing a pipeline of manufacturing talent
While individual manufacturers can attempt short-term tactics, like offering signing bonuses or turning to temp agencies to fill jobs, experts stress that the long-term solution is developing a pipeline of young adults who are training for manufacturing careers.
This effort has to start in high school, manufacturers said, where many teens and their parents have a negative view of manufacturing jobs as unskilled labor, and of a four-year college degree as the ticket to a good future.
"We're always fighting [the] stigma of manufacturing as a dirty, hazardous place to work, and that you have to go to a four-year college to make a good living," lamented Romanelli. "It's an uphill battle."
Daetwyler participates in National Manufacturing Day, which President Barack Obama proclaimed as a holiday in 2014. Manufacturers invite teachers, students and the public into their factories to see what a modern shop floor looks like and to learn what kinds of jobs are involved.
Manufacturers and industry trade organizations are also working to develop educational programs to get high school students and current workers trained in advanced manufacturing skills. North Carolina's Apprenticeship 2000 is one example. Another is the Kentucky Federation for Advanced Manufacturing Education (KY FAME), a partnership of the state's manufacturers, the Kentucky Community and Technical College System, and the Kentucky Cabinet for Economic Development. KY FAME provides 18 months of education and on-the-job experience. Graduates earn an Advanced Manufacturing Technician associate degree.
Those kinds of regional partnerships are the key to bringing more talent into the pipeline and filling the manufacturing skills gap, experts said.
"We want manufacturers to engage with their communities and educational systems," said McNelly. "We're seeing an increase in those partnerships."
A similar strategy is to offer training and certification to both students and current workers who want to improve their job skills. For instance, the National Tooling and Machining Association (NTMA) and the University of Akron created a web-based curriculum, called NTMA-U, that offers online courses in metrology, metallurgy, die making, math, shop safety, blueprint reading and other skills needed by NTMA member companies.
Armendariz believes that manufacturers will need to provide more internal training to employees in order to keep up with the constantly changing technologies.
"Advanced manufacturing technologies will have as big an impact as Six Sigma and lean manufacturing methodologies did in the '80s," Armendariz said. "But it's also going to drive the skills gap wider as people get left behind. So the manufacturing industry needs to be really careful to train and develop [their current workers]."
Investing in current worker training also makes sense, he said, given that it saves companies the cost of recruiting, onboarding and training a new person every time an employee leaves.
"Spend the time to develop your high-potential employees," Armendariz advised. "You'll have people who are more committed to your company."
Dig Deeper on Manufacturing management