Is ERP technology going nowhere -- or everywhere?
ERP technology is going to pieces in loosely coupled cloud apps, embedded analytics, Business Processes as a Service -- and integration headaches.
The ERP that Scott Fenton wants sounds a lot like the ERP of the future that appears in vendor roadmaps and analyst reports.
Yet the mix of on-premises and cloud-based business applications the longtime ERP manager already has could be a glimpse of the future that ERP experts envision. If they're right, ERP will continue to "deconstruct" into a dispersed environment of loosely coupled applications that run mostly in the cloud, are ubiquitously mobile, and have built-in analytics for making better decisions. Those capabilities will also bring new challenges in integrating data and applications.
"There's no question in my mind that's the future," said Fenton, vice president and CIO at Wind River, an Alameda, Calif.-based maker of software for embedded systems. "The pieces are breaking apart. They're moving to the cloud."
Fenton, a 25-year veteran of West Coast tech companies, has seen ERP technology evolve significantly. Early in his career, ERP was a single, on-premises system for tracking manufacturing resources, orders and finances. Today it has exploded into an array of applications with minimal connection to the accounting system.
"ERP used to be the core of my IT shop," Fenton said. "It's not anywhere near that now. ERP is something in the background."
That leaves Fenton annually debating whether to upgrade Wind River's on-premises ERP even as he ushers critical business processes, such as sales, into the cloud. Cost is a big factor driving him there. "I hate to tell you what my support costs are for some of my enterprise applications," he said.
Wind River's hybrid architecture, like many nowadays, keeps critical legacy apps and data close to the chest while exploiting the cloud to outsource commodity services or grab the newest technology. It starts with on-premises Oracle E-Business Suite 11.x for core financials, human resources and purchasing, and Oracle Hyperion Financial Management for financial planning. The company outsources payroll to ADP and runs SAP SuccessFactors employee performance management and merit tools, Anaplan budgeting and the Jive enterprise social network (ESN) in the cloud.
Cloud the great enabler
Asked to project ERP's future, a handful of analysts, integrators, application vendors and users agree that the sweeping cloud, social, mobile and big data trends now under way will be the main drivers of ERP's transformation over the next decade. The changes will force ERP vendors and owners to bolster their development efforts to meet demand for new, user-centric apps and business processes that don't play well with legacy systems.
Of the four technology "pillars" his company considers the foundation of this third platform in IT history, cloud is the engine for them all, according to Michael Fauscette, group vice president at IDC, a Framingham, Mass.-based IT analyst firm.
Seven things to expect from ERP in the future
Deconstructed suites replaced by loosely coupled applications
Cloud deployment for (almost) everything
Social, user-centric screens and workflows
Mobility everywhere, in every application, reliably on every device
Embedded analytics instead of isolated on in-memory appliances
Integration hassles growing -- as if they aren't bad enough now
Processing-enhancing technologies and services (PETS) from outsourcers who run ERP for you
"That is the most radical shift, but also the most natural revolution," Fauscette said. But unlike the last transition, from mainframe to client/server, ERP's cloud migration won't be either-or, especially at large organizations. Instead, it will mix and match private and public cloud options with applications that remain inherently tied to the premises.
But for the cloud shift to really take hold, the new platform needs more capabilities, Fauscette said, including pervasive social media instead of ESNs that are separate from ERP. Mobile must "disappear" and become a no-brainer where every platform is supported. "It should just be 'This is how we work now.'"
Which functions end up in the cloud depends on how agile they need to be, according to Jason Averbook, chief business information officer at Appirio, a San Francisco-based integrator that helps companies including Wind River with their cloud, social and mobile moves. He once worked at PeopleSoft, a pioneer in HR-oriented ERP that was bought by Oracle, and is widely quoted on cloud HR and talent management.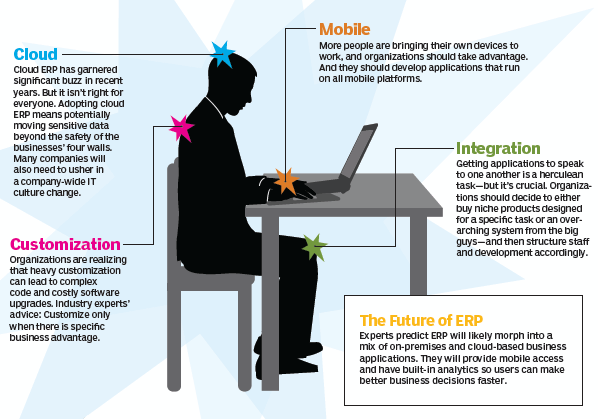 "There's a set of business applications that are timeless, and there's a set of business applications that are agile," Averbook said. "I can run a payroll system from the '60s -- there hasn't been a lot of innovation. But how do I recruit? How do I do expenses? That is not something ERP systems can do."
Averbook predicted monolithic ERP systems will be replaced by a unified suite of products -- many in the cloud -- each handling an important business function such as finance or marketing. "You're going to have multiple clouds, integrated where it makes sense," he said, plus smaller "edge" technologies, such as video recruiting and receipt scanning.
Indeed, Wind River's Fenton said the paucity of sales functions in the Oracle line drove him to cloud vendor and new Oracle partner Salesforce.com. "The Fusion components just aren't ready," he said, referring to Oracle's main architecture for new applications.
Fenton isn't letting that hold Wind River back. He plans to add mobility, service and financial applications from Salesforce.com. Integration among the apps comes ready-made inside Salesforce.com's ecosystem, which supports the close relationship between Wind River professional services and sales, he said.
Integration remains both stumbling block and opportunity
Such hybrid deployments make sense for a lot of companies but come with their own challenges. "Integration becomes really, really important because we are moving a lot of data on a daily basis," said David Ludlow, group vice president of human capital management solutions at SAP.
Fenton too, wants better integration, including application programming interfaces from more vendors, a sentiment echoed by Appirio's Averbook, who said open APIs allow more direct access to ERP data. While standards bodies could help in theory, they can't always get vendors to follow them. Regardless, integration should improve as more applications move to the cloud. "If you're doing pure cloud to pure cloud, the nice thing is, neither side has been customized, so the standard integration is going to work," Averbook said.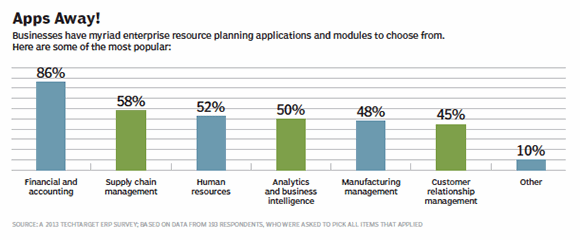 IDC's Fauscette expects more vendors to provide preconfigured business processes that do part of what users need. "If I could give you 75% out of the box and tools that let you cover the rest, that's good enough," he said. Vendors could also use cloud-based exchanges to offer integration among applications. "It's a technical problem we've argued about for years and we are now smart enough [to solve it]," he said, thanks to widespread support of service-oriented architectures.
Integration also has a crucial role in analytics, which is often segregated on in-memory database appliances. To realize its potential as a serious decision-making tool, these experts said, analytics will have to become predictive and embedded in applications, a goal ERP makers have yet to reach, though Fauscette said Oracle has done it in cloud HR tools. "Most systems are not built that way," he said. "They're built so that I get a report."
Wind River's Fenton likes Oracle's dedicated business intelligence tools but sees the value of embedded analytics because it would let users stay inside applications. In the meantime, an Appirio integration project will give Wind River the ability to use information it collects in Salesforce.com for analysis of why leads are won or lost, and that can have a positive impact on product development, he said.
Sketching the outlines of postmodern ERP
The phrase enterprise resource planning was coined in the early '90s by Stamford, Conn.-based research firm Gartner Inc. for the general-purpose suites then emerging from the manufacturing-specific technology, manufacturing resource planning. The company has regularly assessed the state of the art and this year published a report, Develop a Strategic Road Map for Postmodern ERP in 2013 and Beyond.
The authors assert that the do-it-all ERP suite is no longer tenable and is being deconstructed into "postmodern" ERP consisting of federated applications, with most functions delivered in cloud applications or by business process outsourcers (BPOs). Hybrid environments will become the norm and in-memory the default ERP platform in five years, alongside vastly enhanced user experiences, mobility and analytics. To adapt, Gartner says, companies need better integration across enterprises and vendors.
"No one has conquered the integration challenge yet," said Nigel Rayner, Gartner research vice president and the report's co-author. When most people try to integrate ERP with other applications, he said, the integration is "simple or nonexistent."
But technologies like business process management (BPM) that layer workflows across applications hold promise. Rayner recalled a large manufacturer that found after an ownership change that the ERP system it was required to use could not support its needs, with orders taking 15 minutes to enter. Installing a cloud BPM tool provided a more user-friendly screen where workers could finish orders in 30 seconds. "All they had left of the ERP system was core financials and inventory, and they said they would look into moving all of that into the cloud," he said.
The Gartner report sees hybrids evolving into an "outsourced everything" model dominated by BPOs that become the primary consumers of ERP and take over entire business processes for companies. Alternatively, the scheme could "flip," with users developing differentiating processes in-house rather than seeking them in the cloud; core ERP then will become a commoditized cloud service. The outlines of the outsourcing shift are already visible. Ariba, the e-procurement network SAP acquired in 2012, is starting to package more business processes, and some BPOs already act as resellers of SAP and Oracle and offer combined software and services, Rayner said.
Others observers, like Larry Freed, CIO at Overhead Door Corp., a manufacturer of garage doors based in Lewisville, Texas, see the cloud as an integration mechanism. Freed, who is phasing out older ERP systems and consolidating on Oracle E-Business Suite, said cloud-based social and mobile technology will be disruptive by making it easier for Overhead Door's small and medium-sized dealers and distributors to derive business value from sharing orders and point-of-sale data. "Most SMBs can't do this stuff," he said. "We're telling them, 'You're coming to the cloud. We can be your cloud.'"