 BACKGROUND IMAGE: iSTOCK/GETTY IMAGES
Evaluate
Weigh the pros and cons of technologies, products and projects you are considering.
Know your ERP requirements before an ERP implementation
When considering an ERP implementation, make sure the training, scalability and vendor performance can meet your company's needs.
Before buying ERP software, you and your organization should nail down the business needs the system should address....
Continue Reading This Article
Enjoy this article as well as all of our content, including E-Guides, news, tips and more.
Once you have confirmed your ERP requirements, you are ready to look for products and vendors that meet those needs.
The next step in finding the right ERP system is assessing the product. This article covers the main elements that comprise a strong request for proposal (RFP) for ERP software to guide you in identifying ERP requirements and making the best decision for your organization.
What are your company's ERP requirements?
You might need an ERP system to knit together the business processes of your organization so it can operate more efficiently. Or you might need an ERP that is tightly focused and addresses your immediate needs, but that has the ability to expand later should you need more modules.
In some cases, companies just want centralized finance and HR systems. In other cases, companies are in unique industry verticals, so they want ERP systems that are tailored to these verticals. Still other companies want project- or service-oriented ERP. Many times, companies may need ERP to help them manage projects individually, or an ERP system that can be employed globally.
There are so many different ERP requirements. Regardless of which scenario you find yourself in, though, it is important to find an ERP system that is able to meet the performance expectations that you and your internal stakeholders have identified.
Operationally, you want to minimize the pain points of system adoption. How you achieve this can depend upon whether you choose to do a big bang, which is an all at once cut over to a full suite of ERP, or if you plan to use a phased approach.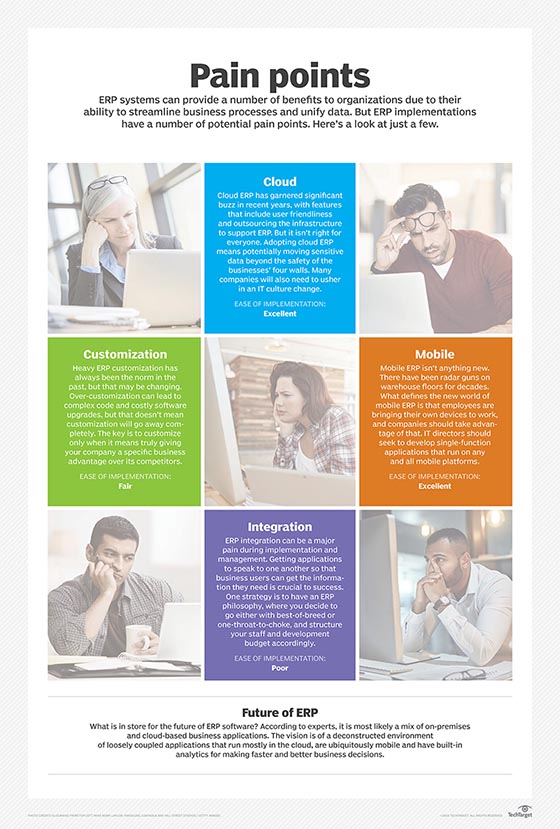 A phased ERP implementation is the least risky -- and, generally, the preferred method for those who implement the systems. Only after understanding the business drivers for ERP in your organization should you include the requirements in your RFP.
Does your company want a scalable ERP solution?
Your company might not think that it needs a full-blown ERP suite today, but if it experiences success with ERP, there is a high likelihood that it will want to expand ERP into other operational areas. This is where scalability becomes important.
If the ERP system that you are considering excels at financials, check if the vendor has other ERP components that can be added for other company functions at a later date. If it doesn't, investigate if its system is compatible with other ERP offerings in the marketplace.
Regardless of which scenario you find yourself in, though, it is important to find an ERP system that is able to meet the performance expectations that you and your internal stakeholders have.
ERP scaling should also be considered from a price standpoint. You need to know if the ERP system can scale efficiently to the functionality you add or subtract. Some vendors are priced on a per module basis, and others are priced per user seats. You should only procure an ERP system for which you're paying for what you're using.
Users and performance can also be scaled, and this should be considered if you're planning to grow your business. The ERP system will need to accommodate new users and locations without a performance loss.
What kind of support should you expect from an ERP vendor?
One of the crucial ERP requirements is proper vendor selection. Since ERP systems have historically high risk rates, it is vital to choose a vendor that has a proven record of ERP implementation, training and support success.
Below is a checklist of things to remember when selecting an ERP vendor:
Implementation options: Ask a vendor about their implementation options, as well as who will run the implementation project: you, the vendor or both.
Training and resources: Assess the IT training your vendor or their implementation partner has and whether there is a dedicated training staff.

A well-orchestrated vendor training program is flexible and comprehensive. It offers both live and online training, and both introductory and continuing education. Some vendors even provide training resources that are targeted for specific roles and jobs in your organization.

Customer reference list: The ERP vendors that you interview should be able to furnish long lists of customer references from which to choose. A large list helps to assure that the vendor hasn't hand-picked the references. When you're speaking with these references, specifically ask them about the ERP implementation, training and ongoing support. This will help cut undesirable vendors out of the picture immediately.
Support and maintenance: Purchasing an ERP system is a long-term corporate investment, so your ERP vendor should be a business partner capable of providing not only the aforementioned implementation support, but also ongoing support and maintenance. You should also understand the level of internal IT support you will be expected to provide, what your vendor will offer and how this collaborative support will work.

If your company will be using ERP in different countries, you should investigate the scope of the ERP vendor's local support in these countries, which can vary widely.

Service agreements: The ERP vendor's service-level agreement for mean time to repair, mean time to response and disaster recovery should match or exceed your own. Make sure that the vendors with cloud-based ERP offerings own and run their own data centers.
Software usability: The role of software usability in ERP adoption should not be overlooked. The easier the software is to use and to understand, the more your users will welcome it.
Ensure that the ERP vendor will make a strong business partner
A strong ERP business partner should have a solid footing in your industry and be aware of the industry pressures under which your company operates. Ask each vendor for a financial statement and a complete set of the latest audit and security reviews from third-party evaluators to gauge its long-term viability and risk profile.
The ERP industry is prone to the same company and product consolidation pressures that other commercial software industries face. Because of this, you should assess whether the vendor is likely to be acquired or if it is likely to be an acquirer of new companies, since this could affect the long-term viability of your ERP system, and whether it will continue to be supported to the degree the vendor promised.
On top of a financial statement, the vendor should be willing to share its ERP product roadmap, as you want to make sure that new product enhancements will support future operational improvements that your company wants to make. Ask the vendor how often it enhances its software, at what frequency enhancements are made, and whether you have to accept the updates or if you can choose when to implement them.
Some vendors offer additional support and troubleshooting with new software releases, with many allowing you to test the new software before installing it.
Finally, you should assess whether, as a customer, you will have input into the vendor's software development process. See if the vendor has user conferences, a formal enhancement request process, a user council, or any other way to provide feedback and suggestions.
Consider the price and ROI of ERP software
A main component of any RFP is price. Most vendors offer outright purchase or licensing of an entire suite or individual modules, or cloud-based subscriptions based on use or as a flat monthly fee. Some vendors offer discounts to get the sale, but there are usually conditions attached, such as a minimum three- to five-year term for a software license. If internal financing for the system is difficult, ask the vendor if it has a financing or leasing option that can assist you.
A second element of financing is the return on investment (ROI) for the ERP system. Your CFO will want to see this. Vendors are aware of this, so most will give you an ROI formula for their software, and even offer to run your organization's numbers against it. However, it is recommended that you and your internal stakeholders identify your own key performance indicators and develop your own ROI calculations and assessments.
Making the best decision
Once you've determined what your company's specific ERP requirements are, you are ready to review the leading ERP products that best fit your business situation. Since there are many different styles of ERP software, as well as vendors, a strong RFP that captures your company's business needs can ensure that you stay on course with meeting these needs.