Melpomene - Fotolia
Mapping out a cloud migration strategy for your financials
Once you decide to move financial data and applications to the cloud, you'll need a cloud migration strategy so nothing falls through the cracks. Read how one finance director made the move.
For many companies, the decision to migrate core financials to the cloud seems like a no-brainer: The cost savings, flexibility and ease of maintenance are too good to pass up. That doesn't mean that the move can be done without planning, however.
The key to success is a solid cloud migration strategy that includes everything from security to governance to data migration to regulatory compliance -- in other words, all of the same considerations you had when running financials on- premises. As for the cloud agreement itself, you'll need to be sure it clearly spells out the roles of the parties and exactly what is included in performance guarantees -- for example, providers typically do not make any assurances about performance of the "pipe" that transports data to and from their networks.
But don't get comfortable once you've covered all of these in the cloud migration strategy. According to cloud providers, it's also important to tinker with your financial processes before the move to take advantage of the cloud offerings' advanced capabilities.
Cloud migration strategy includes cutover, data migration plans
Melissa Lorts, finance director for the Missouri State Teachers Association, is now a veteran of several cloud migrations.
"We have moved a lot of things to the cloud -- server virtualization, CRM and now financials," Lorts said at MSTA headquarters in Columbia, Mo. "We felt like it was the wave of the future and the direction things were going."
In 2012, the MSTA decided it was time to go to the cloud for financials. The association was running Microsoft Great Plains accounting software on-premises, and it was time for an upgrade. The cost was unpalatable. The MSTA had also struggled to offer mobile access to Great Plains over a virtual private network. With more staffers working from home, the MSTA needed a better way.
Along with the IT team, Lorts selected Intacct software as a service (SaaS) financial management and accounting software. Intacct covers everything from accounts payable and receivable to cash management, general ledger and order management.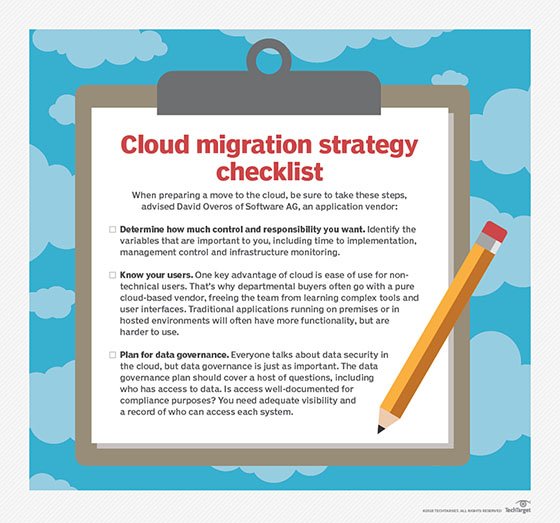 Since the MSTA had already moved its customer relationship management application to the cloud, the team knew what to expect. To ensure a smooth transition, Lorts planned to keep the Great Plains instance running on-premises for a month after porting financial data to the cloud.
"We ran two systems for a little while to ensure everything worked properly and came out the same on both systems," Lorts said. The MSTA hired consultants to help with data migration, which proved straightforward using Intacct's data-import tools.
Optimize financial processes before the move
"Implementing financials in the cloud is not just about moving your historical data from an old system to a new system," said Aaron Harris, CTO of Intacct. "We want our customers to re-engineer financial processes to take advantage of our capabilities. Many customers rethink their general ledger and how they capture data for reporting."
Take the chart of accounts, for example. Most legacy financial systems use a hard-coded structure that quickly gets out of hand when you are tracking multiple locations, departments and projects. Then there's the pain of adding a new location or department, which could potentially force you to add hundreds of additional accounts. Many SaaS-based financials, including Intacct, allow users to set up primary account codes. As things change, there's no need to add hard-coded segment combinations.
Most cloud-based offerings also offer better reporting: You can go from a standard income statement to profitability by project or revenue by geography with a few mouse clicks.
It pays to spend time before the move familiarizing users with the new system and how their job processes will change. That will go a long way toward helping them manage the change associated with the move to the cloud and should be part of any cloud migration strategy.
Next Steps
Find out who is adopting cloud financials
Decide if you're ready for cloud-based financial management
Learn how to choose cloud financial software