Sergey Nivens - Fotolia
New 3D printer technology could be a boon to production efficiency
Stratasys' new Continuous Build 3D Demonstrator printer technology aims to grow 3D printing in manufacturing with a cloud-connected system that improves speed and reduces costs.
The technology of 3D printing continues to evolve rapidly, as evidenced by the development of a potentially game-changing, cloud-connected modular array 3D printing system that could open doors for production manufacturing.
The Continuous Build 3D Printer Demonstrator is designed for continuous and distributed manufacturing production, said Rich Garrity, Stratasys Inc.'s Americas president, while unveiling it at the Rapid + TCT additive manufacturing trade show.
"We're working on extending the benefits of 3D printing technology from the freedom of design to supply chain flexibility to mass personalization, and doing so in a new, scalable platform that allows us to approach new heights in terms of quantities that make sense for FDM [fused deposition modeling] production versus typical injection molding," Garrity said.
Early adopter sees benefits of new technology
An early adopter of the Stratasys Continuous Build 3D Demonstrator is FATHOM, a manufacturing services company based in Oakland, Calif. FATHOM has mostly used 3D printer technology to make prototypes, and it has been making more production parts, although it also uses various other traditional manufacturing processes, like injection molding, according to Rich Stump, FATHOM co-founder and principal. Because it doesn't require tooling, the Stratasys Continuous Build 3D Demonstrator makes it more cost-effective to 3D print parts.
"That's just from a cost perspective," Stump said. "It's not even taking into consideration that when you use 3D printer technology, you can make a part that potentially performs better than an injection molding part because you don't have the limitation of geometry and you can print any design you need."
FATHOM currently runs six Continuous Build modules in its rack and has been testing various applications for it.
"We're excited about it because it's pretty much lights out manufacturing; you just send the parts up to the cloud and it just keeps printing, spits them out into the bucket and continues to print the parts," Stump said. "You still have to remove the supports, and there's still some manual aspect to it, but you don't have someone loading a tray, then taking the part out of the machine and loading another part. This allows much more automation, which brings a lot of cost out of the occasion and allows us to print more parts sooner."
New tech uses arrays of FDM 3D printer cells
Stratasys is the original developer of FDM technology, a process that uses production-grade thermoplastic materials to make prototype and production parts.
The Continuous Build 3D Demonstrator uses arrays of FDM 3D printer cells that are connected by cloud software, which can run printing jobs from anywhere. It requires less intervention and pre- and post-processing of the printed parts, making it much faster and less costly to produce parts than other 3D printing technology systems, according to Garrity.
The demonstrator automatically queues jobs to print, ejects completed parts and starts the next job without interruption, and manufacturers can deliver exact quantities of parts when needed, with no machine tooling and a zero inventory supply chain.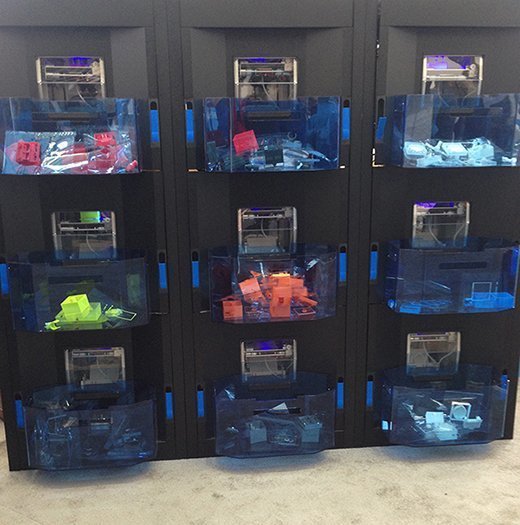 The printer arrays work like IT server arrays, Garrity explained, producing automated waves of parts. Racks start with three 3D printers per rack, but any number of racks can be added to an array, and Garrity envisions whole rooms of racks, much like a data center.
"Because it's 3D printer technology, you are able to leverage mass customization on this system, printing different parts off of each printer all in parallel," he said. "Built-in redundancy eliminates the impact of print failures; if one of the printers experiences a failure, the job smartly finds itself the next available printer, which starts itself to go ahead and complete that part."
This means that it can be an alternative to traditional manufacturing processes, like injection molding, in many cases.
Fewer hindrances to 3D printing in manufacturing
The Continuous Build 3D Demonstrator is a compelling new 3D printer technology because it brings together several vital elements, like materials science, cloud networking software and the FDM platform, according to Tim Greene, IDC research director for hard copy solutions.
"What's most compelling is that this is based on the proven FDM platform," Greene said. "Their customers have been doing FDM prototyping for a while; they are used to it and approve of the quality that they're getting from Stratasys systems, so that's a distinct advantage. If you have customers that already accept the quality level that your 3D printer is able to produce, that's really strong."
The biggest hindrances to more widespread adoption of 3D printer technology in manufacturing include high operating costs, slow machine speeds, and too much time and effort spent on pre- and post-processing, Greene said.
"What people want is to be able to click Print and have the thing come to them, without having to watch it and without having to deal with a lot of the post-process stuff," he said. "Up until recently, if you were using a 3D printer for real manufacturing, you would have had to have high labor cost because of the people attending to the printer, and that's not what you want in a manufacturing setting."
Stratasys Continuous Build solves many of those issues because there is no post-processing, as the parts are printed onto a film and deposited in bins on the printers.
"With the automation, it just prints onto a film, and when it's done, they just start the next print," Green said. "There's much less labor intervention, which is critical if you're talking about going from tens of pieces to hundreds or thousands of pieces. If you overcome some of the barriers around things like automation and speed with quality, I can definitely see additive manufacturing being a part of manufacturing processes."