Evaluate
Weigh the pros and cons of technologies, products and projects you are considering.
Optimize warehouse operations with NetSuite WMS software
With scalable, cloud-based WMS software, NetSuite offers users a customizable warehouse management system that works for a variety of industry verticals.
NetSuite WMS is a scalable warehouse management system that is part of the cloud-based NetSuite platform. This platform also hosts other NetSuite systems such as ERP, customer relationship management, e-commerce and professional service automation. Because many other corporate systems are hosted on the NetSuite platform beside the WMS software, this permits tight integration between NetSuite WMS and other NetSuite systems -- a benefit for organizations choosing to use NetSuite for a majority of their business applications.
NetSuite acquired by Oracle
Oracle announced that it has entered into a definitive agreement to acquire NetSuite, a transaction that is expected to close in 2016. Until the transaction closes, Oracle and NetSuite will continue to operate independently, but once the transaction is completed, it can be expected that integration will occur between Oracle and NetSuite software -- potentially beneficial for companies running Oracle software that also want to use NetSuite WMS.
NetSuite WMS software feature set
NetSuite offers full-featured WMS software with functions that support the receipt and organization of inventory as it enters the warehouse, accompanied by optimization strategies that aid in finding the best storage bin locations within the warehouse for different inventory items. Tight integration with mobile and handheld technologies such as radio frequency (RF) and scanners enables warehouse workers to receive step-by-step instructions over their mobile devices on where to place inventory. This reduces the possibility of human error.
NetSuite WMS also integrates with and uses mobile and RF barcode scanning, wave planning, cartonization, kitting and space management for warehouse operation optimization. Users can manage inventory by replenishing item pick locations dynamically and performing inventory moves across bin locations, while concurrently managing item first-in, first-out and expiration dates.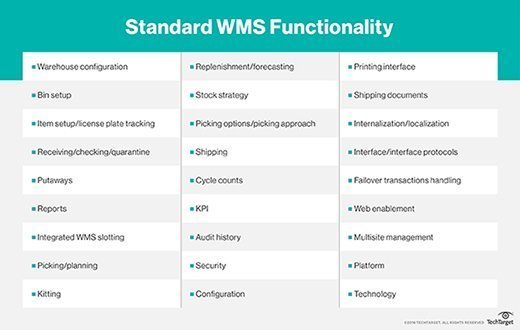 The NetSuite WMS also offers tools and movement technology to optimize order fulfillment operations such as work order release, pick, pack and ship. Warehouse managers have real-time visibility into warehouse operations through a summary-level WMS dashboard, which can also measure operational performance against predefined metrics for performance in areas like the handling of inbound and outbound goods, labor productivity tracking, and tracking of workflows within the warehouse.
What company is NetSuite WMS best-suited for?
NetSuite WMS is cloud-based WMS software. It is used in a broad cross-section of industry verticals that include software, wholesale distribution, media and publishing, healthcare, retail, manufacturing, professional services, energy, education, and non-profit. The system can be used by companies of all sizes, but its optimal use is on the NetSuite systems platform, where it runs in conjunction with other NetSuite systems.
NetSuite has a full component of training, support and enablement services, beginning with a change management program that helps companies manage through the change of systems and workflows that naturally occur when a company adopts a new or a replacement WMS. This includes full support from NetSuite through system implementation and uses a formal methodology developed by NetSuite. NetSuite also offers pay-for consulting services that can be tailored to the needs of companies in many different industry verticals. One of these consulting offerings is a "shared consulting" arrangement where NetSuite works in conjunction with a business' managers and subject matter experts so they can collaboratively develop a WMS implementation, training and ongoing support program.
NetSuite's day-to-day systems support comes at three levels. The first level is Silver Support, which includes online support through NetSuite's Customer Access Portal, online case support based upon NetSuite prioritization, live person-to-person support between the hours of 8 a.m. and 6 p.m. in an organization's time zone (excluding holidays), and early notifications of new software releases. Gold Support additionally offers toll-free technical center access and weekend support; and the third level, Platinum Support, adds to this a dedicated technical support representative and a dedicated program manager, priority telephone queue routing, 24/7 worldwide support, and assistance with prerelease planning and release preview testing for new software updates. NetSuite also offers courses on its systems that employees can enroll in. The courses are both self-paced e-learning and live classroom offerings.
As a cloud-based offering, the NetSuite WMS is priced by subscription. Pricing is quoted on a per-company basis.
NetSuite does not offer a free trial for its WMS system, but it does offer a product tour and demo that enables prospective users to test-drive its WMS before buying.
Dig Deeper on WMS and ERP systems