Manage
Learn to apply best practices and optimize your operations.
Predictive analytics keeps business leaders' fingers on the pulse
In this chapter excerpt, discover how predictive analytics builds on traditional business intelligence and learn why data visualization is critical.
Editor's note: This excerpt is from Pulse: Understanding the Vital Signs of your Business, authored by Frank Coker, published by Ambient Light Publishing Inc. Excerpt reprinted with permission from the author. For more information, please visit http://pulsebook.weebly.com/.
Introducing Business Management 3.0
The roadway for most small businesses has always meandered with occasional bends and plenty of bumps in the road. In the past 20 years the roadway has become a speedway with many more rapid twists and turns. The old school approach of waiting until you get into a turn and then starting to think about how to make the turn doesn't work anymore. If you can't anticipate the turn, there is a good chance you will be off the road and in a ditch before you know what hit you. It is painfully clear that old school static reporting is part of the problem. Reports telling you where you have been simply cannot deal with the new dynamics in the road ahead.
The new Business Management 3.0 approach to financial reporting requires a view of the entire road map, including internal data combined with external market intelligence. Just as we have come to view a GPS as a navigation necessity in our cars, it is just as beneficial to have a graphical financial dashboard for your business that shows you where you are and where you are headed. Today, dashboards are viewed as a competitive advantage for making high-precision decisions. Using a dashboard to constantly monitor how results line up with plans and goals is the key to proactive decision making. We are approaching a time when navigational expertise will be considered a basic necessity for business success and survival.
We are in a perfect storm of global economics, new technologies, and new management methods that make it clear we cannot manage business the way we did in the past. Small business is where the new changes are needed the most. Almost as many small businesses are started as are lost each year. This is a tragic loss of economic potential -- most of which is preventable but not well understood by the entrepreneurs that place their life's resources on the line to build a dream. Our national and global economies would benefit dramatically if small businesses could see the roadway more clearly and seize control of their destiny.
We now have the data to know that a few well-placed adjustments to the way businesses are managed can have a very large impact on the success and "thriveability" of a company. In simple terms, we know companies that make important small course corrections just a little bit sooner do so at a much smaller cost, have significantly improved performance, and in the long-run have a much more valuable company.
The three core principles for a positive outcome are:
1. Prediction: Seeing what's ahead
2. Performance: Tracking performance in comparison to internal goals and industry trends
3. People: Sharing information with team members and stakeholders who "make the rubber meet the road."
We'll cover the processes you can easily put in place in the following chapters. But first, let's take a look at where we need to shift the way we view and understand business performance.
Changing the Picture
Pictures vs. Numbers (Dynamic vs. Static)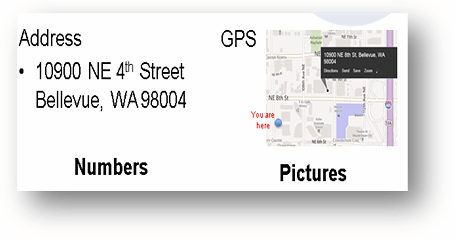 We, as a society, have become increasingly accustomed to gathering more information quickly through visuals. Following are some examples of what these can look like. Any time you can put something in visual format, do it. It is a key to effective communication.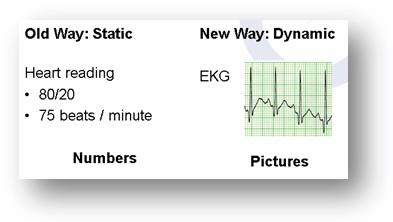 Predictive Analytics vs. Traditional Business Intelligence
BI (business intelligence) has been an important new way to look at a broad collection of information that, combined, provides a better understanding of how a company is performing in the context of the market it serves. But, bringing data together from multiple sources to obtain a more comprehensive picture is merely a great first step. Applying predictive analytics as the next step can make the data come alive. More than just graphs or color representations, predictive analytics can show where the integrated BI picture is heading and where it is likely to be in the future. For the entrepreneur this means using internal plus external data in the form of trend lines to determine where things are headed and where outcomes can be shaped, not reacted to, in order to achieve a desired outcome.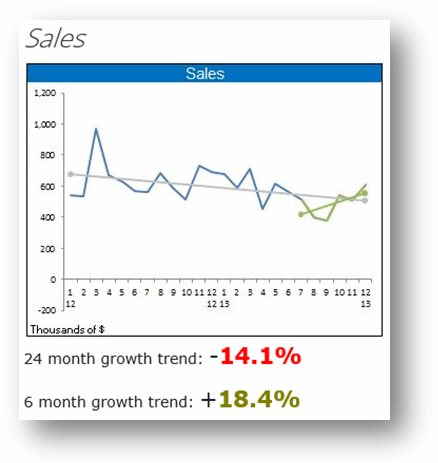 With predictive analytics you combine long-term and short-term trends (lagging and leading indicators) to show where the curve is bending and where you can expect to see performance go in the months ahead. If you extend the long-term and short-term trend lines into the future, it is highly probable that future performance will be somewhere between the two lines.
Market BI
There are many data sources for business intelligence, but many of them fall short in helping owners make decisions. That's because they tend to be:
Survey based -- not accurate
Out of date -- data gathered for past year
Does not integrate financial and operating data
Not granular -- can't drill down by business characteristics
Not dynamic -- usually not available monthly or quarterly
Data tells you the right path to take. If you adapt as changes occur, and continually measure the impact of changes to the business, you can make consistent progress. But if you don't have the full picture, your success will be based on pure luck (50/50 by market stats).
I believe strongly that when properly trained in how to measure and monitor both real-time and predictive business intelligence, business owners can respond to the rapidly changing landscape in a way that will dramatically improve their odds of success.
With predictive analytics, you can anticipate what is coming and make small adjustments early that make a big difference later. It's the difference between using a roadmap to see where you're headed versus groping your way there. When you're groping, you will never know if you are getting closer to a desired destination. A map lets you anticipate getting to your destination and do things to make your arrival more orderly and more certain.
In later chapters we will discuss how predictive analytics work and how they are applied to everyday decision making and to everyday communications with the whole team in order to get everyone on the same page.
Why a Financial Dashboard?
Each stage of business development has its typical barriers and challenges, but all stages benefit from frequent performance analysis and a clear picture of performance. We have new technologies to help track and interpret data, but there are many solutions that require a lot of time and expertise to get meaningful answers. We refer to this as the "roll your own" solutions.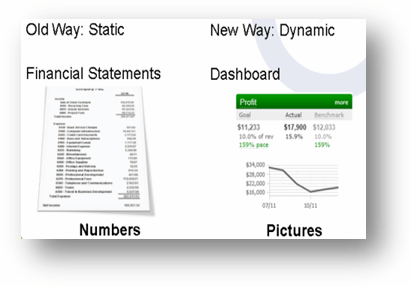 Thankfully, we can identify four fundamental financial pillars -- or "levers," as they could aptly be called -- necessary for a solid and balanced business footing. Getting these right will not guarantee success, but getting one of these wrong will almost certainly bring a business to a grinding halt.
The four basic financial levers are:
1. Revenue
2. Operating Costs
3. Financing
4. Investment/divestment
When you drill into these topics, there are endless theories, analytical processes, and management techniques to consider. The real challenge for business owners is to make sure all four are getting the right amount of attention and that they work together to support a successful business -- not to pull the business apart.
For example, I constantly see businesses use debt financing to keep their business going when the real issue is that their cost structure is simply too high. They are pulling the wrong lever and will not get onto a solid footing until they address costs. Another common situation is incorrect pricing of products and services. On the surface, if margins are fine, it must be a good time to increase volume. But the sinister truth is that if the margin trend line is headed in the wrong direction, all new sales are contributing less to gross profit. This problem is highly invisible when companies do not include all their direct costs in the gross profit calculation. As a result, their growth is actually damaging the business. For them, every sale is draining cash, causing them to go heavily into debt and depleting the equity value of their company.
There are countless variations on these themes but, in the end, the four levers must be on the right setting or the business engine will burn out. That's where a financial dashboard comes in. Still, pillars, dashboards and levers do not exist in a vacuum. They are part of a bigger picture that is produced by company leadership and includes vision, mission, philosophy, culture, priorities, markets, and teamwork. But, here again, if the financial levers are not being managed correctly, the picture will fall apart or just simply go nowhere -- no matter how cool, important, or valuable it might be. Business owners must keep an eye on the big picture and at the same time constantly assess and manage the financial health of their business as they adapt to and navigate the ever changing landscape.
About the author:
Frank Coker is president and CEO of CoreConnex Inc. and professor of business finance at the University of Washington iSchool.