tiero - Fotolia
ROI of ERP on SaaS often in easy upgrades, new opportunities
The case has expanded beyond the upfront savings of SaaS' early days to encompass quicker, cheaper tech upgrades and new lines of business not otherwise possible.
Stephen Horrocks was much less interested in cost comparisons when he went looking for options for running ERP on SaaS than he was in finding a product that would affordably provide his employer, British IT consultancy Methods, with newfound business agility.
When Horrocks joined Methods two years ago as CFO, the company had made its first move to the cloud, but with less-than-stellar results. A deployment of a custom-built application on Salesforce two years earlier was poorly planned and heavily reliant on expensive custom code, resulting in a lack of effective integration with other systems, high maintenance costs and poor management of information, thus falling short of the hoped-for business impact.
Horrocks took a decidedly practical approach to his search for an ERP option that would offer the kind of tight integration with Salesforce that was needed. When he chose FinancialForce, in which Salesforce is an investor, his decision had little to do with whether the software would be more cost-effective than the on-premises ERP system Methods had run previously.
"I wasn't comparing an on-site solution to a cloud solution," Horrocks said. "I was looking at how much it would cost to solve a very serious business problem and how fast I could do it."
The problem was this: In recent years, Methods launched several new lines of business in emerging areas such as data analysis and cloud migration, but its own technology wasn't keeping up with the market. It needed more automation, better access to data-driven insights and more agility.
"We help our clients move to the cloud," Horrocks said. "We had to eat our own lunch."
At first, things didn't go so well. The company added a lot of custom code to get Salesforce to do what it wanted, but when Horrocks arrived, he quickly deduced that the company should have just relied on the platform itself. He decided a restart was in order, had the company rip out Salesforce and the associated general ledger, and then reimplemented them -- sans custom code.
"Every time the word code got mentioned, I said absolutely not," Horrocks said. "I wanted us to use the platform and nothing else."
Horrocks' decision not only helped by providing a cleaner Salesforce deployment, it also provided a better foundation for the subsequent adoption of ERP on SaaS. In the first month after Methods went live on FinancialForce, which runs on the Salesforce platform, in November 2016, the company shortened its bidding process by two weeks. In the year since, it has slashed a three- to four-month accounting process down to four days.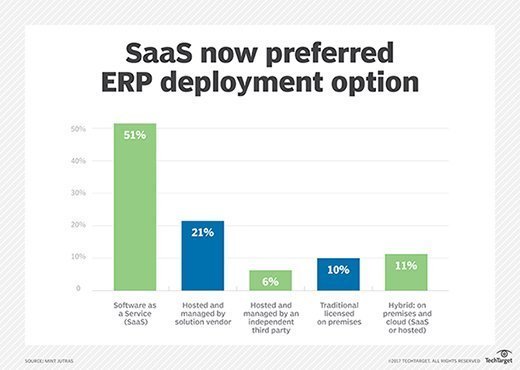 Opportunity costs of not running ERP on SaaS
Horrocks' story is emblematic of how running ERP on SaaS -- and the SaaS phenomenon in general -- has forced businesses that are adopting the cloud to think about software purchases differently. Where they once could make apples-to-apples comparisons based on upfront costs, upgrade and maintenance fees, and staffing requirements, IT leaders face a much more complex set of factors feeding their decisions.
Denis Pombriant, principal analyst at Beagle Research, said one way to look at it is this: It's no longer what it costs to buy the software that's important, but rather what it costs not to buy it.
"The story of cloud ERP is no longer about costs of acquisition," Pombriant said. "It's about the costs of not keeping up -- and lost opportunity."
For instance, adopting ERP on SaaS might be a ticket into a new business or industry, or it might help to transform an inefficient process in a way that wasn't possible with an on-premises system. And such opportunities often come down to being agile enough to change the business in a week instead of a month or a year.
Bill McNee, a longtime analyst who now blogs about business innovation as managing principal of McNee Associates, believes this potential for ever-expanding capabilities is at the heart of SaaS-based ERP's value.
"The shift to the cloud is less about cost savings and more about releasing new functionality and being able to do things that couldn't be done before," McNee said.
That's not to say the transition to SaaS is always a smooth one. Kevin Roberts, director of platform strategy at FinancialForce, said a lot of companies have made the mistake of signing up for a plethora of ERP on SaaS services that run on different platforms and have found themselves with spiraling costs and too much to manage.
"The people who are getting it right don't have a cloud strategy," Roberts said. "They have a platform strategy."
Just as companies are adopting SaaS applications to keep up with the speed of business, SaaS applications themselves are constantly evolving to keep up with the needs of the organizations that use them. McNee said it's important that companies consider the constant refreshes an app will undergo when they're analyzing the costs of ERP on SaaS.
"Over the life of the solution, what you end up with might very well be something significantly different -- and hopefully better -- than what you started with," McNee said.
Steve Cox, a group vice president of product marketing at Oracle, said this inevitable product evolution is part of the "total cost of upgrade avoidance" that he believes is important in analyzing the benefits of running ERP on SaaS. Moving to SaaS not only eliminates hard upgrade costs, it also removes the need to commit a team to a process that can take as long as two years.
"The reason we have customers on software that's five or 10 years old is that the upgrade costs are enormous," Cox said. "By the time you're on your new 'upgraded' software, it's out of date again. With the cloud, you're investing in something that ensures you're on the most modern software."
SaaS security benefits now a major part of the equation
Another surprising item has become a potential hidden cost of not moving to SaaS: increased vulnerability on the security front. After years of investing in, and paying more attention to, security, SaaS providers are now generally assumed to offer security that's superior to anything a customer could provide for itself, which translates to reduced remediation costs.
This is an ironic development, given that it wasn't long ago that cloud skeptics pointed to security as a major concern related to SaaS apps. But FinancialForce's Roberts insisted it's now the number one reason companies are adopting SaaS applications.
"If I was running my own data center, I'm not sure I'd be able to sleep at night," Roberts said. "Now, some of the largest organizations in the world are saying, 'This is too hard.'"
If it sounds like there are a lot of fuzzy financial benefits related to SaaS ERP, that's because there are. Pombriant seemed to have an endless list, including the fact that SaaS platforms often include extras, such as integration, relieving an unknown future cost. There's also the little matter of trying to estimate the difference in anticipated revenue growth with and without SaaS.
Nevertheless, real cost comparisons can easily be computed, such as the dramatic difference in upfront costs between SaaS apps and on-premises alternatives or having to budget for new data center gear every several years.
But there is one other cost that's impossible to calculate until it happens, and it's a doozy.
"When you're adding up costs and separating apples from oranges," Pombriant said, "don't forget to ask what business you're in today and what one you were in when you made the conversion [to the cloud]."