Real Time Value Network provides supply chain visibility in real time
One Network's Real Time Value Network is a multi-party network that connects customers and suppliers in real-time decision-making and enables supply chain visibility.
Editors of SearchManufacturingERP periodically recognize new or upgraded products for innovation or market impact. Their choice for this quarter: One Network's Real Time Value Network version 16.0.
Product and company name: Real Time Value Network version 16.0 by One Network Enterprises
Release date: July 2016
What It Does
One Network's Real Time Value Network is a multi-party network that connects customers and suppliers in a real-time decision-making supply chain. With it, an unlimited number of trading partners can plan, execute, monitor and synchronize all the business processes and events that happen in the extended supply chains in real time for supply chain visibility.
Why It Matters
ERP systems were designed 30 years ago and don't reflect the realities of today's globalized and hyper-connected business world. They keep data within the four walls of the enterprise and don't communicate well with other systems used by trading partners, suppliers and customers, according to Greg Brady, One Network CEO.
"Historically, an ERP system did not allow you to transact with trading partners, so your suppliers, carriers, retail warehouses couldn't work together on a transaction and certainly could not plan together on what the demand was, so the ERP systems could only take them so far," Brady said. "One Network Real Time Value Network is a cloud platform that allows companies to work together around common goals on the network, which can mean working in conjunction with the older ERP technologies or actually replacing an ERP system."
Real Time Value Network provides a single point of supply chain visibility to the various companies in the network.
"It gives a single face to the supplier, a single face to the shippers, a single face to their domestic carriers; it doesn't matter what country you're deployed in," Brady said.
Real Time Value Network is now live with more than 50,000 partners across six continents, including two of the top five global automotive OEMs, three out of the top five U.S. grocery retailers, and the Department of Defense.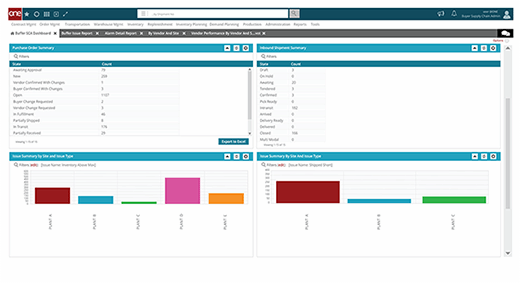 What Users Say
Dana Incorporated, a manufacturer of drivetrains and other systems for cars and trucks, implemented Real Time Value Network to get visibility into its supply chain and be able to collaborate with suppliers. Dana has plants in the U.S., India and China, as well as a distribution center in Mexico. The ability to collaborate and get real-time insights has enabled Dana to develop accurate forecasts based on information that's relevant at the time.
"Planners at these Dana plants who plan the material coming in can now go to a single Dashboard view and the supplier sees the same dashboard, so now it's an instantaneous collaboration between Dana's planners and Dana's suppliers," said Zack Mozingo, senior global logistics manager.
Suppliers love the collaborative abilities as well. Previously, Dana's ERPs would run once a week and they would get a spreadsheet with their forecast and would have to respond according to the forecast, according to Mozingo. All communication was by phone or email.
"We introduced them to the Real Time Value Network and I told them they didn't have to stop calling each other and they didn't have to stop sending the emails, but what they quickly found out is they don't need to do that anymore because it's all instantaneous right in the dashboard that they're using. So you went from a one-week view with a 52-week forecast to a daily instantaneous collaboration, and they're just eating it up. They love it."
Bloomin' Brands owns Outback Steakhouse, Bonefish Grill, Carrabba's Italian Grill and Fleming's Prime Steakhouse & Wine Bar. It operates in the U.S. and overseas with about 1,400 restaurants worldwide. Bloomin' Brands has a large community of suppliers to service all of these restaurants, which are all connected through on major distributor. Prior to implementing Real Time Value Network, the distributor was the principle touchpoint to the suppliers for both physical flows and information flow, said Juan Guerrero, senior vice president and chief global supply chain officer.
"The supply chain is many-to-few-to-many, with many suppliers going to one distributor going to many restaurants, almost like a bow tie. Our visibility was simply to the distributor and it wasn't real time," Guerrero said. "Depending on the importance of the category we would look at some things weekly, but other less important categories were monthly or quarterly. It was very manual; we used to use forecast ladders on [Microsoft] Excel to create the forecast but the forecasts were not dynamic [and] they were done on very long cycles."
Real Time Value Network has enabled real-time information flows from the restaurants, providing data on inventory and sales that helps the demand side and the supply side.
"On the demand side, our POS data is being fed into a demand forecasting engine in real time, and that demand engine adjusts the forecast as sales are occurring, with built-in smart agent technology that allows the forecast to be adjusted daily," Guerrero said. "That feeds our distributor and our suppliers, so they see this in real time, and it has basically eliminated the bullwhip effect."
For supply, Real Time Value Network uses a replenishment engine that mirrors the physical flows on the inbound side.
"So it knows what orders have been triggered, it follows that order, it knows what's in transit, it knows all of the inventory at each of the nodes, so it's actually doing the physical flows back to the restaurant," Guerrero said. "This means that the restaurant managers don't have to focus on the supply chain at all. We want their attention on cooking great meals and serving the customers."
Guerrero is impressed with the speed it took to implement and tune the network and link the suppliers.
"What makes this tool very interesting for the restaurant business is that we have a wide array of technology. We have distributors or suppliers that are very advanced and have an advanced system -- EDI [Electronic Data Interchange], for example -- but we also have very technology poor distributors or suppliers that may still be using spreadsheets and fax machines," he said. "So the One Network tool has many different ways that you can connect to it. We're probably going to get a standing ovation at our annual meeting with our suppliers just because of this alone."
Price
Detailed pricing for Real Time Value Network is not available from One Network. Visit the One Network website for licensing information and to get a price quote.