ReconNET streamlines credit card reconciliation at Panera
Trintech's ReconNET reconciliation software helped cafe chain Panera bake more visibility and efficiency into the credit card reconciliation process.
Panera Bread, a U.S. bakery-cafe chain headquartered in Sunset Hills, Mo., sells a lot of wraps, pastries, salads and soups to a lot of customers. And while Kelley Basta doesn't actually serve food or ring up orders, she touches every single transaction. As vice president of financial solutions and integration, Basta oversees all incoming financial transactions, such as customer payments and accounts receivable, and outgoing payments, including accounts payable and payroll.
During her four years at Panera, Basta has witnessed the company's rapid growth. But booming business can sometimes spell trouble for the back office. As the number of transactions increased, Basta said her team struggled to keep pace. To lessen the manual burden, Panera implemented account reconciliation software ReconNET from Trintech for credit card transactions three years ago.
"Before, we would manually reconcile between our POS [point-of-sale system], our credit card processor and our bank, and we didn't have the ability when there were differences to [do] the research we wanted to do," Basta said. "And with the growth, our Excel files became too big to actually support the kind of reconciliation we needed."
Transaction discrepancies were another sticking point.
"It's OK to have small amounts that are differences and write them off, but as your volumes grow, those dollars become much bigger," Basta said. "We only had one or two people doing this -- as we grew, it wasn't very effective."
Since the ReconNET credit card reconciliation implementation in 2011, Basta said the company has better visibility into reconciliations, as well as more time to investigate trends in the data. But deploying the software for this purpose wasn't always simple. Basta shared a couple lessons learned.
Retail experience sets ReconNET apart from the competition
Panera was already using ReconNET for certain cash reconciliations prior to Basta's tenure at the company. This made the product an automatic entrant to the vendor shortlist for new credit card reconciliation technology.
But it wasn't the only option. Basta said the deciding team, comprising herself, the director of accounting and the cash manager, evaluated two other vendors. Requirements included the ability to handle a high-volume environment and work with the company's Oracle enterprise resource planning (ERP) system. After a request for proposal process and a series of demos, the team ultimately settled on ReconNET.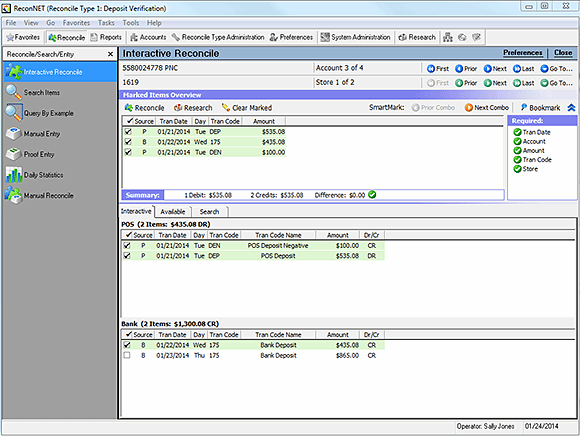 "ReconNET had a lot more experience in retail, and they spoke our language," Basta said. "We were not looking to recreate the wheel -- we wanted someone with experience in our space that we could look to."Implementation began in early 2011, and Basta said the early days were relatively painful.
"We were trying to make it do things that were unique to us and not following how most other people do it, and that didn't work well," she said. "Once we changed our methodology and went down a more typical path, it went fairly smoothly." The process took approximately six months, she added.
An additional challenge was getting all the necessary external data from Panera's credit card processor and bank in the correct formats. However, Basta said these files are more readily accessible now than they were three years ago.
"Most of the vendors we talk to now -- especially if they have any retail customers -- already have the file that other retailers use for ReconNET," Basta said. "It's a lot less of an issue than it used to be."
As for engineering the integrations between ReconNET and the POS and ERP systems, Basta said it was a joint effort by Trintech consultants and Panera's IT and finance groups.
Two major benefits of ReconNET, according to Basta, are the added efficiency and transparency in Panera's credit card reconciliations. Additionally, the time saved can be reallocated to investigating discrepancies -- a more valuable activity.
"Small shortages we wouldn't have even recognized before -- now we can look and see [that] maybe the same cafe is having shortages every day for the past two weeks. Then we can drill down and find out there's an issue -- it's not picking up something," Basta said. "We can research issues and solve them easier."
Don't skimp on training with new reconciliation software
Since the credit card implementation, Panera has had many more opportunities to practice deploying ReconNET. Basta said the company has gradually expanded the software's use to handle all cash and gift card reconciliations, in addition to some atypical tasks, such as matching processes for benefits and payroll, and accounting functions. While some of these expansion projects were mostly vendor-led, such as gift cards, others were handled almost entirely by Panera. With each implementation, Basta said the process gets easier.
Even today, Basta said the company is continuing to look for ways to expand the system's use. But she did mention one thing she'd do differently if she were to tackle the credit card implementation again: training.
"When we were first getting involved with ReconNET, we kept our budget pretty tight and so we didn't have much on-site training. If I was going do that part again, I would spend a bit more on training upfront," Basta said. "We probably would've more fully utilized the system much earlier if we had understood the features and functions better."
Basta also offered two tips for companies considering adopting ReconNET. First, she recommended securing a dedicated ReconNET support person, which she said will "pay for itself time and time again."
Her second tip is that companies use the vendor's other customers as a knowledge base.
"If you're first implementing, ask Trintech for references," Basta said. "There are a lot of people that use the system for a lot of different things, so to be able to get input on different ways to use the system is pretty helpful."
Emma Snider is the associate editor for SearchFinancialApplications. Follow her on Twitter @emmajs24 and the site @SearchFinApps.