Tailor Snapfulfil's cloud WMS software to meet your warehouse needs
With Snapfulfil, warehouse managers have a cloud WMS that adjusts and scales to meet business growth and seasonal peaks.
Snapfulfil is warehouse management system (WMS) software that enables companies to streamline the manual processes in their warehouses, reduce administration time and provide greater real-time visibility of each process, from receipt of goods to the dispatching of items in orders. The system's strength is in its ability to adapt to different types of warehousing and distribution models. Snapfulfil can be tailored to the needs of a wholesaler, a retailer, a direct sales company, an e-commerce company, B2B and B2C companies, or third-party logistics providers (3PLs) that provide warehousing and distribution to their clients as part of their overall service offerings.
Snapfulfil is a standalone, cloud WMS, and is not part of any larger ERP system. It has been successfully integrated with over 40 host applications and it can easily integrate with many other ERPs and supply chain management applications.
Much of Snapfulfil's growth is driven by e-commerce, multichannel retailers and direct sales companies. The system is also used by 3PLs and in industry verticals such as food and beverage, B2B distribution, manufacturing, consumer electronics, and consumer packaged goods.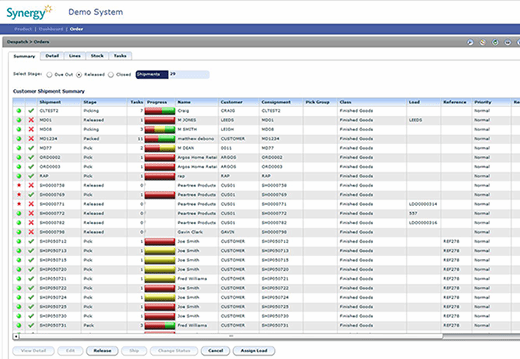 The three editions of Snapfulfil
Snapfulfil Pro is the company's most popular edition. It is a functionally rich, fully radio frequency-driven, cloud WMS suitable for warehouses with five or more users, and it can also be installed in a client's data center if the client prefers an on-premises system. Snapfulfil Pro is a fully featured, tier 1 cloud WMS.
Snapfulfil Starter is a smaller, more cost-effective edition of the system for small and growing e-commerce businesses. Snapfulfil Starter is offered as cloud-based system only, and offers all the core functionality of Snapfulfil Pro, but is a paper-based WMS system.
For large enterprises, Snapfulfil Enterprise offers enhanced functionality and configurability, along with comprehensive pre- and post-sales support to successfully deliver large or complex projects.
The features and functions contained in Snapfulfil include:
radio frequency-directed put-away of inventory;
support for multiple picking methodologies;
interleaving of warehouse tasks based on priority, permissions and proximity;
inventory tracking;
employee performance monitoring and reporting; and
built-in integration to most major parcel carriers.
Snapfulfil is planning to include support for tablets and smartphones in 2017, enabling these devices to extract reports from the system's data warehouse -- and it will offer a warehouse control system for machine automation and control.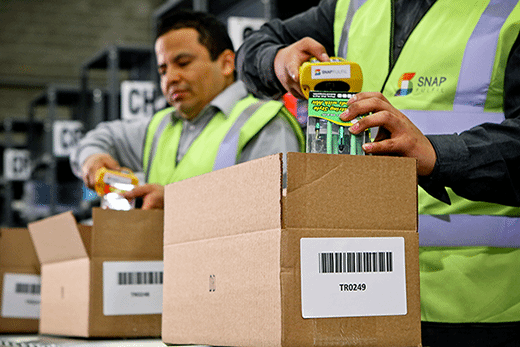 How is Snapfulfil licensed and priced?
Because most editions of Snapfulfil are cloud-based, the systems can often be deployed in 45 days or less. Most of the system configuration is automated in the cloud, which lessens the installation and maintenance work that customers do. The Snapfulfil team is part of the installation preparation and works with clients to understand what their present and future warehouse requirements are so the system can be properly configured to meet these requirements. One of the outputs from this process is a documented system setup plan.
Snapfulfil is best known and most often deployed as a software-as-a-service WMS. Because it is a cloud WMS, Snapfulfil customers do not have upfront fees, yet pay a fully inclusive monthly subscription based on the number of users. The subscription includes software, hardware, training, support and maintenance. New users can be quickly and easily added for rapid growth periods and seasonal peaks. There is also an option for customers to host the system on premises; in these cases, a traditional licensing agreement is available.
Snapfulfil does not offer a free product trial, but it does offer a free warehouse review process that consists of an initial phone consultation, where potential customers can tell the company about their business and warehouse needs and challenges. Occasionally, on-site, follow-up visits are scheduled if warehouse requirements and operations require a more in-depth analysis following the phone consultation. At the conclusion of the warehouse review, Snapfulfil provides a written outline of its services and how they can address customers' needs.
Next Steps
The case for mobile warehouse management
barcode technology can improve warehouse management
Mobility brings flexibility and real-time insight into the warehouse
Dig Deeper on WMS and ERP systems