The complexity of financial systems in the postmodern ERP era
With businesses under pressure to operate more efficiently, the finance department must provide better insight. Here's what that means in terms of ERP-related technology.
In this so-called postmodern ERP era, most companies are rejecting the megasuite and vendors have been rushing to meet companies' needs. Indeed, surveying the enterprise technology landscape is akin to the taking a walk down the cereal aisle at your local supermarket -- the array of choices can be both exciting and overwhelming. Luckily, better integration in certain areas is making the process easier.
When it came time for Motus LLC CFO Tim Brown to evaluate a new accounting system, he wanted one that aligned with his company's business strategy, which revolved around creating a single customer record and connecting sales with services and finance.
"We were using Salesforce as a contact management system rather than a sales pipeline tool," Brown said. "And we were thinking about what could we do around our service and customer care and what would become our client success management operations. I raised my hand and volunteered to run with this."
At the same time, Brown was also evaluating different accounting systems so Motus could move on to one cloud-based accounting system that could integrate the company's financial data with its Salesforce data. Boston-based Motus is a provider of cloud-based mobile workforce management software.
To accomplish its goals, Brown turned to software as a service (SaaS) ERP provider FinancialForce because it was built natively on the Salesforce platform. Using FinancialForce, Motus was able to create a data backbone to act as architecture for the company by having data centered around a single customer record that's easily accessible to everyone in real-time.
The CFO in a postmodern ERP world
Today, businesses are under constant pressure to operate more efficiently. As such, corporate leaders are depending on their CFOs to provide them with the insights they need to make better business decisions.
And that means finance departments are seeking out new ways of working, i.e., spending more time on analysis and offering advice rather than merely processing transactions, Gartner noted in its "Predicts 2016: Financial Management Applications" report.
"We are in a postmodern ERP era, and what that essentially means is that the [ERP] megasuite is dead," said John Van Decker, research vice president at Gartner, which is based in Stamford, Conn., and one of the report's authors.
Integration was really hard back [in the early 1990s]. Now, integration is incredibly easy.

David Furthfounder and president, Leap the Pond
This postmodern-ERP approach is causing enterprises to consider components of the corporate performance management suite separately, he said.
"For buying new applications, what we see many companies do today -- if they don't think the cloud is ready for them -- they may ring fence some of their applications, general ledger, payables, their financials and keep those on an on-prem solution for a while," Van Decker said.
But for everything else, people are buying cloud suites to bring in new functionality or maybe replace some other on-premises systems, such as human capital management and indirect procurement, he said.
"Some customers will want to reduce the number of vendors they want to deal with, but for the most part, I have customers who have PeopleSoft for HR but are going with Oracle Cloud for financials," Van Decker said. "If they decide to do this they have to think about how to integrate it -- they're going to think about the user experience, they're going to think about if it makes sense to bring in different applications."
Getting strategic about buying decisions
Part of Brown's upfront evaluation was understanding how Motus could get a mirror of what the company had in place as a starting point, i.e., get a general ledger, be able to produce invoices and manage payables as easy as it could with Quickbooks.
"Knowing that we wanted to automate more of the billing system and be able to integrate with marketing data and the lead data, we needed a platform that was robust enough or open enough in terms of its APIs so we could interconnect a bunch of different things," he said.
Motus implemented FinancialForce Accounting in 60 days during its busiest season -- year-end, annual audit and budget time, according to the company.
Subsequently, Motus was able to cut its month-end reconciliation down from weeks to minutes by leveraging FinancialForce's power APIs into its forecasting and budgeting app.
Piecing together SaaS-based financial applications rather than deploying one ERP megasuite is the only way to go, according to David Furth, founder and president of Leap the Pond, a provider of Intacct-based accounting software based in Milford, Conn.
"I was the head of IT for Turner Construction in the early 1990s and, back then, best-in-class versus suite -- suite won hands down for one very important reason: Integration was really hard back then," he said. "Now, integration is incredibly easy."
Integration key to postmodern ERP
Today's technology allows an organization to choose a core financial system that can be integrated with an expense management system, a financial planning system, a procurement system and a payroll system -- and it really all works without the involvement of IT, Furth said.
"Most SaaS providers have a marketplace of complementary products that are preintegrated," he said. "When our customers need to do an integration between Intacct and an expense management solution, the setup is like 30 minutes. When we need to do an integration between Intacct and Salesforce, it's literally just a matter of mapping the data."
"And even if the integration doesn't exist, if both systems have open APIs, then doing the integration still isn't painful," he said.
Jaakko Piipponen, founder and CEO at Flightpath Finance, a management consulting firm in San Antonio, agreed that piecing together SaaS financials works.
Piipponen said his customers often use in-house or commercial analytics tools such as Baremetrics, accounting tools such as QuickBooks, as well as CRM tools, and tie them together to their financial models.
"For companies in the $20 million [revenue] range that are using NetSuite, for example, piecing together a set of tools is definitely an option," he said. "From what I've seen, they're not even able to use all the functionality that NetSuite has to offer because they don't know how and they don't have access to consultants or people who can help them with it."
When Facilities Management eXpress LLC (FMX), a provider of facilities management software in Columbus, Ohio, launched as a subscription business several years ago and started acquiring customers, CEO and CFO Jeff Wilkins worried about all the accounting issues that he was going to face.
Wilkins said it became obvious that revenue recognition was going to be challenging using the standard Excel spreadsheets and anything else the company could cable together.
"But we also wanted to find systems that were compatible with one another so we could have a very smooth transition with very little interaction on the part of the team," he said. "We wanted to try to get connected systems as best we could."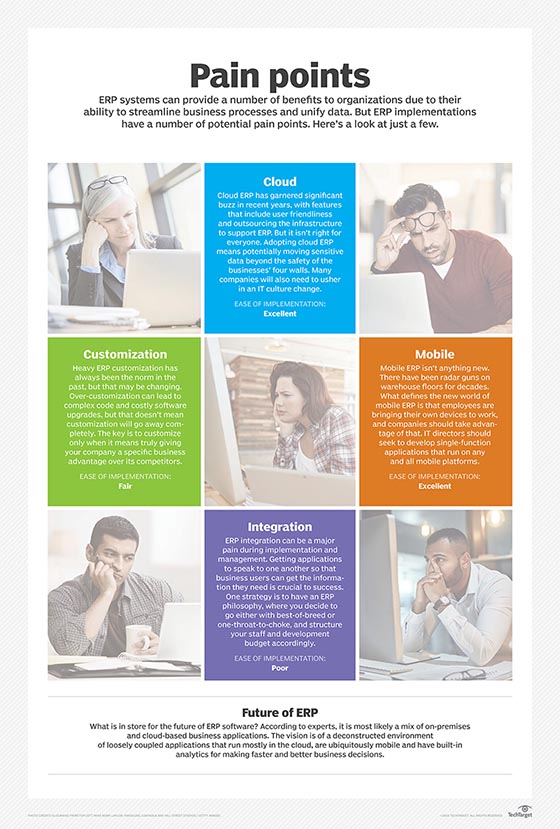 Like a lot of small companies, FMX chose QuickBooks as its accounting system and was "fussing" with Excel spreadsheets when Wilkins first became aware of SaaSOptics, a subscription management platform designed specifically for B2B SaaS and subscription-based businesses.
"I knew there were expensive enterprise software programs that could handle the problem, but we were a startup and very careful with our expenditures," Wilkins said. "I looked everywhere for a solution that could meet our needs and, fortunately, I found SaaSOptics. It was the perfect mix of functionality and affordability. It has been a great solution and has only gotten better."
Tim McCormick, CEO of Atlanta-based SaaSOptics LLC, said most market-leading billing, integrated financial and ERP solutions aren't designed to support the unique needs of SaaS and subscription-based businesses and don't provide the financial metrics and analytics needed to run a growing SaaS business.
"You implement us alongside of QuickBooks when you're small and integrate with Salesforce -- these are literally out-of-the-box connectors," McCormick said. "You put in your credentials of Salesforce, you put in the credentials of QuickBooks and we automatically sync the appropriate data from our system to QuickBooks and back and forth between Salesforce through the advanced API structures that we have available now."
Wilkins said FMX uses the Salesforce platform as its CRM to manage sales and Marketo to manage marketing.
"We wanted something that was as seamless as we could get and, from the beginning, it was pretty obvious that SaaSOptics was going to get us a long ways there," he said. "We were definitely trying to piece things together and this was the most important piece we found."