Evaluate
Weigh the pros and cons of technologies, products and projects you are considering.
Cloud ERP vs. on-premises ERP: 7 key differences
Understanding the differences between traditional on-premises ERP and SaaS ERP is critical before making any buying decisions. Here's how they compare in seven important areas.
ERP is a modular software system that unites the data from core business functions -- such as finance, HR and customer...
Continue Reading This Article
Enjoy this article as well as all of our content, including E-Guides, news, tips and more.
relationship management -- to help organizations operate more effectively. Due to the importance and complexity of these systems to organizations, ERP has been one of the most high-stakes, difficult software systems to implement. To this point, addressing the cloud ERP vs. on-premises ERP vs. hybrid ERP question is critical when making a buying decision and needs to be based on an organization's strategic requirements rather than what's being hyped or is most popular.
Today, ERP systems are set up a few different ways. Modern ERP systems have expanded from their predecessors with capabilities encompassing more than just resource planning. Viewed in the past as monolithic systems that assisted with a limited set of business operations, ERP systems are now a collection of stand-alone or integrated components -- or a combination thereof -- that helps manage specific aspects of the enterprise and improve the overall customer experience.
Cloud ERP vs. on-premises ERP
ERP has three main deployment models: traditional on premise; in the cloud; and hybrid, a combination of the two. For clarification, cloud ERP is a term used to define hosting within a cloud platform for fully licensed ERP software. Today, many people say "cloud ERP" but mean a subset of a cloud application called software as a service (SaaS) ERP. SaaS ERP is software that is owned and hosted off-site in the cloud by the software provider but paid for on demand, i.e., as it is used. In summary, SaaS ERP is a type of cloud option, but not all cloud ERPs are necessarily SaaS.
Because SaaS is an increasingly popular model that stands in contrast to the traditional on-premises model, it can be helpful at the outset to understand specific facets of SaaS ERP when considering the cloud ERP vs. on-premises ERP question or the hybrid model.
Here are seven considerations when choosing between a cloud and on-premises ERP system.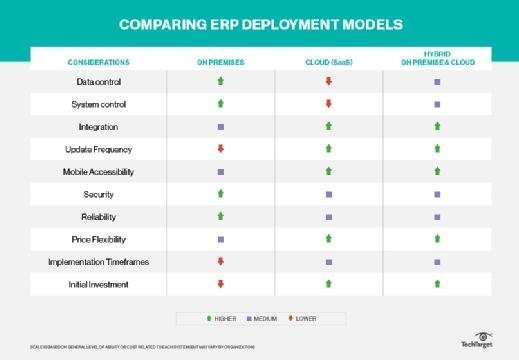 System and data control
In a SaaS scenario, a third party manages software and data. Managed in-house, on-premises ERP systems require more IT staff and more associated costs. On the other hand, organizations have a higher degree of control over the systems and data with on-premises systems and data centers.
Most cloud ERP systems enable some personalization, letting the business configure the system to match the company's look and feel, such as including use of company logos. However, controlling true customization in terms of rewriting code can be much more limited, especially in multi-tenant systems. Minimizing customization can be beneficial to reducing ERP expenses and implementation delays but may also impact competitive advantage if IT cannot accommodate the unique functionality.
Integration
At some level, most on-premises and cloud ERP software systems offer integration due to the increasing needs of transferring data between applications. Cloud ERP systems tend to use application programming interfaces (APIs), which are tools to help ease integration. Using standard protocols or similar business ecosystems could lower the costs when compared to developing ad hoc integration software. This is why it is important to look at the different integration factors of cloud ERP vs. on-premises ERP.
With cloud-based ERP, integrations automatically carry forward when an application updates without additional investment. However, to upgrade on-premises ERP systems, IT has to reimplement various integrations that a company has installed on its previous software.
on-premises ERP vendors can develop specialized integration modules for customers that have specific data flow needs or existing infrastructure. Because most cloud ERP vendors use the SaaS model, they can't provide that same level of personalization.
Updates
Cloud-based ERP software generally receives more frequent updates than traditional systems. In some instances, updates occur monthly or even weekly. This has the added benefit of enabling businesses to remain compliant with changing industry and government regulations. However, with the SaaS model organizations aren't able to choose which upgrades they receive and when they occur.
When deployed, cloud applications can bring scalability to businesses with high growth and rapid expansion. While it is beneficial for any ERP to keep pace, repeated updates are not without their drawbacks -- e.g., companies have less flexibility when it comes to customizations. on-premises ERP customers can work with vendors to customize the software to meet their business requirements. With multi-tenant cloud ERP, enterprises likely won't be able to achieve the same advanced customizations as with on-premises ERP.
Mobile access
It's common to see traditional ERP products offering users mobile access that can assist with remote approvals, notifications and operational visibility. This can sometimes bring added complications for on-premises ERP software, especially if a third-party client is required to act as the link between mobile devices and the ERP system. Because of their web-based nature, many cloud ERP systems are natively mobile and come with standard mobile applications. Ease of mobility is a key difference when considering cloud ERP vs. on-premises ERP.
Security and reliability
The need to protect critical data, such as corporate financials, employee details, customer account information and trade secrets, means that data security remains an essential requirement when considering a new ERP system. In the past, organizations perceived cloud ERP systems to be widely susceptible to breaches, hacks and exploitation, especially when compared to their traditional on-premises counterparts. To give peace of mind, many cloud ERP vendors are touting encryption and use of additional safeguards built on platforms such as Amazon Web Services that have enhanced security protocols.
Another common concern with any ERP system is its inability to operate due to software, hardware and infrastructure malfunctions. Operational disruption can translate into hefty losses. Consider the cloud ERP system's need for internet access, especially for businesses with remote locations or areas with less reliable network connectivity. Equally as important is the overall performance dependability of the cloud ERP vendor that may have multiple redundancies and disaster recovery protocols in place to protect data.
Payment models
On-premises ERP software is generally priced with a one-time, perpetual license and ongoing support fees, some of which may be negotiable. Cloud ERP systems take on subscription-based pricing models that are usually per month or per year. SaaS vendors can price their cloud applications based on a choice of multiple usage factors, such as the number of users, transactions, amount of data or other units of measure.
Total cost of ownership
There are costs associated with any ERP system, whether it's in the cloud or on premise. However, SaaS ERP software has certain kinds of cost flexibility and different longer-term costs to consider. The differences are important when looking at cloud ERP vs. on-premises ERP.
Setup -- Organizations don't have to pay for setup or installation in a cloud ERP deployment. However, they will invest a considerable amount of money -- and time -- installing on-premises ERP software. In addition, with on-premises ERP systems, companies are required to make large upfront and ongoing investments to buy and manage the software, as well as the hardware, servers, facilities and IT staff necessary to run and maintain it.
Enterprises that opt for on-premises ERP systems often have to pay again for any future updates. With SaaS, on the other hand, updates come as part of the subscription at no additional cost.
Customization -- On-premises ERP is generally more customizable but requires time and the expense of additional hardware and possible downtime. Although cloud ERP systems are less expensive and faster to customize, on-premises ERP systems work best for companies that need extensive or unique customizations.
Data -- With on-premises, as well as cloud ERP, enterprises will most likely have to invest the same amount of money and time to move their data to the new system.
Support -- Cloud ERP support is less expensive than on-premises support, since the cloud ERP support is online and included in the subscription price. Additionally, with on-premises software, organizations might have to pay for on-site IT to ensure that the software is functioning properly.
Linda Rosencrance contributed to this report.
Dig Deeper on ERP software selection and implementation