buchachon - Fotolia
Get started
Bring yourself up to speed with our introductory content.
Tools and best practices you'll need for a hybrid ERP implementation
If you're moving some of your business processes to the cloud and leaving some on premises, a sound ERP integration strategy is critical. Here's advice on creating one.
One of the main challenges a manufacturing company, or any company, faces when it adopts a hybrid ERP system -- running some business processes in the cloud and some on premises -- is which technical considerations to take into account when integrating the two. Then the question becomes: What are the tools and approaches that are available to successfully implement hybrid ERP?
A company's desire to drive agility and greater operational flexibility by modernizing legacy systems and moving applications to the cloud is often held back because of the technical challenges of making that vision a reality, said David Chao, head of industry solutions at MuleSoft, an application network provider based in San Francisco.
"There are [some] things that we see that are challenging for organizations," he said. "The first is how you think about connecting on-prem systems to the cloud."
Security, analytics and other integration issues
Although an enterprise might have tools in place to connect on-premises processes to one another, the additional security and connectivity challenges of connecting to cloud endpoints sometimes means those tool won't work to connect on-premises processes to cloud-based processes, according to Chao.
When it comes to data, a hybrid ERP integration strategy should also include how to handle security, as well as take analytics into account, as the data now resides in two different data centers -- one on premises and one in the cloud, said Sundar Singh, head of the global Oracle practice Tata Consultancy Services in Kolkata, India.
"So, for analytics, how do you run your reports and your analytics?" he asked. "When we talk about security, we talk about a product or an application in the cloud. But the moment you take data or process out of there and integrate with on-prem, security becomes a question mark because it's neither here nor there."
The issue of hybrid ERP and data
The difference between on-premises and cloud-based systems is not just in terms of where they are deployed, but also how data is exchanged between them, according to Chao.
"By that I mean that many of the legacy on-prem systems typically think about data exchange in terms of batch transactions," he said. "So when you think about mainframes sending a consolidated list of purchase orders or invoices or, in other scenarios, maybe a payroll, that's how they were designed in the '80s and '90s in terms of how data would be output."
Systems in the cloud, however, are expecting data in real time, e.g., a real-time feed of purchase orders and updates as they come in, so there's a disconnect between how data is being output and how data needs to be received by these more modern systems.
"That's a challenge that our clients are telling us that they are facing," Chao said.
John Appleby, U.S. general manager at London-based SAP consultancy Bluefin Solutions, part of Mindtree, agreed with the need to focus on integrating data in a hybrid ERP system.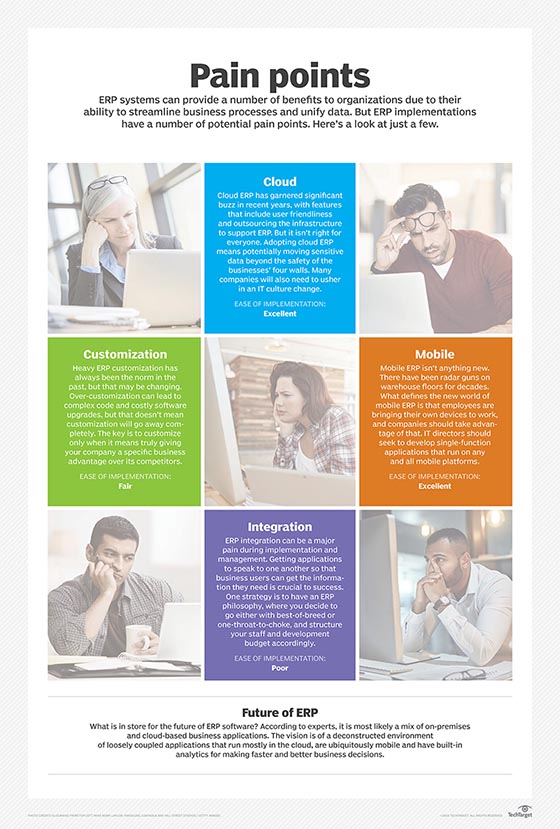 "The process of getting data from A to B and ensuring that it stays in sync and in parallel with which of them is the master [is important] because, if I'm buying Workday and SAP S/4HANA, guess what? They both want to be the master," he said.
A manufacturing company has to decide if it's going to have dual masters or a single master. And if it decides to have a single master, the organization has to figure out how to manage data entry and data quality, according to Appleby. From a technical perspective, that integration is difficult and costly.
Richard Cimino, a principal in the advisory enterprise solutions group at KPMG LLP in New York, agreed with this assessment.
"There are also aspects of data to be factored into it," he said. "For example, you're going to move HR [and] payroll to the cloud, but keep finance and accounting on premises. Now you have to have an overall employee master in one location that all of my other applications can access. Now you're not just trying to link up processes to a more mature end-to-end process, you're also trying to do the same with data."
Who to call for integration help
When it comes to determining which tools to use to integrate on-premises and cloud applications, Appleby said it comes down to whether or not you use the integration from the ERP provider.
"For example, SAP says, 'Buy our core ERP and buy our line-of-business clouds and we'll throw in the integration, and it will all work great,'" he said. "So, theoretically, you don't have to worry about [the integration] at all."
Alternatively, an enterprise's strategy could be to take a more line-of-business approach and implement best-of-breed software, such as Workday, Salesforce or LLamasoft's spend analytics software, and then buy connectors, such as Dell Boomi, and do all the cloud integration at the same time.
"Or, the third option, do you say, 'I'm going to invest in something like HA [high availability] cloud integration,' which is all about doing that generically for multiple connections, and 'Do I build that capability internally?'" Appleby said.
Which option a company chooses depends on whether it's more important to let the lines of business drive the solutions they want or to let IT drive the costs, according to Appleby.
"If it's IT spend, then you might take the point of view that best of breed is not as important as cost of ownership," he said. "You could also take another viewpoint, which is if you want an integration capability. Because if you buy a solution like [SAP's] SuccessFactors that wires directly into S4/HANA, and that integration is included as part of the price and you're paying one monthly fee, you don't need an integration capability."
Pretty much all of the ERP vendors, such as SAP and Oracle, offer integration platforms to connect those processes that companies are running in the cloud to those processes they're continuing to run on premises, as well as to those cloud processes a company is running from other providers, said Cimino.
"It's a new generation of development technology that factors in the cloud as opposed to programming in SQL or programming Visual Basic or what have you," he said. "That's a consideration -- how do I knit this all this together if I'm moving HR [and] payroll to the cloud, but I'm going to keep my accounts payable and [my] general ledger on prem?"
The technology integration platforms are out there, and KPMG sees a lot of adoption of them in the marketplace, Cimino said.
Businesses have to understand what they can currently do with their on-premises applications, as well as the new digital processes they will have with the cloud applications.

Steve CoxOracle
Companies, including manufacturing companies, that are moving to a cloud-first strategy for new IT purchases or expanding what they currently own, while still retaining some on-premises applications, have to have a detailed understanding of their IT infrastructures, said Steve Cox, VP, ERP and EPM of cloud go to market at Oracle in Redwood Shores, Calif.
"It's important to do an infrastructure assessment so that you have a complete view of the topography of your organization from an IT standpoint, including the shadow IT that's occurring, because it gives you an idea of what the business is doing, as well as what the business needs," Cox said.
Companies also need to take scalability, identity management and security access into consideration, he said.
"You have to have a single way of signing into this hybrid infrastructure," Cox said. "Another part of identity management is the security layer, as well as the access privilege each user gets. It's a business process map-and-gap exercise."
Businesses have to understand what they can currently do with their on-premises applications, as well as the new digital processes they will have with cloud applications, he added.
"You have to understand the difference between the two, and whether there are any gaps for reasons of specific competitive advantage, and how you're going to cover those gaps," Cox said.
The answer to covering those gaps is with platform as a service (PaaS) extensions, as Oracle's view is that only PaaS extensions are preserved as the software as a service (SaaS) products companies use are upgraded.
Oracle also offers integration platform as a service as one of its PaaS extensions to help companies integrate on-premises and cloud processes for the same reason -- to preserve those integrations as the SaaS products they're using are upgraded. The upgrade cycles for the SaaS products are more frequent than the on-premises ones, Cox said.