News
Stay informed about the latest enterprise technology news and product updates.
Users sticking with their financial systems, survey says
According to a late 2013 TechTarget survey, users aren't budging from their current financial systems this year.
Recent survey data from Saugatuck Technology and Forrester Research shows that finance executives are coming around on the cloud. While finance has traditionally been skeptical about cloud-based applications because of data security and privacy concerns, experts say these worries have been fading. The questions chief financial officers are now posing about cloud-based financial applications focus on the feasibility of deploying these systems at their organizations, which analysts take as a good sign of progress. Bill McNee, Saugatuck founder and CEO, said finance will represent the third wave of cloud adoption, after their cohorts in HR and marketing.
But, that is, only if they move away from their current systems in the first place. A TechTarget survey of financial systems buyers conducted in late 2013 showed that most plan to stick with their current systems for the year ahead. Furthermore, companies that are in the market for new financial systems aren't all opting for cloud. Instead, buyers were divided evenly on the subject.
The survey also asked finance software buyers' opinions on whether it's better to take a unified suite or so-called "best-of-breed" approach with financial applications. While slightly more than half of the respondents thought it wiser to go with a single vendor's suite, all of the remaining half wasn't in the best-of-breed camp -- a quarter of them just weren't sure.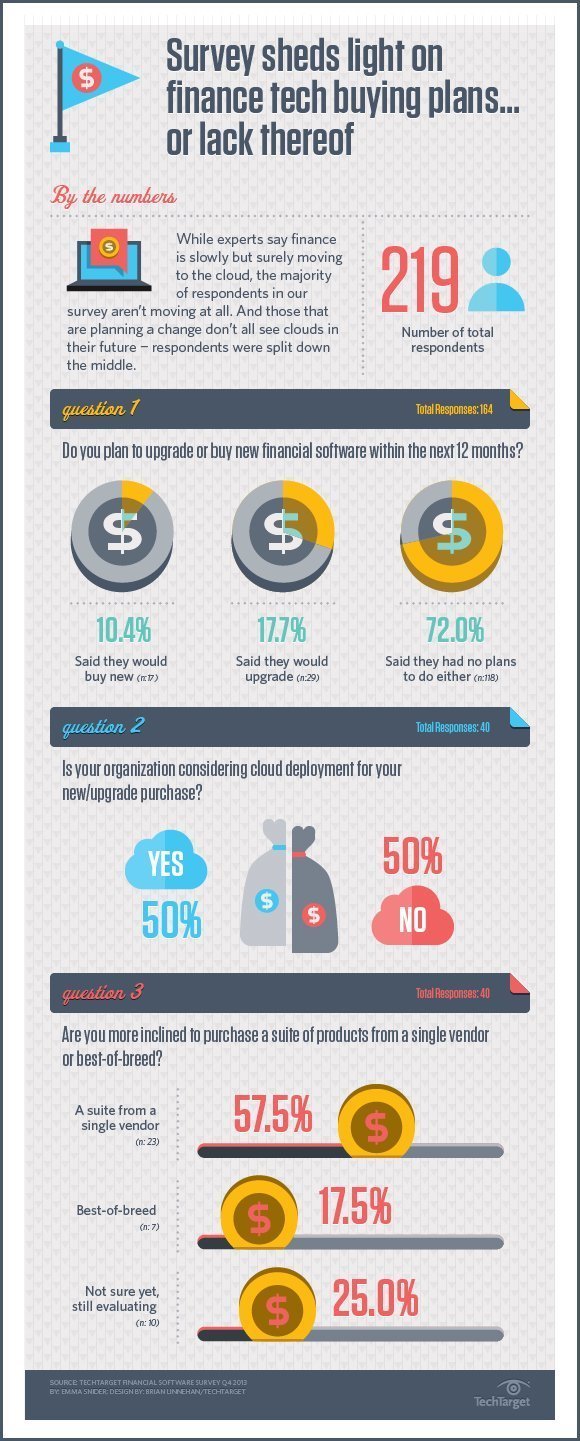 Additional resources on cloud-based financial applications:
Emma Snider is the associate editor for SearchFinancialApplications. Follow her on Twitter @emmajs24 and the site @SearchFinApps.