WMS software from TECSYS helps manage complex supply chains
Serving industry verticals like healthcare and multimedia and publishing, the scalable TECSYS WMS software lets users manage complete warehouse operations.
TECSYS Inc. offers a warehouse management system (WMS) that is designed to optimize distribution management processes and improve warehouse and distribution operations so goods can be delivered to customers faster. The TECSYS WMS software is part of an end-to-end supply chain execution (SCE) suite of applications that include: distribution management such as order management, forecasting, purchasing and financial management; transportation and delivery management; and business intelligence and analytics. Modules of the TECSYS supply chain execution suite such as the TECSYS WMS can be purchased as single modules, or as part of the complete suite of the TECSYS SCE applications.
Companies use the TECSYS WMS software to manage their complete warehouse operations through system-directed processes throughout their warehouse from receiving to shipping and beyond. The system uses TECSYS' patented visual logistics technology, which displays information in graphical formats on a variety of desktop and mobile devices.
The system also enables companies to compare their key performance indicators against warehouse operation leaders and peers in their industries by using the TECSYS Visual Metrics dashboards, which include the metrics from the Warehousing Education Research Council. The TECSYS WMS can be used with the TECSYS SCE suite or it can be integrated with a variety of other enterprise resource planning and warehouse control system applications through web services, CSV file exchange and XML file exchange.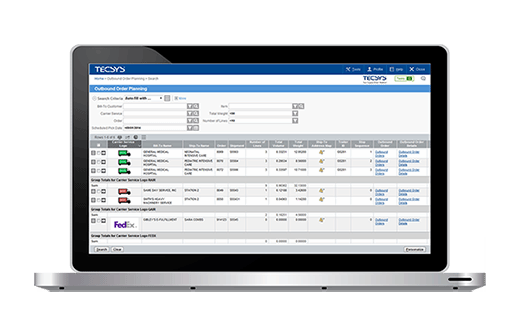 The TECSYS WMS software runs on Windows and Android-based devices. It can scale up or down, depending upon the size and scale of warehouse operations. It also supports multiple warehouses, whether the warehouses are local, regional or international. The TECSYS WMS can be expanded to other applications such as distribution and delivery management, and it supports multilingual operations.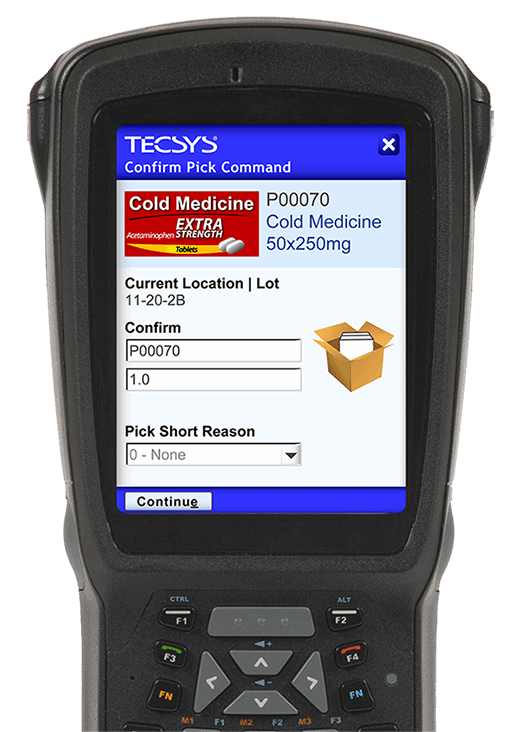 TECSYS WMS is especially popular in industry verticals like healthcare (i.e., hospitals, clinics and integrated delivery networks or health systems; as well as healthcare products suppliers such as distributors and manufacturers). It is also used in industry verticals like heavy equipment and industrial distributors, importers, food and beverage, and multimedia and publishing. TECSYS WMS is well-suited to companies faced with managing highly complex supply chains.
Because the TECSYS WMS software is highly scalable and adaptable, customers can start at either of two extremes of size and complexity of an operation (i.e., small, large, complex or simple) and then scale to the right size and needs on an ongoing basis. Implementation of TECSYS WMS can be for simple or startup operations that only require basic, "out of the box" WMS capability. TECSYS also implements the WMS for highly complex distribution operations that require most of the basic and extended capabilities of WMS and adaptation of the software to meet their unique way of doing business.
TECSYS WMS is offered as a cloud WMS, or as an on-premises or hybrid (both cloud and on-premises) system. The cloud-based version of the system is priced on a monthly subscription fee that is based upon the number of system users. For licensed product on premises, pricing is based on the number of users and/or on an enterprise license model that is developed on a customer-by-customer basis.
TECSYS provides direct support to customers up to 24/7 as needed. The company also works with systems integrators and consultants, typically chosen by the customer.
Next Steps
Learn how to successfully integrate a WMS with an ERP system.
See how WMS technology has evolved recently.
Is best-of-breed WMS or ERP right for you?