News
Stay informed about the latest enterprise technology news and product updates.
ERP integration crossroad looms for tech manufacturer
Though Cellular Specialties' CRM and ERP are both from Sage, the systems can't talk to one another, and that leads to tedious workarounds and data issues for the make-to-order company.
MANCHESTER, N.H. -- Cellular Specialties Inc. (CSI) faces a huge ERP integration decision: combine its legacy ERP and newer customer relationship management (CRM) system, or scrap them for a new package with the applications already integrated.
Ironically, the CRM software comes from Sage Software, the same company that makes the MAS 200 ERP system that CSI installed seven years ago.
The privately held, 150-employee company assembles repeaters that bring cellular phone connectivity to buildings -- not to mention moving trains -- that would otherwise have dead spots and dropped calls. It also provides location-aware E911 emergency service. Its customers are carriers like AT&T and Verizon Wireless and businesses that want to "light up" their own buildings. Recent installations include the Orlando airport and Gillette Stadium, home of the New England Patriots football team. A service division sells and maintains turnkey systems that sometimes contain competitors' equipment.
The company sends its orders for subassemblies to two New Hampshire contractors that handle most of the manufacturing. CSI then does final assembly, testing, and shipping at its headquarters in a 19th-century, red-brick mill building alongside the Merrimack River. Having one contractor across town and another less than two hours' drive away obviates the need to use special collaboration software. The company touts its minimal use of overseas production, although leading-edge products are hard to outsource anyway, according to Scott Goodrich, president of the product division. The company does, however, outsource some "passive" parts to China.
"There's a lot of hidden costs that we avoid by having local manufacturing," Goodrich said, adding CSI can ask a contract manufacturer to take on final assembly during spikes in demand, but would be less responsive if it had to wait for overseas production.
Inside this buzz of activity sits an ERP package that can't keep up with the company. "I liken it to our facility here," said R. Bruce Wilson, CSI's president and CEO. "We are a rats nest in that we have grown very fast and at times without the proper strategic study and collaboration, resulting in less-than-optimal merging and set-up of the two packages."
Specifically, MAS 200 is "not great with BOMs [bills of materials]" used by CSI's product wing, Wilson said. On the service side, the software has no mechanism for handling requirements for tracking a project's percentage of completion, which are spelled out under generally accepted accounting principles (GAAP).
"The service group has many of their employees entering and editing data, which meets our operational needs but, at times, at the cost of some data integrity."
An integration "system" named Vivianne
In addition to BOMs, MAS 200 handles the company's inventory, maintenance, engineering change order (ECO) tracking, master scheduling, accounting, and purchasing, according to Robbie St. Amand, CSI's vice president of operations. "We basically use the entire package except for project accounting."
MAS 200 and Sage CRM -- and especially their lack of integration -- don't always mesh well with CSI's business processes.
"We're a very high-mix, low-to-medium-volume, assemble-to-order type of company," St. Amand explained. "I have to have the flexibility within a two-day period of time to configure [the products] to the sales order that comes in, test them, and get them out the back door. We want to be able to do our final assembly and test at the last minute. The ERP process we put together has been done to support that."
So "planning" or "safety" BOMs are generated for commonly used subassemblies that can fill most orders and are placed at the top of the demand plan to ensure availability. The materials purchasing group manages the information in MAS 200's materials requirements planning (MRP) module.
The ERP data flow essentially starts when the sales department delivers its monthly forecast to the master planner, who then imports the data into the MAS 200 MRP module. "We don't use the sales orders to drive the operations department," St. Amand said. "When the sales orders come in, we're actually consuming the forecast."
It's the job of the company's master planner, Vivianne Heselton, to make sure enough components are on hand. Heselton goes into MAS 200 and, line by line, manually enters each item needed to translate the forecast into make orders that go to the shop floor for kitting, or buy orders that CSI purchasers use to procure components and subassemblies.
"The steps required in MAS 200 to generate, issue, complete, and then close a work order are very time consuming," she said, adding she dislikes how MAS 200 recalculates her changes in time-consuming batches.
St. Amand said MAS 200 does not handle cycle counts and it is difficult to reconcile open service quotes with purchase orders and final accounting. "A better project-management module would help." MAS 200 has such a feature, but "we have chosen not to use it because it's not sophisticated enough to do the job costing that we want to do."
Test procedures and results are also handled separately, in LabView software. "I would love to be able to capture that right in the work-order module," he said.
The highly customized Sage CRM is primarily used by the service side for quoting and tracking service and repair jobs and maintaining a customer database.
"The two pieces of software can't talk to each other," St. Amand said. Each has its own customer database, which he blames partly on CSI's early decision to enter data in two places. Core financials and product information for service projects initiated in Sage CRM 6.0 reside elsewhere, in MAS 200 4.2.
Project managers in the service division have two screens, one for each program. St. Amand said the setup is made workable by judicious use of user-defined fields that make it easier to see when cases managed in Sage CRM involve parts that are tracked in MAS 200. Conversely, sales orders in MAS 200 must be translated manually into Sage CRM for work processes, such as hiring union workers and renting cranes.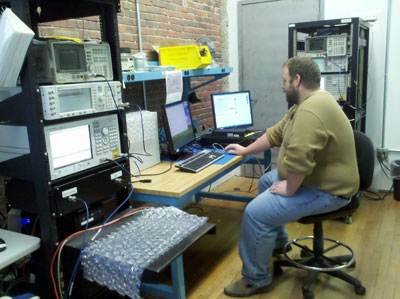 A technician at Cellular Specialties Inc. uses LabView software to test equipment before it ships. The company makes repeaters that boost cell phone service inside buildings. (SearchManufacturingERP.com photo by Todd Morrison.)
It adds up to a significant amount of duplicate data entry for CSI.
"Now we have a major decision in front of us," St. Amand said. "Do we spend time and money integrating MAS 200 with Sage, or do we abandon these and switch over to an already integrated ERP solution?"
Deciding which ERP integration road to take
CSI is working with its Sage reseller and consultant to decide on a course of action, probably by midyear. Three choices for integrating the packages are under active consideration: the "canned" integration of Sage's Extended Enterprise Suite (EES), which might lack some needed flexibility and force CSI to conform to the vendor's licensing rules; a custom integration; or working with a third-party integrator such as India's Greytrix that specializes in Sage. The custom integration option could easily cost $100,000, St. Amand said, so CSI is seriously considering an integrator—if it can get the two customer databases talking to each other.
St. Amand is looking forward to the workflow improvements that only an integrated system can provide. "Built in workflows would trigger certain tasks to be performed automatically." This might make it possible to assign to lower-wage workers tasks that are now handled by trained technicians and broaden the labor pool. Sales could get follow-up reminders. Service's dispatching of replacement units could automatically trigger accounting debits and credit memos.
"We've got to integrate these two packages or find a new package where they're already integrated in order to stay efficient as CSI continues to grow," he said.
Microsoft Dynamics is a serious alternative if Sage integration is rejected. "The UI is just so comfortable for people," Wilson said. "Can we continue down this path or does our five-year growth plan say we should look at another package?"
Dig Deeper on ERP integration