 BACKGROUND IMAGE: iSTOCK/GETTY IMAGES
News
Stay informed about the latest enterprise technology news and product updates.
Mobile inventory management brings visibility, flexibility to the warehouse
Managing goods on the go can give workers a real-time view of stock and supplies, both in the warehouse and into retail spaces.
Out of all the complex business information that manufacturers must keep track of, inventory is among the most critical. With large volumes of goods moving through and out of the warehouse, real-time inventory data is invaluable to everyone involved in the process, from warehouse workers to retailers. Mobile inventory management software can provide quick access to this data, with the added convenience and freedom of unwired devices.
"[Mobile inventory management] offers remote or field workers the opportunity to both understand and influence buying and selling behaviors," said Simon Ellis, practice director of global supply chain strategies at IDC Manufacturing Insights, based in Framingham, Mass. "This would also allow people who work around the retail store, such as in retail support, merchandising or sales to have a better and more timely view of in-stock inventory and shipment statuses."
More efficient warehouse management
The benefits of mobile inventory management begin in the warehouse, according to C. Dwight Klappich, research vice president for Gartner Inc. in Stamford, Conn. "We see an extensive and growing use of mobile devices as an extension of business applications, shifting the interface from a desktop or notebook," he said. "The guys walking around the warehouse are using these disconnected mobile devices as a user interface connected to some other application, and the warehouse management system is feeding data to the inventory management system."
Recent advancements in mobile devices themselves -- particularly smartphones and tablets -- have given manufacturers more freedom to share information in different formats. "[Mobile inventory management] used to be very text-based, as there was limited real estate on devices. Now users are acclimated to a more appealing experience and can use mobile to send pictures or a map to somebody in a warehouse to verify what they're looking for more easily," Klappich said.
Direct store delivery gets a boost
This instant communication between the manufacturing side and the sales side is one of the biggest draws of mobile inventory management, said George Lawrie, vice president and principal analyst serving application development and delivery professionals at Forrester Research Inc., based in Cambridge, Mass. Lawrie points to the increasingly popular practice of direct store delivery, in which manufacturers deliver goods right from warehouses to stores using their own employees, rather than employing a centralized distribution process. With mobile inventory management, these employees can stay informed on stock levels as they make deliveries and up to date on changes to how the merchandise should be displayed, Lawrie explained.
"A common cause of inefficiency in the supply chain is that on-hand inventory is often displayed incorrectly," he said. "The way that an item is displayed makes a big difference. That's why manufacturers are putting their own people in the stores. For example, route service people for snacks or soda, when the display matters and it's low volume, are sent in to make sure items are correctly displayed and inventory is up to standard. This is happening all over, from China to South Africa to India."
Having access to inventory information on the go is especially helpful for workers who are setting up displays in a variety of location types -- rural versus urban versus suburban, for example. In the Forrester report Filling The Store Labor Productivity Gap, Lawrie uses the diagram below to illustrate how inventory display requirements for the same product can differ from store to store.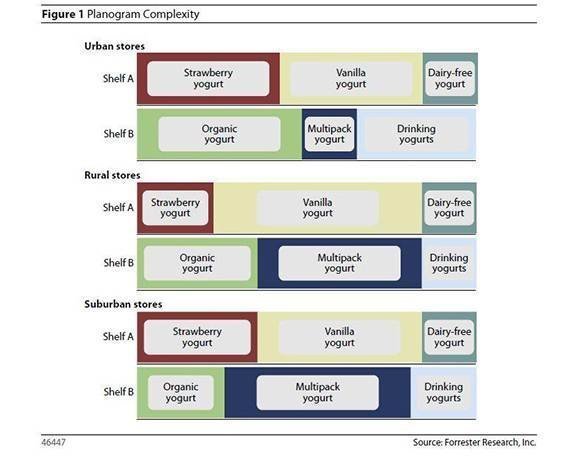 In another Forrester report, titled The Mobile Imperative In Retail And Consumer Goods, Lawrie gives examples of manufacturers that have had success with mobile inventory management and direct store delivery initiatives. "Unilever equipped 10,000 field workers in China with low-end handheld devices running the Quofore application both to improve accuracy of inventory data, orders and deliveries and to engage in joint sell-through planning with category managers," the report says.
Coca-Cola has also placed mobile inventory data in the hands of off-site workers, Lawrie wrote. "Coke equipped 2,000 field workers with handheld devices that remotely access its ERP system, allowing route salespeople to get back on the sell-through plan even when inaccurate orders or inaccurate deliveries occur. They can use common logic and business rules for returned material authorizations and employ common up-sell and cross-sell logic to help retailers recover the planned rate of sales."
Large, small vendors making strides
While most of the big-name vendors have some variation of inventory management available for mobile devices, their approaches are different -- and sometimes not as targeted to manufacturers' needs as smaller vendors, experts say. Ellis lists SAP, Infor, Oracle and RedPrairie as vendors that, in his opinion, have been successful in the mobile inventory management space.
Lawrie agrees -- to an extent. "Generally speaking, Oracle has very sophisticated retail inventory management, but it's not mobile-focused," he said. "SAP is quite focused on mobile, especially direct store delivery. Most vendors have some approach to [mobile inventory management], but I think smaller companies have more interesting approaches."
Klappich points to HighJump as an example of a vendor that provides connections to mobile devices for direct store delivery. "We're starting to see other vendors, like Manhattan, RedPrairie and Tecsys letting users access inventory management information from desktop to a tablet or smartphones through the Internet," he said. "We're now seeing a number of vendors providing that information in forms native to Android, iPhone and iPad."