News
Stay informed about the latest enterprise technology news and product updates.
Save money, go green with AP automation
AP automation is on the rise and can help you save time, money and many, many trees.
According to the American Productivity & Quality Center's Open Standards Benchmarking database, the average large company's accounts payable function is drowning in paper. About 80% of invoices from suppliers arrive in paper form. This mountain of paper is typically processed by hand -- documents are fed into a scanner and data is organized by a software program, or information is manually keyed into an AP system.
All told, paper-based accounts payable (AP) is costly and exposes companies to errors and internal control failures. This has been the status quo for some time, although many organizations have increased their productivity by adopting shared services or outsourcing. The good news is that change -- in the form of AP automation -- is in the air.
AP automation ready to take off
Just over 50% of respondents to a recent APQC survey said they were targeting core transaction processes, including AP, for a major overhaul. That could include a substantial process redesign, process automation, organizational restructuring, systems change or outsourcing.
When it comes to AP, more organizations are now considering an array of newer technologies and third-party services that digitize paper invoices and move the resulting "e-invoices" through proper channels. These tools include automated data capture solutions such as optical character recognition or intelligent document recognition, which captures hand-printed information as well as machine-generated data. Also gaining appeal are electronic workflow systems, which are used to speed and track the routing of invoice data for approval by authorized personnel before payment can be made. The software will remind any approvers who might lag behind.
Electronic payment systems now on the market promise efficient communication, reliable audit trails and faster and smoother data processing between internal departments and external suppliers. The systems offer various levels of transparency, approvals and monitoring from procurement to payment. However, the common theme is less paper and less manual keying of data.
By eliminating manual circulation of paper, a company can boost the speed, efficiency and visibility of invoice processing. But why would a company want to speed up its payments? Isn't the norm to pay vendors as late as possible? APQC research shows that most companies that are not strapped for cash want to maintain good relationships with their suppliers by paying bills in a timely manner, in line with the terms negotiated, especially when key vendors are involved. In addition, many firms want to capture as many early payment discounts as possible.
Many firms find that capturing early payment discounts can put a big dent in the annual cost of goods sold, so it becomes a strategic goal. But consider that the typical large organization needs 11 days to route an invoice through the proper approval channels and then prepare for payment transmittal. Slower processes take more than 15 days. Given that standard terms allow for a discount when payment is made in 10 days or even 15 days, the problem is obvious.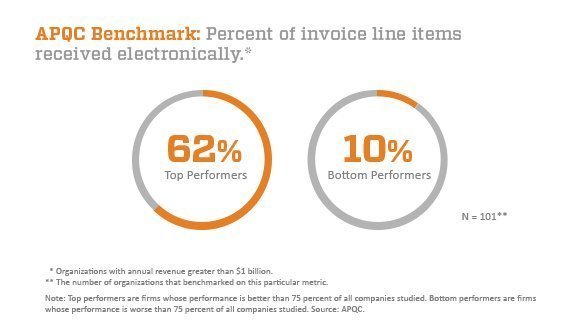 Figure 1
It's been a long time coming
People started talking about electronic purchase orders (POs), invoices and payments more than 30 years ago. The focus then was on electronic data interchange (EDI), which made sense for giant companies capable of undertaking large-scale, customized IT initiatives that were expensive to build and maintain. With EDI, a buyer's ERP system sends a PO to the supplier's ERP system, which in turn spits back a mirror image as an invoice. When the invoice matches the PO, and when electronic data from the receiving docks proves the right items were delivered at the right price, the invoice can be automatically processed, recorded on the books and a payment can be scheduled -- all without human intervention. When there is a quantity or price mismatch, the system sends the invoice to an appropriate AP staffer, and issues are worked out with the supplier via phone or email. These "dirty invoices" send process costs soaring.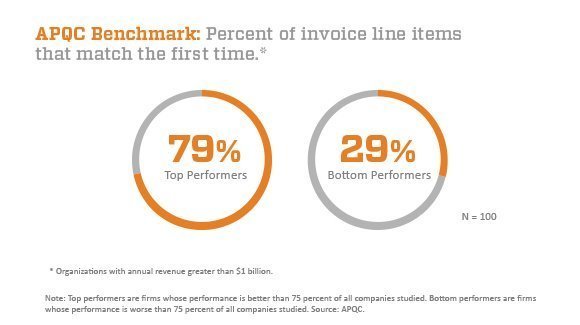 Figure 2
AP optimization aims to achieve three things: lower costs, increased control and better visibility into where a given PO, invoice or payment resides at any point in the procure-to-pay process. Mostly, though, companies want to reduce the amount of human intervention in payables processing. Labor tends to consume 60% of the total cost of financial management operations. Unsurprisingly, APQC benchmarks show a strong correlation between the level of automation and relative cost-efficiency. See Figures 1, 2 and 3, which illustrate organizations with more than $1 billion in annual revenue.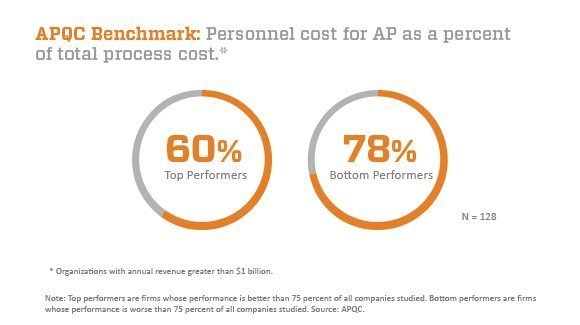 Figure 3
Clearly, there is a compelling case for increased use of digitization and workflow automation in AP. It's a strategy for reducing labor cost, which is a hefty chunk of the total process cost. But APQC research also suggests that CFOs want more than just labor cost savings. They like the promise of greater visibility into the flow of invoices, which can translate into greater accuracy in cash flow forecasting and more effective cash management. CFOs also are drawn to the idea that workflow automation -- which, among other things, tracks who signs off on any invoices for payment -- makes life easier for external auditors and, hence, keeps a lid on audit hours and audit costs.
In all, the level of automation and sophistication can vary widely -- with a PDF of an invoice sent to a buyer's portal via email on one end of the spectrum and, at the other end, a fully "touchless" integrated system that connects buyer and seller at the other end. Whatever it is, it's a step in the right direction.