News
Stay informed about the latest enterprise technology news and product updates.
Workday Financial Management gains integrated reporting, analytics
Analysts impressed with how in-memory technology allows merging of real-time HR, financial and third-party data.
Workday today announced a multidimensional reporting feature designed to make it easy to combine human resources, finance and third-party data. Analysts briefed on the Workday Financial Management feature, called Composite Reporting, say it takes good advantage of in-memory technology to offer spreadsheet-style real-time reporting and analytics that are more intuitive and flexible than that of most ERP vendors.
"It makes it faster and easier for everyone who needs to create financial reports to do so, not just the people in accounting and finance who are creating board-level reporting, but also those in the lines of business," said Christine Dover, research director for enterprise applications and digital commerce at IDC, based in Framingham, Mass. "I think the biggest impact may be on the LOB operations teams who are no longer waiting for a set of extracted data from multiple systems to get to them [before] they can create the operational reports that their management is looking for."
The vendor also announced new vertical-industry support and several smaller features in the Financial Management module in Workday 23, the latest release of its integrated software as a service applications. The update became available three weeks ago.
"What we're doing with Composite Reporting is really trying to bring an innovative and modern reporting capability to our customers natively inside of the Workday system," said Betsy Bland, vice president of financial management products. "All [of the] reporting is off of live transactional data. In-memory computing plays a very important role here."
Bland said CFOs and their finance organizations often devote significant time to assembling physical binders that contain human resources (HR) and finance data from several sources. "We want to help finance organizations build that binder."
Data integration is tough to do
Storing financial and HR data in the same database allows Workday to achieve some "tough-to-do things," said Brian Sommer, president of Vital Analysis, a research firm based in Batavia, Ill. "The reporting they showed is a considerable improvement over what they had in the past. I think people will like it."
In one report from a Workday demo and screen shot, the costs of planned and actual employee "head counts" are shown by department. "That's a problem for a lot of companies," Sommer said, because the HR and financial information comes from different data sources. "Lots of companies can't decide how many employee equivalents they have at any given time."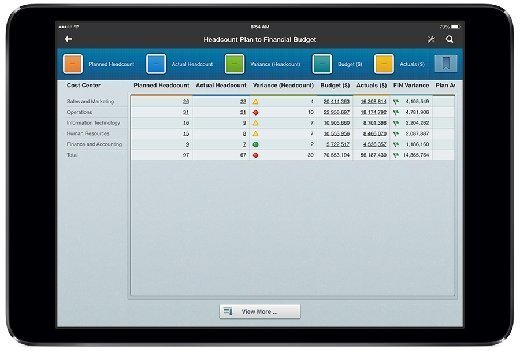 Composite Reporting's ability to include third-party data in reports is also significant. "It's not just the internal information. It's the big data -- that really is big," he said. Companies can use it to access retail point-of-sale data and compare same-store sales that are correlated with inventory levels, for example.
The financial reporting improvements are another step in Workday's multi-year effort to develop a complete set of core finance applications comparable to the HR suite it made its name on. Small companies can get by with a subset but few large companies can, Sommer said, adding that Workday now has an offering that suits companies of up to approximately$2 billion in revenue.
Workday has recently gained larger customers who use the software for both its financial and HR features. The list includes Unum, a $10 billion insurer on the Fortune 500 list, and Cushman & Wakefield, a $2.5 billion real-estate services firm, Bland said.
The one remaining missing piece, Sommers said, is a module for carrying out budgeting, planning and forecasting, which Workday customers typically get from such vendors as Anaplan, Adaptive Planning and Host Analytics -- a fact that Bland, too, acknowledged. Users typically create their budgets in the third-party software, then import them into Workday to compare actuals against budgeted amounts, they said.
New financial tools for verticals
The new vertical features target several of the people-centric industries -- financial services, software and Internet, education, government and nonprofit -- that Workday is focused on. The ability to handle average daily balances, for example, is critical to supporting the banking and insurance industries. The grants management tool has new features to help nonprofits track compliance and allocate overhead costs.
Advanced revenue recognition helps software companies handle tricky accounting issues and stay abreast of reporting rules that will go into effect by 2016. Some ERP users have turned to third-party software, but Bland said "We are looking to be a complete revenue-recognition system." The current version can "meet the needs of most customers, and we have more features coming," she said.
Dig Deeper on Financial analytics and reporting