iQoncept - Fotolia
News
Stay informed about the latest enterprise technology news and product updates.
FinancialForce ERP brings global consulting projects into sharper focus
OpenSymmetry says cloud-based financials and professional services automation help it deliver projects more efficiently and profitably.
Before adopting cloud financials, OpenSymmetry, a global firm that helps companies deploy the latest sales performance management software, had a siloed, partly manual accounting system with poor visibility into the consulting projects that are its bread and butter.
"We had somewhere between five or 10 different sets of QuickBooks files, each on different servers," said Jon Gingell, vice president of shared services at the company, which is based in Austin, Texas. "Getting the full picture of what was going on globally was very difficult. There was no integration between any of them."
But as a heavy user of Saleforce.com CRM, the company knew the value of software as a service (SaaS). So OpenSymmetry deployed FinancialForce ERP, an integrated suite of business applications that runs on the Salesforce1 platform. The vendor, San Francisco-based FinancialForce.com, is part-owned by Salesforce.com and UNIT4, a cloud ERP maker based in the Netherlands.
The professional services automation (PSA) module in FinancialForce ERP has proved crucial in integrating global operations for the nearly 200 people in seven offices in the U.S., U.K., Asia and Africa who help companies optimize their variable-pay processes. OpenSymmetry is also an implementation partner for vendors of sales performance management software, including Callidus Software, IBM and Xactly.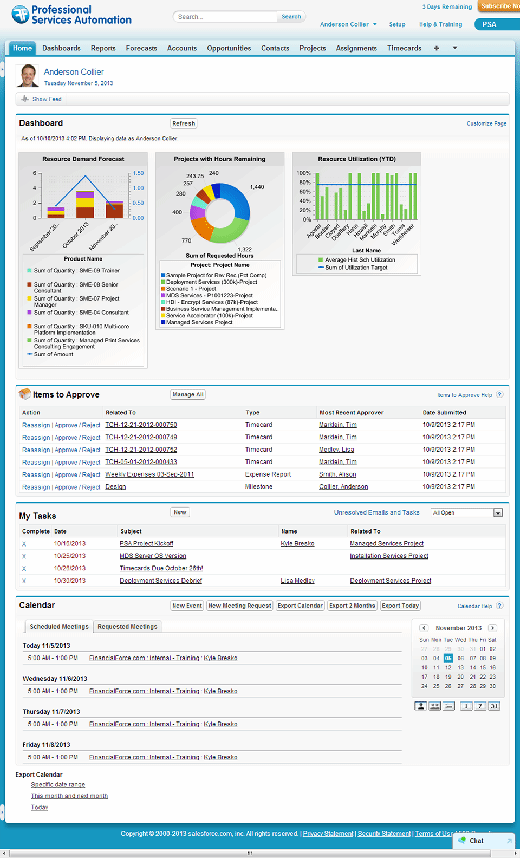 It previously used OpenAir, a PSA tool from NetSuite, a maker of cloud ERP software based in San Mateo, Calif. "Everyone around the world would put their time and expense entirely into that system, but then we would have to split that out into feeds into each of the appropriate QuickBooks," Gingell said. "It was still a very manual process. Everything took a very long time."
Swapping NetSuite for the FinancialForce PSA has allowed OpenSymmetry to link both ends of its workflow. "All of our consultants output their time and expenses for that project right into the same system that the sale came from," he said. "The visibility we have now is millions of times better."
Financials first
Having a comprehensive view into projects also helps to allocate labor more efficiently. "The management staff has been able to uncover additional delivery capability," said Chuck Albright, the company's director of professional services. For example, an employee who was only working part-time on a project could be assigned to two others until the first one ramped up fully.
FinancialForce ERP has also shortened the monthly financial close to within 10 days, down from nearly a month. The accounting transition was "quite straightforward," Gingell said. "We pretty much turned it on at the beginning of a financial year, so we started with an empty set of books and seeded it with the balancing values for each of the accounts. We didn't bring any history on."
Other financial processes, including accounts receivable and invoicing, are also streamlined. "We're able to send [our clients] an invoice much more quickly now, and the level of detail's very good on it," Albright said. "That used to be a much more labor-intensive activity." Clients have told him the quality of invoices is higher, and there's less churn.
This past summer, the company added SaaS vendor Anaplan for forecasting and budgeting. "Our controller basically runs any information he wants in FinancialForce reports, and then downloads that, and then imports it into Anaplan," Albright said, adding that he expects automated integration with FinancialForce ERP to come "a little further down the line."
The company lacks a true human capital management (HCM) system, relying instead on spreadsheets and a secure drive for documents, but was planning to deploy the FinancialForce HCM module. Albright expects it to help with vacation planning, succession planning and employee development.
Lessons from a smooth deployment
As a technology consulting company, OpenSymmetry had an advantage going in. "We've worked with CRM systems and PSA systems for our clients, so we already had a core understanding of how everything works," Gingell said. "We were actually able to do some of it ourselves."
Videos and other content on the FinancialForce Web community, along with on-site help from implementation partner NTT Centerstance, went a long way toward getting users trained, according to Albright. "We had kind of a combination of formal training, on-site knowledge sharing and then roll your own with the website," he said. Much of the training focused on the accounting staff, who were either new to the company or used to working the old way.
While the new software has worked well, OpenSymmetry has asked FinancialForce for improvements, such as the ability to offer different credit terms for each project managed for an individual client, rather than having uniform terms.
In retrospect, Albright wishes they had had a better security plan in place before adding on to Salesforce. The problem comes when user permissions that made sense in the beginning -- making everyone an administrator, for example -- aren't suited to modules like HCM that contain sensitive information. It can be hard to fix. Gingell recommends setting up permissions in a more structured way.
"You wouldn't have quite so many panicky moments where you suddenly realize, the whole world can see that," he said. "I think all the tools are there. It's stock Salesforce functionality, really. If you can lock it down ahead of time but keep the core CRM functionality operational for the sales guys, that will help."
Forcefully into the future
Albright said OpenSymmetry achieved 40% top-line growth this year while using FinancialForce ERP to keep back-office costs flat.
Next on the agenda: Salesforce and FinancialForce upgrades. Despite SaaS's reputation for automatic upgrades, the process is hardly a no-brainer. "We don't have a ton of customizations, but we do have to go through the process to see if anything needs to be tweaked," Albright said. "We have some custom [fields] that we put into Salesforce." He said the process should be pretty straightforward because the upgrades can be tested in cloud "sandboxes," and the FinancialForce tool, Click Link, automates much of the data mapping.
Cloud ERP: Game over?
OpenSymmetry's Chuck Albright sees cloud applications as enablers of the company's growth. It has recently built on its sales compensation expertise to add practices in HCM and corporate performance management and will use the FinancialForce platform for those practices, and helping clients with their own FinancialForce deployments.
As a veteran of on-premises JD Edwards, PeopleSoft and SAP ERP projects, Albright has perspective on the cloud debate.
"The Force platform, to me, seems to be very well architected," he said. "I've done a fair amount of SaaS implementations and used a lot of products across various vendors, and some of them started out as on premise and then moved to SaaS, and those are usually kind of ugly because there's a totally different architecture to them."
The Force.com applications provide performance, flexibility and graphical user interfaces that are working well for the company. Unlike the on-premises software he's worked with, "I don't see a lot of glitches and a lot of pain," Albright said.
Getting data out of older systems and providing integrated functionality is much harder than with SaaS. "The SAP data model is very complex," Albright said. "The transportability of data with the newer ERP systems and cloud-based technologies is actually easier."
For example, integrating SAP sales data with a third-party financial package "would be a fairly ugly process -- to unbundle that data out of the financial side." He was involved in a project that required integrating Callidus Software sales tools with SAP. "It was fairly complex. We realized as we were testing that we were picking the HR data at the wrong time, and it was throwing off our numbers. Getting into the ERP package was fairly complex, to get the data out properly.
"That's improved by the cloud-based technology because they have a conscious thought that you're going to be bringing data and in and out of these environments, and they've built better gateways for that."
--David Essex
Albright has his eye on the Salesforce Wave cloud analytics he saw introduced at this year's Dreamforce conference. "Our president has a saying: 'Run the company by the numbers.' Being able to slice and dice the numbers whatever way that we choose is something I'm looking forward to seeing."
The company has already started using the improved visibility from FinancialForce ERP to analyze the profitability of projects and subprojects, using reporting and analytics modules built in-house. "We've moved to where we do more 'sprints,'" Albright said. "Each one of those is a chunk of functionality that's basically a full lifecycle of a project. Any analytics would help us see where we can squeeze any more performance or delivery capability out of our current staff."