vasabii - Fotolia
3D printing industry described as healthy and growing
Industry expert Terry Wohlers said the state of the 3D printing industry is strong, with investment from large corporations and new innovations leading the way.
The hype bubble may have popped, but the state of the 3D printing industry is strong and growing. This was the case made by industry expert Terry Wohlers.
Wohlers, a 29-year industry veteran and president of Wohlers Associates, which tracks 3D printing (also known as additive manufacturing), delivered a keynote address at the Inside 3D Printing conference held this week at the Jacob K. Javits Convention Center in New York City.
Referring to numbers in a newly released Wohlers Associates report, he said that goods and services in the 3D printing industry grew almost 26% in 2015 to $5.165 billion. "That's pretty good; I think a lot better than a lot of people were expecting," Wohlers said. "This year it will be considerably bigger as two consecutive years each grew by more than $1 billion. This is starting to become a real industry, there's some real money being invested."
The market size estimate includes all that goes along with the 3D printing industry. Goods include machines, materials, aftermarket products and software, while services include service contracts and consulting. Services added up to about $2.8 billion last year, outpacing goods by about 33% according to the report.
Market for desktop 3D printers is growing
Machines are generally categorized as desktop, which are priced at $5,000 and under, and industrial sized, over $5,000. The industrial machines command a larger share of the overall revenue in the market, but the desktop market is showing serious growth. The desktop market grew by 70%, with over 278,000 units sold at an average price of just over $1,000. There were just 66 desktop machines sold in all of 2007. The number of companies making desktop printers has also increased dramatically, and Wohlers said that no one really knows how many companies there actually are, and there could be as many as 1,000 brands in China alone.
"These desktop units are replacing the more expensive machines and they are going into companies of all sizes and to educational institutions, but these are not consumer products at all," Wohlers said. "For some of you that were thinking there's a big consumer market for these, there's really not one at all. There will be some exceptions in the future; one will be children and Mattel has come out with a product for children and then maybe a niche market like food printing."
Growth has occurred in the market for large industrial printers as well, with the number of producers doubling to 62, from 31 in 2011. The average price for large industrial printers was just over $97,000, which accounts for why most of the money is still in this segment even if there were only about 12,500 machines sold, according to Wohlers.
Money is flowing into the 3D printing market, indicated by the number of startups entering the business and by major enterprises investing in the technology. Wohlers said there were 25 startups at the Inside 3D Printing show held in San Diego in October 2015, an unprecedented number.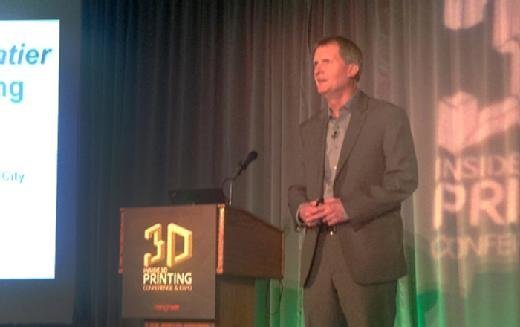 3D printing draws serous investments
"As for investment, we've not seen anything like it in the history of the industry," he said. "Big companies and government enterprises are making serious investments in 3D printing." Specific investments include:
Stryker Corp.: $400 million for a new 3D printing facility to do orthopedic printing of devices, knees, hips
Alcoa: $60 million in 3D printing methods and materials
State of New York: $125 million for a 3D printing facility
G.E.: $32 million for a 3D printing R&D center
Autodesk: $100 million to fund startup companies
Airbus Ventures: $150 million for 3D printing technology and facilities
America Makes (a U.S. government venture): $100 million in R&D for transitioning research ideas from universities to commercial sector products
In addition, Wohlers said, major companies are beginning to make 3D printers or related products, including Lenovo, Polaroid, Ricoh, Mattel, Canon and Toshiba.
More companies are becoming users of 3D printing technology, particularly in aerospace because it has become easier and cheaper to 3D print with metals. Two of the leaders here are Premium Aerotec, a company that makes aircraft parts, and Airbus, which Wohlers said is "doing incredible work and going all in." They are beginning to manufacture real parts, including an elbow for a fuel line that consolidates 126 separate milled parts into one 3D printed part. "Think about the reduction in part numbers, manufacturing operations for each of those parts, the inventory, assembly, labor, and certification work alone just for each part. That's a stack of paperwork versus just two sheets of paper," he said. "This is really big. You think about that plus the savings in material weight, and in some cases better functioning designs, it all adds up to big savings." Airbus is on track to 3D print 30 tons of metal monthly by December 2018.
This increase in 3D printing in the aerospace business is partially the result of advancements in the metal 3D printers. "Metal machine sales were more than 800 in 2015, compared to well under 100 in most past years, so it's quite a growth trajectory that we're seeing here," Wohlers said. "These are very expensive machines, but sales figures are up from just dozens a few years ago."
Growth is happening in certain consumer markets as well, particularly eye wear, where customized eyeglasses that are impossible to produce by traditional molds can be 3D printed. Footwear is also big, with 3D printing being used to make custom orthotics like shoe inserts, and custom athletic footwear which can't mold in the traditional process. "Footwear companies are all over this, they are quite excited about it, so they are still in early production quantities for elite athletes," Wohlers said. "But it won't be long before you and I will own a pair that is 3D printed, and this is a $75 billion worldwide market."
The automotive industry was an early adopter of 3D printing for prototyping and modelling, but has for the most part stayed away from actual production, although this too is changing. "There are some exceptions like Aston Martin and Bentley, but BMW, Ford and Toyota are not using it yet," he said. "This is just a matter of time. As the cost is driven out of the materials and machines, we'll see these companies adopt it. Faster machines will change the economics, which will allow the auto industry to use it more. If you have a machine that's 10 times faster that's like getting it for 1/10th the cost."
Wohlers couldn't say how big the 3D printing industry will get, but declared that it will approach $1 trillion at some point, referring to the steady increases year after year. The Wohlers report estimates that the market will rise from $8.8 billion in 2017, to $15.8 billion in 2019, up to $26.5 billion in 2021.
3D printing may be major technological breakthrough
In the future, he believes, 3D printing will join major technological developments throughout history, like the printing press, telephone and semi-conductors.

"In 50 or 100 years, will we look back at 3D printing as part of this major evolution technical development? I think so," he said. "Growth is strong especially in the desktop, even though it hasn't contributed a lot to the overall [total] in terms of revenue, but it's very vibrant. It's planting a lot of seeds, it's educating people -- you learn by doing -- and it allows people to get their hands on it and make stuff. And that's important. Metals is growing like crazy, it's getting very big. Growth opportunities are absolutely vast."