Fotolia
Panelists offer advice on implementing revenue recognition criteria
Companies are struggling to deal with data, tools and testing when attempting to comply with a sweeping new accounting standard that provides a uniform way to recognize revenue.
Most companies are finished with initial steps to comply with a new revenue recognition standard, but many are...
Continue Reading This Article
Enjoy this article as well as all of our content, including E-Guides, news, tips and more.
still struggling with the process, especially if they are attempting to automate the effort, a panelist said at an Oracle conference held recently in Boston.
Mark Horn, a principal with Deloitte Consulting LLP who works with technology companies on complying with the standard, said organizations are facing challenges with the data, tools, testing and aligning with stakeholders.
"This change is very different from prior regulatory changes," said Horn, who spoke at the Modern Finance Experience conference. "It is pretty pervasive. To companies in the spaces where I practice most, which is telco, software and high tech, it touches product, pricing, accounting, revenue accounting, commissions, reporting and IT. You cannot understate the pervasiveness of this standard."
During the conference, Horn was on a panel called "What the new revenue recognition guidelines mean for you," along with Drew Scaggs, a principal at Deloitte Consulting LLP; Lara Deen, vice president of global revenue recognition at Oracle and Seamus Moran, senior director of financials product management at Oracle.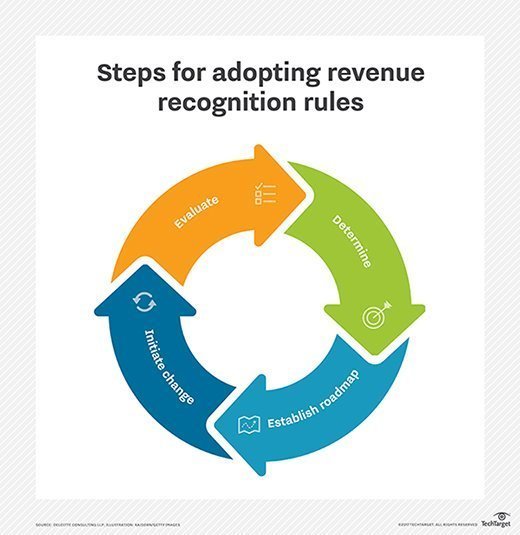 Deadline looms for public companies
The new revenue recognition criteria take effect for U.S. public companies for annual reporting periods beginning on or after Dec. 15. Private organizations, including nonprofits, would apply the new standard to annual reporting periods after Dec. 15, 2018.
The revenue recognition criteria, approved by the Financial Accounting Standards Board and the International Accounting Standards Board, aim to provide a single set of principles for the way companies in all industries account for the sale of their goods and services.
The new rules are intended to supplant numerous revenue recognition standards that tend to be applied on an industry-by-industry basis, according to the SEC, which enforces the standard for public companies.
The new revenue standard covers all aspects of recognizing revenue from contracts with customers.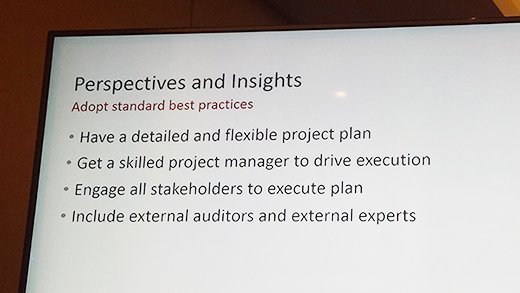 Overall goal of rules
Under the new standard, a company will record revenue as it completes obligations to provide goods and services.
The core principle of the model is to recognize revenue when "control of the goods or services" transfers to the customer, as opposed to recognizing revenue when the "risks and rewards" transfer to the customer under the existing revenue guidance, according to a report by Deloitte Consulting.
Moran said the new standard is rather simple because it basically abolishes deferred revenue. A lot of companies are not engaging with the standard, and trying to do "deferred revenue light," he said.
"Embrace the standard," Moran said. "Take it and say I am not deferring revenue."
Many hurdles for companies
Companies face numerous challenges in complying with the standard, including understanding all their revenue sources and contract structures, costs to obtain a contract and commission plans, according to panelists.
Software can be ideally suited for the change, but capturing data can be complex, according to Oracle. It is also important to update processes for recognizing revenue and matching revenue to invoices.
Many vendors offer tools to help comply with the standard, including Oracle, SAP, Workday FinancialForce, Tagetik and Intacct.
Before automating, companies need to understand all their different contracts and arrangements, how they work under existing rules and how they will change under new revenue recognition criteria, Horn said. Companies may contract with a customer in 70 or 80 different ways, he said.
Data is challenge
Horn said it can be complicated for a company to deal with data because contracting, ordering and billing, for example, often occur in separate systems.
Companies need to pull the elements and obligations of a contract from multiple sources and often the data are not at the same level of detail, he said.
Oracle, one of the largest technology companies in the world with about $38 billion in annual revenue, did an early financial impact assessment of the new standard. Deen said Oracle, which sells on-premises, cloud-based software and hybrid, will apply the new standard for the fiscal year that starts June 1, 2018.
The standard will not have much of a material financial impact on Oracle, except for possibly accounting for commissions on sales, she said.
"Oracle has over 30,000 commission plans, so trying to understand what is in those and with those, what should be capitalized under the new standard versus what should be expensed, has been a pretty significant undertaking."
Oracle faces massive task
Deen said she initially believed she could manage the effort to apply the standard with accountants under her supervision, but the magnitude of the project proved to be too great. Though she said she might have waited too long to make the hire, she said it made a big difference when she hired a skilled and experienced project manager to oversee the work.
"We went from going 10 miles an hour to 100," Deen said.
She also said it is important to engage all stakeholders in a company and persuade leadership to buy in to the project.
Deen said adopting the standard at Oracle is a massive exercise considering all the vendor's different acquisitions over the years, the types of software it sells, various revenue streams and contract permutations and then moving everything to the model for the new revenue recognition criteria. Reporting requirements will also change, she said.
Oracle is currently moving its financials to its cloud-based ERP and the new Oracle Revenue Management Cloud, Deen said. "Our plan is to get the rest of our modules up and stable on the cloud and then go with cloud revenue management."
As Oracle did, Scaggs said it is crucial for companies to start with an assessment to determine the effect of the standard. After that, they should perform use cases and prepare their data. Finally, they should decide whether they want to use new revenue recognition tools.
"Make sure you plan very well before you start," he said.