pixeltrap - Fotolia
Evaluate
Weigh the pros and cons of technologies, products and projects you are considering.
Business sustainability gains newfound importance
Business sustainability has moved beyond green initiatives to become an indicator of long-term success in many areas, requiring companies to carefully collect and disseminate data on their sustainable business practices.
Not that long ago, the phrase business sustainability brought to mind green buildings, energy-efficient supply chains and waste recycling. Over the past few years, however, it has taken on new meaning, forcing business managers and IT planners to focus on protection of customer privacy, community development, labor relations, product safety, demand for raw material and codes of ethical conduct.
Where's the pressure coming from? Increasingly, publicly traded companies have to prove to investors that they're behaving responsibly in a variety of areas, not just environmental conservation. Big companies are now publishing "sustainability reports" along with their annual ones to placate activist investors who have been buying huge numbers of shares. The goal: drive major changes in environmental, social and governance (ESG) performance. To reach it, organizations need to think carefully about what data must be tracked, analyzed and shared publicly. And they need effective processes and IT infrastructure to manage data collection and dissemination.
Doug Park, the director of legal policy and outreach at the Sustainability Accounting Standards Board, said at a recent Compliance Week conference that business sustainability now refers to "the ability of a company to prosper over time." And that means getting a firm grip on ESG.
There is guidance. The SASB, which develops sustainability accounting standards, addresses the issues companies need to track to show they'll remain vital and productive, ranging from protection of customer privacy and responsible labor relations to effective management of product quality and safety.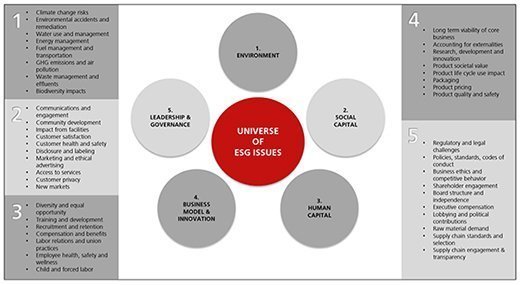 A recent report by McKinsey & Co. describes beer company MillerCoors LLC's approach. The beer company tracks progress in 10 areas, from water to energy to packaging to human rights, using its own sustainability assessment matrix. The idea is to quantify performance in areas that are difficult to quantify. In a recent sustainability report, the company explained that meeting its goal of becoming "America's best beer company" would also take a commitment to being sustainable. "With great beer comes great responsibility," the report said. "That is why we are committed to addressing key economic, environmental and social issues from the barley fields to our breweries to the bar room." My sense is that MillerCoors wants to position itself in a favorable light by conversing about the dangers of irresponsible consumption.
IT leaders, business unit managers and internal auditors are now feeling a greater sense of urgency about getting sustainability management and reporting right. For example, managers of five New York pension funds, whose investments are collectively managed, explained in a 2013 report on shareholder initiatives that it's their mission "to promote sound corporate governance, responsible executive compensation and sustainable business practices at portfolio companies in order to protect and enhance the long-term value of the funds' investments." In response, some companies promised to disclose information that could potentially smear a brand image -- for example, whether there are human rights violations in global supply chains.
Sustainability reporting has several components: identifying the correct set of material issues; collecting, validating and analyzing data; reporting that data internally; and publishing the report externally. Once a sustainability report is filed, it's published in the public domain for board members and pension funds to share with individual share owners. External reports may come in various forms, including printed reports, interactive websites, Web-posted PDFs and reports for mobile devices, sometimes including an executive summary. Most companies use manual tools -- such as spreadsheets -- to gather data from people at different locations, though some use ERP systems.
This trend is not going away. According to McKinsey, nearly half of CEOs surveyed said they are looking to fold sustainability management into strategy and operations planning. It'd be a good idea for IT strategists and business managers to pull it apart and see what it could mean for your organization.
Dig Deeper on Supply chain planning and execution