 BACKGROUND IMAGE: iSTOCK/GETTY IMAGES
Manage
Learn to apply best practices and optimize your operations.
Can CPM software handle rolling forecasts?
Manufacturing provides a compelling case for why CPM software must get better at handling complex operational needs such as rolling forecasts.
Rolling forecasts have generated much attention in recent years. Proponents believe that rolling forecasts boost agility by enabling a faster and more forward-looking process -- one that allows manufacturers to respond to change and manage risk more effectively. Skeptics argue that rolling forecasts sap time and money, thereby undermining their effectiveness.
These diverging views are prevalent in companies exhibiting complexity characteristics like the ones for manufacturers shown in Figure 1. As complexity rises, so too do the number of moving and interconnected parts that must be managed. In such cases, it becomes increasingly difficult to achieve the rolling forecast objectives summarized in Figure 2.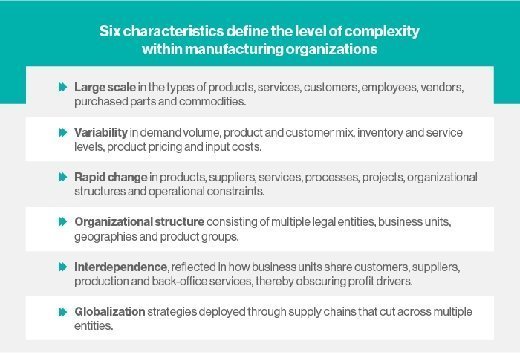 Manufacturers fail to fully achieve these objectives because they use immature rolling forecast processes that can't cope with complexity. And more specifically, they employ overly simplistic driver-based planning models. Driver-based planning is an approach for predicting financial results based on models of underlying operational activity. (Here's a video of a presentation I recently gave on the topic.)
The theory behind driver-based planning is straightforward. Models provide the means to speed up planning processes and improve scenario planning and what-if analysis. This makes it easier and faster to incorporate changes to plans as conditions change. Adjusting a single variable can ripple through financial and operational forecasts to show how resource requirements change.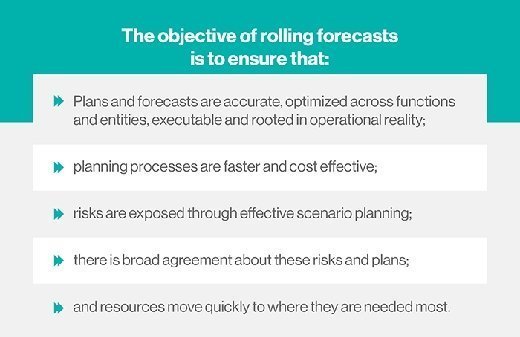 The reality of driver-based planning
In reality, however, driver-based planning isn't always so simple -- especially when it comes to capturing the complexities of manufacturing and supply chain activities in financial driver models. It becomes increasingly difficult to emulate manufacturing-specific modeling logic --e.g., bills of materials, routings and material requirements planning (MRP) netting -- in general-purpose financial models supported by traditional corporate performance management (CPM) applications, also referred to as enterprise performance management (EPM) applications.
These modeling issues are not always a concern for smaller and less complex manufacturers. For example, standard unit costs are often used in CPM software to drive cost of sales and inventory calculations. However, in complex settings, this approach is not flexible or accurate enough to support forecasting and scenario-planning processes. Planning and forecasting remain slow, manually intensive and inaccurate.
To illustrate this point, consider the impact of strategic sourcing programs. The idea behind them is to systematically minimize the overall cost of doing business with suppliers -- not just reducing unit invoice costs. One of the challenges of sourcing programs is measuring savings -- both realized and forecasted. The difficulty lies in quantifying:
The impact of sourcing decisions on purchase, production and transportation costs and cash flows;
the effect of sourcing decisions on downstream activities, such as customer service and quality;
how planned savings are affected by variations in demand volume and mix, vendor payment terms, productivity levels, alternate routings and new product introductions;
and how these savings have been or will be realized across legal entities.
The inability to do this is a primary reason manufacturers don't always fully realize the value of strategic sourcing activities. By using more mature driver models, manufacturers can address this gap. And in so doing, they can drive strategy execution through a more dynamic rolling forecast process -- one that can quickly quantify financial and operational risks affecting the value of sourcing, as well as other strategic programs.
What enables greater maturity is embedded and manufacturing-specific modeling logic, examples of which include bills of materials, routings, inventory parameters, lead times, MRP netting, vendor allocations and capacity management. Such embedded logic results in driver models that are fundamentally different from traditional CPM. For example, models can be maintained at a low level of detail, vary by period, and drive direct cash-flow forecasts. Ownership of them can be distributed, and they can be executive across entities. Mass changes can be made to models, and alternate versions maintained.
Without embedded and manufacturing-specific modeling logic, traditional CPM software applications can't support these capabilities. These gaps greatly diminish the ability of traditional CPM vendors to support effective scenario planning and rolling forecasts. What's more, the gaps call into question whether such software can support the more advanced needs of complex manufacturers -- especially global ones.
CPM strategies for manufacturers
When selecting CPM applications, finance professionals often focus too much time and effort on tactical rather than strategic requirements. As a result, CPM software may support basic budgeting, reporting and consolidation needs, but fall short on rolling forecasts, scenario planning and decision support. This is critical because these more strategic capabilities drive the vast majority of CPM value.
To address this, greater focus should be placed on the models required to support rolling forecasts and scenario planning. Moreover, manufacturers need to be specific in how they articulate these requirements. After all, every CPM vendor will tell you that they support scenario planning and what-if analysis. You need to understand how they do it to truly understand their capabilities.
In developing a rolling forecast strategy, manufacturers need to understand integrated business planning (IBP), a term used in supply chain circles to describe the integration between sales and operations planning (S&OP), and financial planning.
Some vendors claim to support IBP because they provide both CPM and S&OP products. But because these products don't share modeling logic, they typically lack three key capabilities essential for more mature rolling forecast processes:
Integrated variance analysis, which automatically calculates variance components (e.g., volume, mix, price, cost and productivity) that comprise the difference between any combination of scenarios, plans, forecasts and actuals. In turn, this capability automates integrated reconciliation, a procedure for reconciling the outputs of financial planning and S&OP processes.
Integrated scenarios, which enable manufacturers to evaluate the impact of scenarios on all aspects of the business and execute them without interruption to update the model parameters maintained in external systems.
Model reconciliation, which reconciles the variances between driver-based planning models and detailed costing systems.
The absence of these capabilities often represents an important barrier for organizations seeking to establish more mature planning capabilities through financial and operational integration.
Interest in rolling forecasts is changing how forward-thinking finance executives evaluate and invest in CPM software, especially in complex manufacturers. They appreciate the need for financial and operational integration to fully achieve rolling forecast objectives. They look beyond traditional planning, budgeting, reporting and consolidation solutions to ones that also incorporate embedded and manufacturing-specific driver-based planning model logic. They recognize that this logic will drive the vast majority of CPM value and is what separates leading and traditional CPM vendors.
Large scale in the types of products, services, customers, employees, vendors, purchased parts and commodities.
Variability in demand volume, product and customer mix, inventory and service levels, product pricing and input costs.
Rapid change in products, suppliers, services, processes, projects, organizational structures and operational constraints.
Organizational structure consisting of multiple legal entities, business units, geographies and product groups.
Interdependence, reflected in how business units share customers, suppliers, production and back-office services, thereby obscuring profit drivers.
Globalization strategies deployed through supply chains that cut across multiple entities.
The objective of rolling forecasts is to ensure that:
Plans and forecasts are accurate, optimized across functions and entities, executable and rooted in operational reality;
planning processes are faster and cost effective;
risks are exposed through effective scenario planning;
there is broad agreement about these risks and plans;
and resources move quickly to where they are needed most.