James Steidl - Fotolia
Field service software puts IoT to practical use
IoT-enhanced field service software could be a beachhead for augmented reality in the enterprise, but it won't happen without a massive effort in the back office.
It's not hard to see why field service software is tailor-made for augmented reality -- or why it is emerging as one of the first truly practical applications of the Internet of Things.
Schneider Electric, a global energy management company based in France, has started equipping service technicians with iPads running ServiceMax field service software and Vuforia AR software from PTC that can show them, for example, how to replace the battery in the uninterruptible power supply (UPS) of a micro data center. Technicians hold their iPads in front of the datacenter (see photo) and the video camera reads a new kind of barcode called a VuMark to help the computer identify the equipment and pull up associated information, such as schematics and manuals. Vuforia overlays the live shot with a 3D animated image showing the location of the part and how to remove it, along with real-time physical measurements, including temperature and battery level.
The digital video, overlays and product information are what make this field service software an AR application. What makes it IoT are the sensors that capture the real-time data and the worker's mobile device -- all connected over the Internet.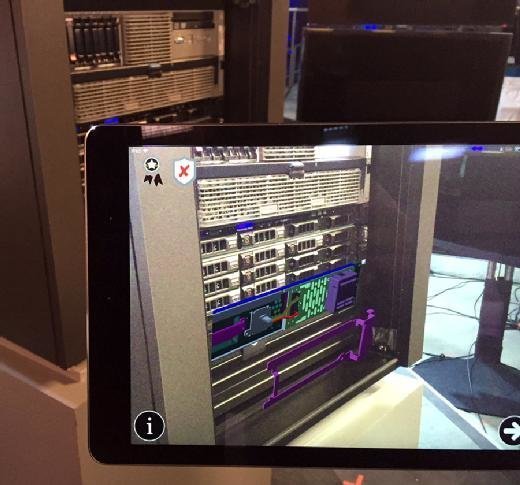 But the colorful 3D animations and schematic overlays are only the tip of the AR iceberg. It turns out that getting the complicated back end right is the real secret to this successful marriage of AR and IoT.
The wizard behind the curtain
The glitzy facade was on full display when PTC rented a theater and TV studio in a swanky Boston hotel to unveil new offerings and partnerships for AR and IoT, including the field service software, and demo the applications in a global simulcast. The wow factor was cranked up to 11. There was even a bright orange motorcycle from an Austrian brand, KTM.
Later, a conversation with Twila Osborn, vice president of the information processing organization (IPO) at Schneider Electric, revealed just how much behind-the-scenes lifting is required to upgrade the field service software with AR and IoT capabilities. Much of the backbone was already in place -- part of an ambitious digital service platform envisioned by the CIO -- but the laborious data management and application integration that went into the AR field service software is a pretty impressive feat in itself. Here was the unsexy reality of making IoT practical.
As seems to be the norm with early IoT, software as a service is the hub of most of the analytics and man-machine interaction -- in this case, ServiceMax Connected Field Service software. Written on PTC's ThingWorx IoT development platform, it links remote devices to Windchill product data management (PDM) and other PTC software Schneider Electric uses to design and make its products. That integration allows the field service software to send reports back to a central PDM system, where engineers can consider changing a product's design to reduce failure rates.
Osborn's team has been working to build up the PDM system so it has the information for all of the parts in products used by the customer base. Then the system goes on the globalized IPO infrastructure so the company's divisions can access the same data from a mix of legacy systems.
Not surprisingly, data management is a big part of it. "That's our main focus -- around data and data lifecycle, so it flows seamlessly," Osborn said. Application programming interfaces are often required to connect with individual sites, but they're written with an eye toward reuse.
Analytics, along with integration with Salesforce -- already the platform for ServiceMax's existing field service software -- are critical for keeping customers satisfied and for acting on revenue opportunities. "We use data to see, [for example], that in one customer base there were a lot of voltage spikes," Osborn said. "The information gets transferred to Salesforce without anyone having to enter the data. That's an asset creating its own upsell opportunity."
Running on all cylinders
It's not hard to understand what motivates purveyors of AR field service software to hype it so hard.
Field service is a huge market for AR -- ServiceMax puts the number of workers at 20 million worldwide -- and analysts are noticing. IDC predicts that by next year, 30% of the top 100 global manufacturers will outfit their field technicians with AR, and they'll do so largely as a stop-gap to enhance service offerings before their real game changers -- IoT-connected devices -- are in place.
Summarizing this year's Mobile World Congress, Forrester Research's Dan Bieler named AR for mobile workers one of the trends having the most impact on enterprises. He cited as evidence the cheaper AR hardware at the conference and an award-winning field-service application by Dutch telecom provider KPN.
Self-interest aside, proponents like ServiceMax have a strong case. The whole package of promised IoT benefits is here: cheap remote sensing and monitoring, customer engagement, product as a service and analytics. The AR story is strong, too. The vaunted "augmented worker" is already here, carrying an iPad and soon, 3D goggles alongside the familiar tool belt.
This technology backwater is suddenly looking like the vanguard of IoT in the enterprise.