Share this item with your network:
Technology insights for the data-driven enterprise

Financial apps in the cloud? Count on it
As the business world becomes more mobile, its cloud comfort level on financial apps will reach greater heights.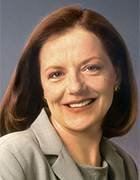 By
For more than a decade, IT analysts and vendors have been talking about the benefits of cloud computing for finance and accounting. My first paper on the topic came out in 2004 and landed without much notice.
The appeal of the cloud at the time was pinned to cost savings, but CFOs and CEOs weren't buying it. The message was companies could avoid large, upfront investments in on-premises enterprise software -- not to mention hardware and annual fees -- when they wanted to streamline the labor-intensive processes that were the bedrock of business administration. Putting human resources and financial apps in the cloud seemed like the perfect fit.
That early pitch didn't work. The concept wasn't easy to grasp, and the marketing messages from analysts and vendors mixed into an alphabet soup of terminology. The idea of processing and storing sensitive financial information on somebody else's servers was unfathomable.
The unhelpful backdrop: headline-grabbing accounting scandals in the early 2000s that underscored the fiduciary responsibilities of senior managers. Then in 2002, the Sarbanes-Oxley Act said CEOs and CFOs could go to jail for accounting screw-ups. Even five years ago, business leaders weren't confident that they knew how to frame good-versus-bad scenarios on ROI.
But those worries have been melting away in the past year or so. The major cloud service vendors have made a convincing argument that they offer better data security than many organizations can muster on their own. Plus, CFOs are no longer distracted by recession worries, and many are focusing on new ways to cut the cost of running finance. Today's cloud offerings make sense for functions viewed as ancillary to finance and accounting's core mission of managing financial performance. More CFOs are green-lighting efforts to move processes such as travel and expense and talent management to the cloud. According to a 2014 report by CFO Research Services and Grant Thornton, "Many [CFOs] now understand the rudiments of cloud computing quite well and view it as an acceptable option for many IT applications."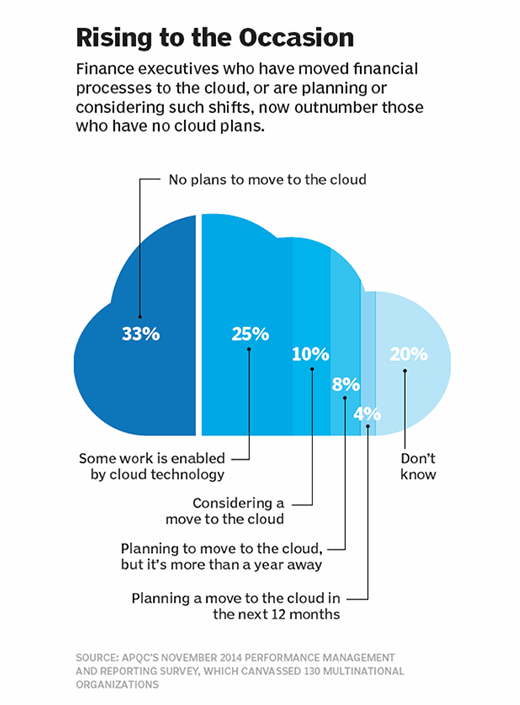 More recent research by my organization, APQC, shows that the majority of companies still rely on physical servers to capture financial performance information and serve it to internal users as well as to prepare official sales and earnings reports. But a growing number of financial management executives are warming to the idea of carefully and deliberately putting certain transaction-based financial apps in the cloud (see "Rising to the Occasion"). Survey respondents who say they are open to the idea of financial processing in the cloud outnumber those who won't budge.
APQC is also seeing cloud moves that reach beyond the low-hanging fruit of travel and expense. CFOs are considering cloud-based applications to optimize the management of working capital. For example, cloud computing can help a company reduce its days sales outstanding, a calculation used to gauge the average bill collection period. A cloud-based transaction-processing platform can significantly reduce the time it takes to reach across multiple in-house systems, assemble the data needed for accurate invoices and send them to customers. And workers in sales or customer service can access an integrated cloud platform more easily to make queries on customers' behalf.
Two years ago, market research outfit IDC predicted that nearly 40% of the world's workforce would be able to do at least some of their work on mobile devices by the end of 2015. Executives on the move, salespeople and business-unit managers at multinational corporations -- who could be working in practically any city on the planet -- are already clamoring for access to finance and operations information anytime, anywhere on a variety of mobile devices.
The implications for finance? First, to avoid a fracas with important internal users, it is better to figure out a way to get information on a secure, reliable and accessible platform that can support mobile employees in a cost-effective way.
Second, mobile employee self-service is intended to free finance staff from having to take direct calls about missing, late or erroneous invoices or payments -- the kind of mind-numbing work that slows everything down and depresses productivity stats. For senior executives in finance, IT and operations, that will mean taking a serious look at the cloud.
Dig Deeper on Cloud-based ERP systems