Olivier Le Moal - Fotolia
Are strategic CPM tools any good for strategic planning?
To stay relevant, strategic CPM software will need to incorporate more advanced modeling and other tools for integrated planning and performance management.
It has been more than two decades since ERP made its first appearance. Before ERP, organizations often used separate systems for general ledger, costing, accounts payable and receivable, inventory, manufacturing, material requirements planning and purchasing. ERP integrated these applications into a single platform, thereby enabling more efficient and effective financial and operational processes.
This same transformation is now taking place in the processes and systems organizations use to plan and manage their businesses. While this transformation is in its infancy, organizations should be aware of it because it can drive significant value by addressing key management challenges -- especially in global organizations that seek to manage complexity more effectively.
What's enabling this transformation is software that supports the more effective integration of strategic, financial and operational planning and performance management processes. Some of these new solutions have their roots in strategic corporate performance management (CPM), a type of software that enables the management of an organization's performance and strategy. Others have their roots in sales and operations planning (S&OP) and supply chain management. In either case, these solutions offer more mature capabilities that go well beyond those of the legacy solutions that dominate the S&OP and strategic CPM tools' markets. And they are at the forefront of a convergence between these markets.
Beyond strategic CPM software
The Gartner firm, which has long published its Magic Quadrant ranking of CPM software vendors, recently broke out the category into two types. One type of CPM product, financial CPM, emphasizes the accounting processes that CFOs need to manage the financial close, including financial reporting and consolidation. Gartner reserved the strategic CPM term for CPM products that emphasize the office of finance's budgeting, planning and forecasting functions with the broader goal of improving corporate performance and strategy.
One of the more obvious differences between legacy products and these newer solutions is that the newer solutions support a broader scope of enterprise-wide applications. Figure 1 shows examples of these applications.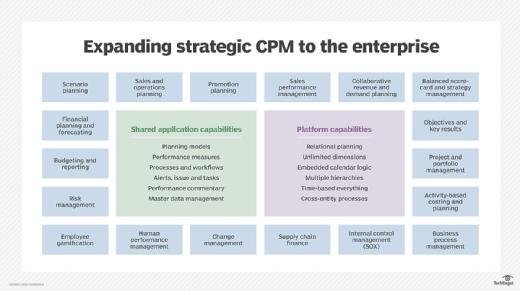 While some of the applications fit within current strategic CPM definitions, others do not. For example, S&OP and project and portfolio management are typically categorized in separate software segments. The key innovation of newer, more mature planning and performance management software is that a broader scope of applications share the same planning models, performance measures, processes, workflows and collaboration tools, the latter in the form of alerts, issues, tasks and commentary.
One of the challenges in explaining this innovation is that there is no universally accepted term to describe the integration of these processes and the software that enables them. Strategic CPM, as it is defined now, is too narrow a descriptor. Therefore, for the purposes of this article, I will use the term enterprise planning and performance management (EPPM) to describe software that supports such integrated processes.
What makes EPPM platforms better
There are a handful of strategic CPM, S&OP and supply chain software companies that can support these broader EPPM processes. What differentiates them are the application development platforms they provide. Compared to more traditional applications, these EPPM processes are better suited for developing, integrating and operationalizing more cost-effective processes at an enterprise level. This is because they provide incremental capabilities that aren't typically supported by strategic CPM and S&OP tools, among them:
Few or no constraints regarding the number of dimensions, thereby enabling the EPPM processes to have more applications on one platform.
Workflows that enable processes to be executed across any dimension, not just functional charts of accounts. This includes business processes, projects, risks, customers and suppliers.
Collaborative tools, such as alerting, commentary, issue and task management that can be executed and rolled up across any dimension or application.
Master data management and data warehouse capabilities that enable data to be shared across organizations in a way that is relevant to users.
Planning model logic that can simultaneously support financial and operational processes across functions, entities and scenarios.
Underlying these broader capabilities are more detailed ones that make EPPM tools better platforms for financial and operational planning. Specific examples of these capabilities are shown below ("Planning models for strategic CPM").
Planning models for strategic CPM
The best strategic CPM products enable effective enterprise performance and portfolio management, in part by using sophisticated planning models that have the following features:
New dimension members (e.g., entities, projects, products, customers or segments) can be added on the fly by those with the necessary permissions.
Models can vary from one period to another to reflect changes to factors such as productivity rates, material sourcing or production locations.
Calendar logic to define relationships between days, weeks, months and years is already embedded. Alternative calendars (e.g., vendor and customer annual calendars) can also be used.
Native cash flow forecasting logic, such as double entry planning, is available to support forecasting of both direct and indirect cash flows.
Models can span multiple legal entities to support the supply chain and other activities that affect different parts of an organization.
Workflows provide the means to execute complex modeling logic as part of defined processes and incorporate the results in subsequent process steps. For example, manufacturing logic can include bills of materials, routings, lead times, vendor allocations and material requirements planning "explosions." Such logic could be used as part of budgeting, rolling forecast, cash flow forecasting and scenario planning processes.
Key assumptions within planning models can be incorporated into performance measurement systems to actively manage their accuracy and relevance. Examples are the percentage allocation of purchases between suppliers and the percentage allocation of production between primary and secondary routings, plants and countries.
EPPM vendors that have their roots in the supply chain are taking planning maturity a step further. They are embedding more advanced models, such as prescriptive analytics, that integrate strategic, financial and operational processes. What results are highly sophisticated scenario planning processes that can expose risks while also supporting optimization tools that can alleviate them.
Shortcomings of strategic CPM software architectures
Most legacy strategic CPM tools don't support such modeling capabilities. One reason for this lack of support is their cube-based architectures, which can have three critical limitations:
All metrics are forced to share identical dimensionality.
New data intersections (e.g., products and projects) can't be created without rebuilding cubes.
Structural changes to planning models can be time-consuming and can require highly specialized skills.
These limitations undermine the ability of planners to perform on the fly analysis to quantify the impact of potential strategic and tactical decisions. They also limit the effectiveness of rolling forecasts because they can't accurately quantify how scenarios will affect profit, working capital and cash flow. An illustration of this capability gap can be found in the link to this video from my consultancy, the IBP Collaborative.
The net result of these architectural limitations is that strategic CPM software products are not always suitable for planning. Applications can be rigid and brittle instead of flexible and responsive to change. While they may support accounting needs, CPM software products aren't mature enough for decision support and scenario planning purposes.
Are S&OP and strategic CPM tools obsolete?
The implication of EPPM innovations is that the lines between strategic, financial and operational planning and performance management applications are beginning to blur; a few short years ago, there were clearer divides. Strategic CPM software supported only the most basic forms of operational planning, while S&OP software supported limited financial planning. Software products that support EPPM processes have changed this by simultaneously improving both financial and operational planning.
The manufacturing sector provides an example of this blurring because the challenges (such as cash flow forecasting, as noted in the section "Planning models for strategic CPM") that are facing financial and operational executives are becoming highly interconnected. Capability gaps often prevent legacy strategic CPM and S&OP software from addressing them -- either individually or together as part of a process. While manual procedures can compensate for gaps at smaller manufacturers, they can quickly become ineffective for larger ones.
The people that are most likely to recognize the value of these innovations are early CPM software adopters that continue to experience complexity-related challenges. Manufacturers are particularly susceptible to them, especially those whose processes are managed in fragmented strategic CPM and S&OP applications. For them, the benefits of the incremental capabilities that comprise EPPM solutions will be immediately obvious, thereby making these legacy applications seem obsolete.
Leveraging the insights from an enterprise-wide view
There are many advantages to using strategic CPM tools and S&OP products that support these broader EPPM processes. However, not everyone will be ready to capitalize on them.
One reason for this is that most companies still design, buy and implement planning and performance management solutions largely along functional lines. Complicating this situation even further is that technology analysts still view the market from the same siloed perspective. As a result, the significance of these innovations is easy to miss and is not always fully appreciated.
There are four things that you can do to overcome such oversights. First, focus software selection on application development platforms, not the individual applications. As part of this process, educate yourself about how application development platforms are driving the convergence between strategic CPM, S&OP and other solutions. Second, look beyond strategic CPM tools, as some of the most innovative financial solutions are emerging from supply chain software providers. Third, understand the incremental capabilities created by this convergence and how they support more effective process integration that can drive greater value. Last, quantify and compare the total process and technology costs; not just in finance, but for the enterprise as a whole because the cost differential can be significant.
The process of selecting strategic CPM tools and other planning and performance management technologies (as shown in Figure 1) isn't getting any easier. This is especially true for finance executives who are seeking to play a more active role in shaping strategy and driving business value across complex organizations. More than ever, this selection requires a more holistic and business-oriented approach to solution design and tool selection. As a result, broader and more industry-specific external assistance is becoming increasingly important. Not only can external assistance dramatically reduce process and technology costs, but it can avoid capability gaps in strategic CPM, S&OP and other software that undermines strategy and drains value.